Back in May of this year I was lucky enough to see the exhibition of works by photographer E. O. Hoppé at the National Portrait Gallery in London. My post relating to that show concerned portraits of Margot Fonteyn and Olga Spessivtseva. The National Portrait Gallery's show, Hoppé portraits: society, studio & street, closed shortly after I'd written that post but images of American dancer Ted Shawn, which were part of the Portrait Gallery show, have continued to resonate in my mind ever since.
One, taken in 1922, is a head and shoulders portrait of Shawn in Tillers of the Soil, a stylised dance he created in which he and his wife, the dancer Ruth St Denis, represented an ancient Egyptian couple tilling the soil. The portrait of Shawn is a bold one. And Shawn was a strong, athletic man whose contribution to world dance included the founding of a dance centre in the Berkshire Hills in Massachusetts where he trained a group of male dancers, young college athletes who worked on the farm during the morning and trained in the barn during the afternoons. This centre is still used for dance and is the home of the famous Jacob's Pillow Dance Festival.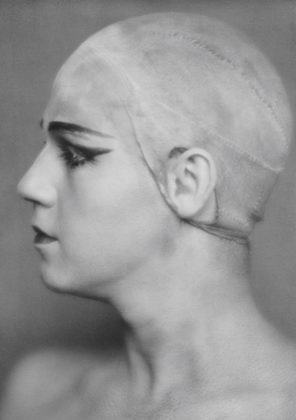 Shawn also brought his distinctive brand of dance to Australia in 1947 at the invitation of an enterprising woman in Perth, Ida Beeby, director of the Patch Theatre Guild and Dance School. Shawn gave a series of lectures and several solo programs of dance in Perth. His repertoire was eclectic and uncompromisingly his own. It included dances of American Indian origin, a Japanese sword dance, some Flamenco dances, and an American cowboy number 'Turkey in the Straw.' From Perth he took a side trip to Arnhem Land and entertained indigenous dancers at Delissaville, who in fact had come to entertain him, with his rendition of a whirling dervish dance. After Perth he moved on to perform his solo shows in Adelaide, Melbourne, Sydney and Brisbane.
Like most artists who visited Australia in the first decades of the twentieth century, Shawn was not averse to making predictions about the future of Australian dance. He wrote regarding Perth:
'Perth, due to its unique isolation, is ideally the place where a new dance form, growing out of this continent, using the forms of other countries and of the past as a sort of cultural "humus," can be born, nourished until its integrity is fully established, and then ray out to the rest of Australia and the world'.
Shawn's visit to Australia has scarcely been examined in this country. A small collection of programs from his Perth seasons is part of the ephemera collection of the National Library of Australia. But Edward Pask in Ballet in Australia. The second act, 1940–1980, the only survey we currently have of Australian dance covering the period of Shawn's Australian interlude, makes no mention of the visit. I believe, however, there may be archival film footage of his Australian visit in the Jacob's Pillow Archive at Becket, Massachusetts.
Michelle Potter, 17 August 2011
Image of Ted Shawn in Tillers of the Soil: © 2011 Curatorial Assistance, Inc. / E.O. Hoppé Estate Collection. Courtesy National Portrait Gallery, London.
Image below from The Australasian Post, 7 August 1947, p. 43, kindly supplied by Anne—see comments below.