10 March 2017, National Portrait Gallery, Canberra
Canberra's first BOLD Festival, a varied program of dance events over the period 8–12 March 2017, offered a wide-ranging series of activities. Those activities included performances in a variety of styles, as well as talks and discussions on a variety of topics. Dancers showed a range of skill sets and artists came from across the country. The Festival culminated with a performance, To boldly go…, featuring, again, a wide variety of artists.
For me, however, the surprise highlight was a selection of dances performed at the National Portrait Gallery on 10 March. I guess I am constantly fascinated by what dance looks like in the space of Gordon Darling Hall, which is really the entrance lobby for the Portrait Gallery. I love watching how choreographers make their work fit into this space.
The performances began in the afternoon and, as has been the custom at the National Portrait Gallery, there were three short sessions of a program that consisted of two works. Each short session began with Kym King's Time, danced by Judy Leech and Rosemary Simons, and concluded with a solo by Katrina Rank, My Body is an Etching 2. Neither was choreographically complex but both had emphasis on small details, which were a pleasure to watch in the intimate space available. I especially enjoyed Rank's solo, which concerned the notion that a dancer's body is marked by the individual movements that, across time, have affected that body in some way. As Rank remarked in her program notes, those marks consist of 'intersecting grooves, gouges, grazes and feather like marks'. To add a visible emphasis to her thoughts, Rank had added a subtle yet clear representation of those etched marks onto parts of her body—down her legs, along her arms and extending up the side of her neck.
An early evening session was a set of five works. Tammi Gissell reprised a section from Magnificus, magnificus, a work concerning the red-tailed black cockatoo and choreographed by Gissell herself with directorial input from Liz Lea. Gissell is a strong dancer and her performances are always remarkably emotion-filled. The background to Magnificus, magnifcus, which was made in 2013, is discussed at this link.
In an earlier session at the National Film and Sound Archive that morning, Gissell had talked about the fact that she had been advised by her grandmother not to mess with the black cockatoo and, as she turned her back on the audience, not only did the strip of red in her costume remind us of the black cockatoo's flaming red tail, but her tensed hands reminded us of the warning. Then, as she stalked off I thought what a wonderful Carabosse she would make!
The Magnificus, magnificus extract was preceded by Plastic Time, a work choreographed by Peng Hsiao-yin, artistic director of the Taiwanese dance company Danceology, and danced by Peng and three of her performers. It was amusing to watch the dancers producing, time and time again, plastic bags and other such items from surprising places—and sometimes using them in surprising ways. One dancer looked as though he was using a long strip of plastic as dental floss, for example. But at the same time, Plastic Time made a pertinent political statement about the pollution of our environment.
Then followed three short pieces from Anca Frankenhaeuser and Patrick Harding-Irmer. I especially enjoyed Viola Duet in which Frankenhaeuser and Harding-Irmer danced together and yet stayed apart. Their connection with each other, achieved through eye contact, glances towards each other, and changing facial expressions, was remarkable and exceptionally moving.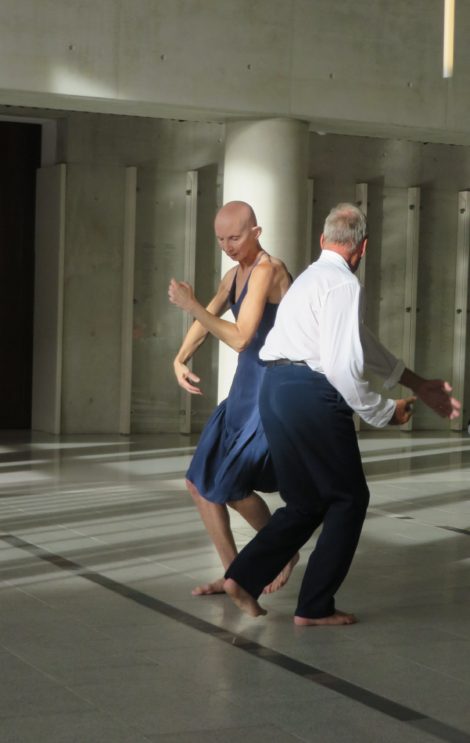 The National Portrait Gallery showing was a personal favourite. I am sure others would have their own favourites from BOLD, which was the brainchild of independent artist, Liz Lea. I am amazed at what was accomplished over those five days, given that NO external funding was forthcoming for the Festival.
Michelle Potter, 17 March 2017
Featured image: Anca Frankenhaeuser in Toccata. BOLD Festival, 2017. National Portrait Gallery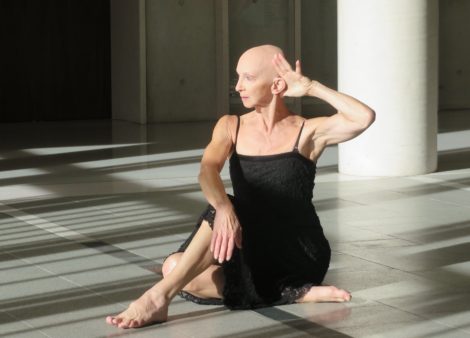 All photos: © Michelle Potter