9 May 2021, James O. Fairfax Theatre, National Gallery of Australia
Rainbow Serpent was the overarching title given to the penultimate program of the 2021 Canberra International Music Festival. It featured four distinctive works of music and dance. Two focused on the myth of the Rainbow Serpent as understood, on the one hand, by the Murrawarri people whose land straddles the border between New South Wales and Queensland, and, on the other, the people of the Melville and Bathurst Islands north of Darwin.
The most significant of the dance offerings was Mundaguddah, a solo choreographed and danced by Tammi Gissell, a proud Murrawarri woman, to a 1982 score by Brian Howard. Howard's composition was dedicated to dancer/choreographer/artistic director Barry Moreland and in 1982 was given a performance choreographed by Moreland and danced by prominent ballet dancer Kelvin Coe.* For this 2021 production, the composition was played onstage by Ensemble Offspring, a chamber ensemble of violin, cello, flute, clarinet, trombone and percussion.
Gissell's appearance as the Rainbow Serpent was sudden and unexpected. She was dressed in white tights and top with a short skirt, which was partially covered by a black coat. From a downstage corner, she slid and writhed onto the narrow stage space of the James O. Fairfax Theatre and, performing in an even narrower space than usual given that the musicians occupied a significant area, her lithe and liquid body twisted and contorted itself to the other side of the stage. Occasionally she would rise up and with shimmering hands draw attention to her upper body.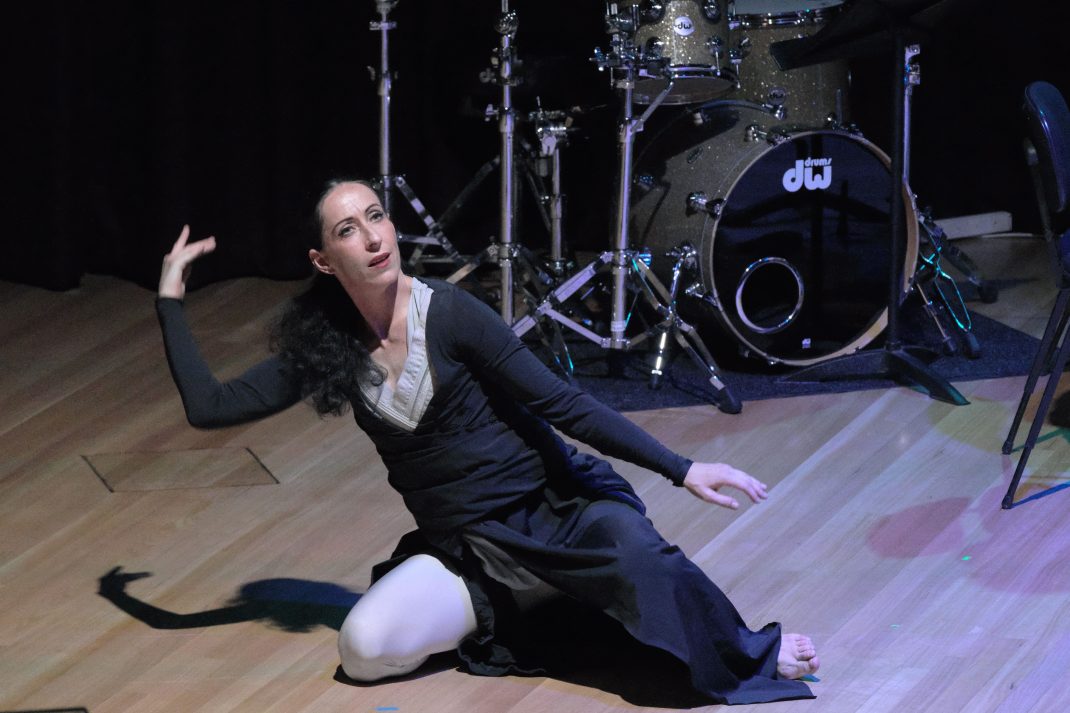 Reaching the other corner, she picked up props representing branches and, wrapping herself in a long piece of cloth lit with various colours, she began what was the most exciting section of the dance. She seemed no longer to be representing the snake but, from a standing position, to be showing us a human reaction to the myth. Removing the black coat (shedding skin?), she stretched her body in all directions and eventually picked up a long stick, which she swirled and wrapped around her before balancing it across her shoulders as the dance concluded.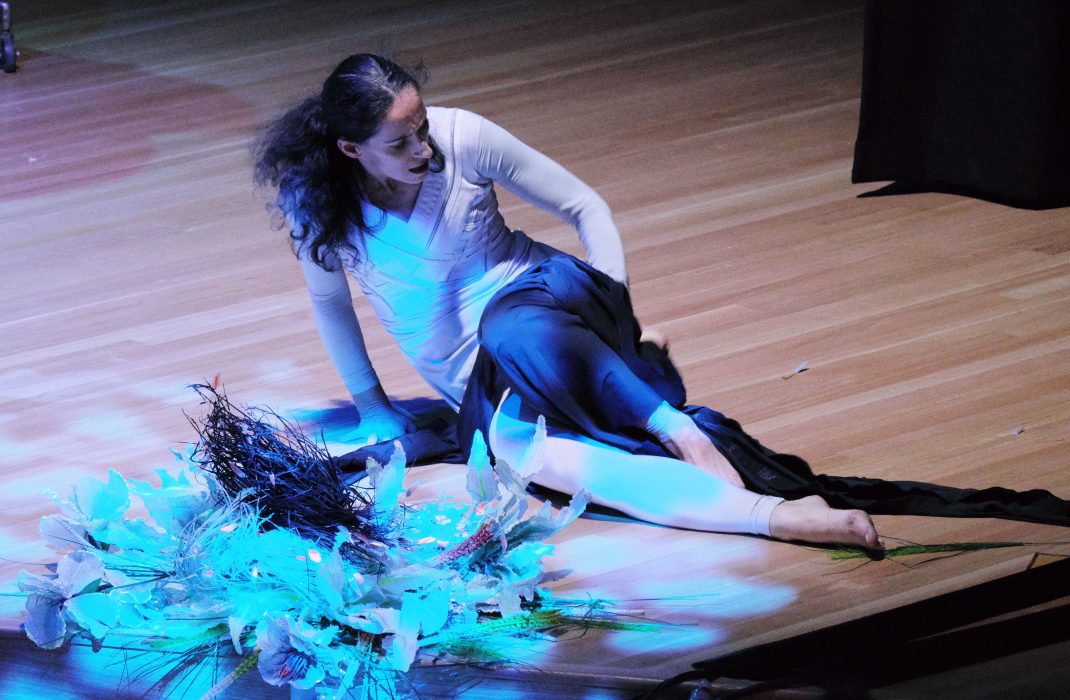 Gissell has always provided a fascinating view of the subject of her works. Program notes tell us that the word Mundaguddah refers to the spirit of the Rainbow Serpent and Gissell showed us various aspects of that spirit from its serpent-like characteristics to the ways in which that spirit engages the community that honours it.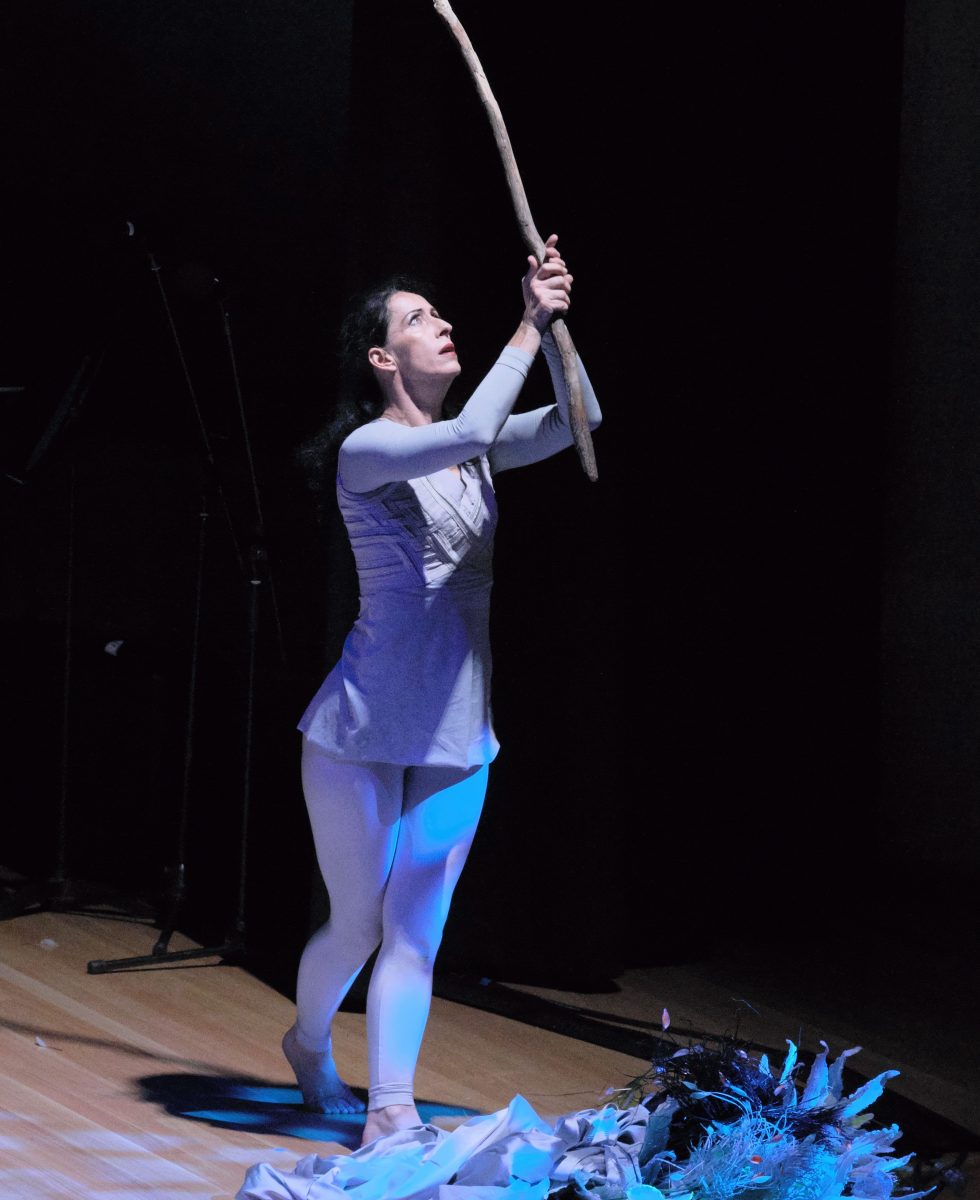 The production and performance of Tammi Gissell's Rainbow Serpent was commissioned and supported by Ausdance ACT and the Canberra International Music Festival.
The other work with a dance component was Ngarukuruwala, a selection of action songs featuring the group Tiwi Strong Women, accompanied by a male performer who played clapsticks and also sang and danced. It was a quite different approach from what we saw from Gissell. Ngarukuruwala was basically a rendition of traditional songs associated with the Rainbow Serpent myth. Accompanied by simple stamping movements and lifted arms, it was also quite different in terms of movement. It was much enjoyed by the audience and by the performers themselves, who seemed delighted to be presenting their heritage in Canberra.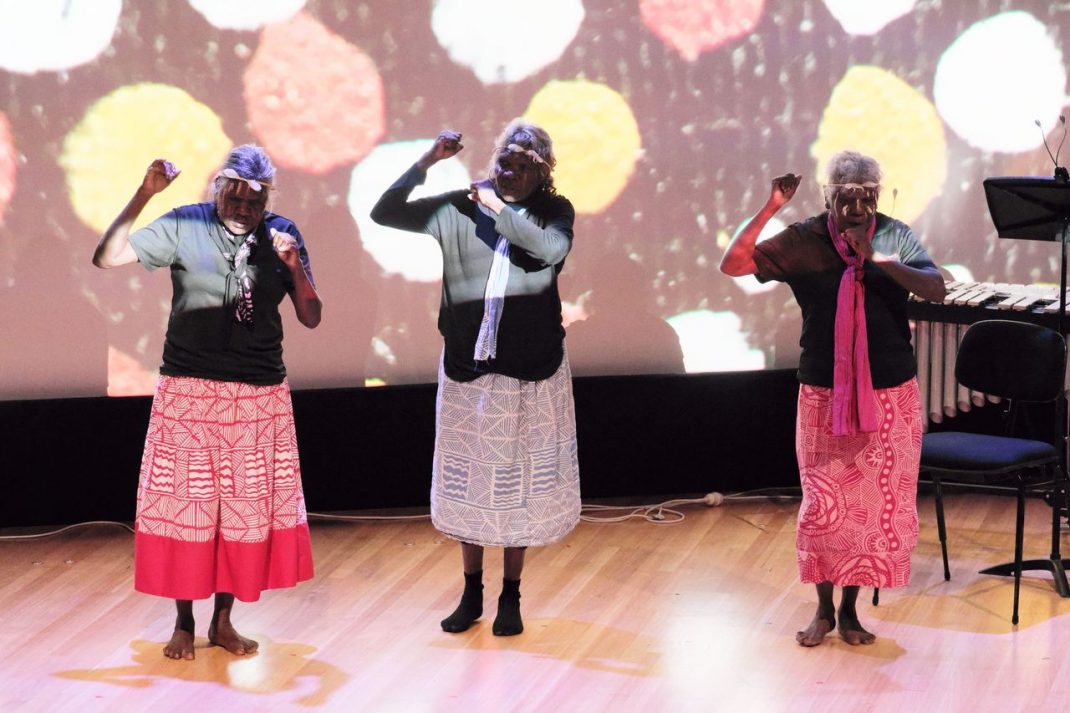 Publicity for Ngarukuruwala suggested that during this performance we would see screened footage from the National Film and Sound Archive of Tiwi ancestors performing traditional songs and dances. Well this didn't happen, at least not at the performance I attended. We did see screened, however, some art representing the Rainbow Serpent, in particular a painting by Maggie Timapaetua. Shame about the lack of archival footage, but Ngarukuruwala finished with a healing song in response to the pandemic that has touched us all.
Two other items comprised the full program: Three Songs from Joe Geia and the ANU Jazz Collective (including an interesting version of Advance Australia Fair), and Rain falls and after for two guitars by Christopher Sainsbury, played engagingly by Andrew Blanch and Vladimir Gorbach.
Michelle Potter 10 May 2021
*This seems to be what happened although I was interested to find an article by James Murdoch in Theatre Australia for May 1982 in which he stated that the work was to be performed by Kelvin Coe and dancers of Sydney Dance Company. Moreland was choreographing for Sydney Dance Company at the time and Coe was dancing with the company. But the reference to other dancers may well have been an unrealised intention. That the work was dedicated to Moreland can be found on the Australian Music Centre site.
Featured image: Tammi Gissell in a Mundaguddah, 2021. Photo: © Peter Hislop