28 June 2013 (dress rehearsal), National Gallery of Australia, Canberra
In my June 2013 dance diary I mentioned a show at the National Gallery of Australia called Life is a work of art performed by the GOLDs, a group of performers over the age of 55. I have now received some images from that show and what follows is not a review as such, as GOLD is not a professional company, but rather some observations on some parts of the show. Life is a work of art was co-directed by Liz Lea and Jane Ingall and was a processional performance leading the audience through the National Gallery of Australia, pausing in particular galleries where specially commissioned dances were performed.
The section that worked best for me was staged in the Kimberley Gallery where art by Rover Thomas and other indigenous artists from the Kimberley region is on display. The section, called 'Black/GOLD', was choreographed by Tammi Gissell, a descendant of the Muruwari nation of northwestern New South Wales. It was performed to music composed and played by Francis Gilfedder.
Gissell wrote in her program notes:
What a wonderful opportunity for Aussie Elders from all walks of life and cultural heritage to dance together in celebration of the rhythms and memories of this land. Australia now sensed freshly with knowing eyes and ears and footsteps. Black/GOLD is concerned with claiming ownership over one's self, for this must occur to accept your role within a mob—the second yet equally important concern of the piece.
It struck me as I watched it that what made it especially powerful was perhaps the fact that in indigenous communities everyone dances. It seemed quite appropriate for these older, non-indigenous people to be dancing in front of indigenous art. And Francis Gilfedder, who sang and played the didgeridoo, was magnificent. Reading Gissell's program note just increased my respect for her and the work. In the case of 'Black/GOLD' she chose a concept that is deeply entrenched within her heritage, made it relevant to the occasion, made it inclusive of her cast, and gave it a simplicity that belied the complexity of the concept. A real gem.
I was also impressed with 'A gentle spirit' as a wonderful example of a site specific piece. As we progressed down a ramp to the sculpture gallery on a lower floor, we passed by Carol Mackay. She had a solo piece, which she performed at the corner of the ramp under Maria Cadoza's Starfish. While our view of it was gone in a flash as we walked by, it was perfectly sited. Music for it was composed and played live by cellist David Pereira, but as I was at the dress rehearsal, at which he was not present, I'm not sure if he was a visual part of the piece, although from the images I received it appears not.
Finally, I enjoyed two pieces in the galleries of contemporary, international art: 'Pop Art', a piece choreographed by Liz Lea against a backdrop of works by Andy Warhol and others from the period of the 1960s; and 'Caught between Kapoor', an improvisation by Luke Mulders in Gallery 3.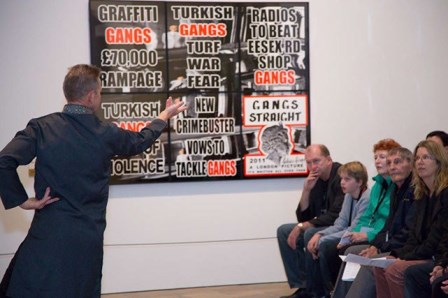 Some parts of Life is a work of art, as I mentioned in my June dance diary, worked better than others for me. Here I have simply extracted a few sections that I especially enjoyed, which is not to say that the rest of the show was not enjoyable as well. It is a wonderful community dance concept and, despite the worries that staff at the National Gallery of Australia must have had as people (carrying stools) processed past and performers danced among such precious items, I hope the Gallery will consider doing it again.
All images courtesy of the National Gallery of Australia.
Michelle Potter, 30 July 2013
Featured image: A moment from 'Black/GOLD', Kimberley Gallery, National Gallery of Australia, 2013