In February I had the pleasure, and honour of presenting the inaugural Russell Kerr Lecture in Ballet and the Related Arts in Wellington, New Zealand. I spoke about the life and career of Wellington-born designer Kristian Fredrikson, of whom New Zealanders are rightly proud (as indeed are we Australians).
The lecture was made possible by a fund, recently established by a group of New Zealanders, to honour Russell Kerr, artistic director of the New Zealand Ballet (as it was initially called before receiving its Royal Charter) from 1962 to 1968. Kerr went on to hold many significant positions in the dance world and to choreograph many works for Royal New Zealand Ballet, including acclaimed productions with designs by Fredrikson of Swan Lake (1996), Peter Pan (1999) and A Christmas Carol (2001). The Russell Kerr Lecture will be offered annually for five years and plans are moving ahead for the 2019 lecture, which will be delivered by Dr Ian Lochhead.
The 2018 lecture was preceded by a performance (courtesy of Royal New Zealand Ballet) of Lark, a short but moving work by Loughlan Prior featuring Sir Jon Trimmer and William Fitzgerald. Both dancers gave an exceptional performance. Live music was provided by Hamish Robb and Beth Chen from the New Zealand School of Music. Here is what Jennifer Shennan wrote about Lark last year on this website:
'Lark, choreographed by Loughlan Prior, of Royal New Zealand Ballet, performed by Jon Trimmer and William Fitzgerald, proved a masterwork. There's little surprise in that since Prior has already earned considerable choreographic kudos. 78 year-old Trimmer's presence on stage, before he even moves a muscles, reeks with the authenticity of a performer who deeply knows how dance works. Fitzgerald moves with a calm clarity that makes virtuosity seem effortless, and his elevation is something to savour. Suffice to say this piece portraying an older dancer as he sifts memories of dances past, alongside a younger dancer's questing after the kinds of things that will bring meaning to his future performances, had a poignancy to treasure.' (Jennifer Shennan)
See this link for a podcast from Radio New Zealand in which presenter Lynn Freeman and I talked about Fredrikson's career. Unfortunately I have not yet been able to have the spelling of Fredrikson's name corrected on the RNZ web page.
The Piano, Royal New Zealand Ballet
Royal New Zealand Ballet's production of The Piano, with choreography by Jiri Bubenicek, opened late in February in Wellington. Stay tuned for Jennifer Shennan's review.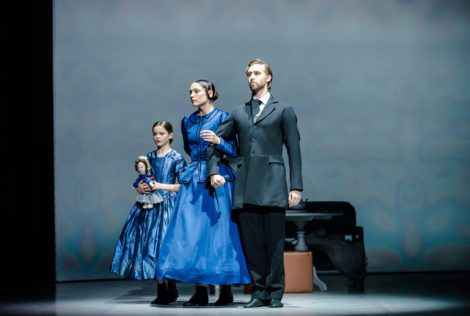 Critics survey 2017. Dance Australia, February/March 2018, pp. 31–32. See this link for a PDF version of my selections.
Featured image: Follow this link for a PDF copy of the lecture handout.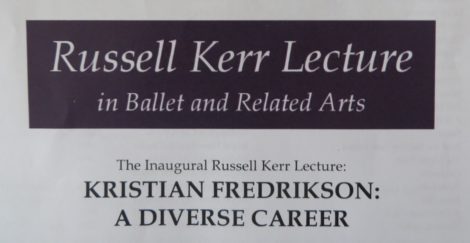 Michelle Potter, 28 February 2018