Last night (30 July) I went to the Canberra Playhouse to see, and review, the latest offering from Quantum Leap, Canberra's youth dance ensemble. To my astonishment I received a phone call tonight (31 July) about my review, which had already appeared in The Age online before it had appeared either in print or electronic format in The Canberra Times. Here is the link and another image from the show.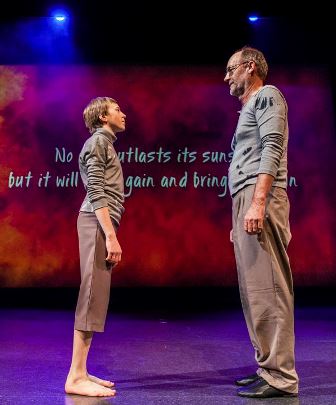 Leap of Faith: Australian Story
I watched the recent Australian Story program, Leap of Faith, which followed the story of Li Cunxin's acquisition of the Kenneth MacMillan production of Romeo and Juliet for Queensland Ballet. I would be interested to hear comments from others as I found the program more of a promo than an Australian story.
Here is the link to the online version and its transcript. I'm not sure for how long the ABC has the footage available online, although the the transcript of the show will remain for a little longer after the footage has been removed. [Update October 2020: The video is no longer available but the transcript is still online]
I have often been curious about the links that are often made between dance and architecture. They have always seemed to me to be very tenuous links. My most recent interview for the National Library of Australia's oral history program, however, was with an architect, Enrico Taglietti, who made me think a little harder about those potential links.
Taglietti was born in Milan but came to Australia in the 1950s, initially at the invitation of Sir Charles Lloyd Jones to work on an exhibition of Italian design, 'Italy at David Jones'. He and his wife came to Canberra after the exhibition had closed and fell in love with the city (such as it was in the 1950s). Taglietti has lived in Canberra ever since.
What fascinated me more than anything during our conversation was that he kept insisting that the exterior of a building was not architecture but urban design. Architecture, he maintained, consisted of the voids and volumes enclosed by a structure. Suddenly it struck me that perhaps there is a link between dance and architecture. Dance has much to do with filling voids and volume with movement, although only the best dancers (or those trained by Merce Cunningham) know how to use the space around the body to achieve maximum benefit.
Press for July 2014 [Update May 2019: Links to press articles in The Canberra Times are no longer available]
'More decorative than communicative. Review of 'Bangarra Dance Theatre's Patyegarang. The Canberra Times, 21 July 2014, ARTS p. 6.
Michelle Potter, 31 July 2014
Featured image: Bangarra Dance Theatre in a scene from Patyegarang, 2014. Photo: © Jess Bialek