Louis Solino was for years a member of the celebrated José Limón Dance Company of New York. He later staged many works from that company's talisman repertoire when a tutor at New Zealand School of Dance. Louis was partner of New Zealander Paul Jenden, both of them major contributors to Wellington's theatre life.
Early drawn to dance, Louis performed in American Bandstand, Philadelphia's hugely popular tv music and dance show. After studies in New York, he joined the Limón Dance Company in 1968, staying for 11 years. The company toured widely, including South America, Poland and Soviet Russia, encountering interesting audience reactions to the 'new' art.
In 1981 Anne Rowse, director of New Zealand School of Dance, on a study tour to establish connections for possible development at the school, had a fruitful and far-reaching meeting with Louis and Paul (who was studying dance and design in New York).
Choreographies by Mexican-born Limón and fellow-artist Doris Humphrey are classics of American modern dance, timeless works of thematic power and intrinsic musicality. Anne understood the importance of that heritage, and upon learning that Paul was returning home, invited Louis to tutor at NZSD. She recalls, 'He taught and staged wonderful repertoire, influencing many students into their subsequent careers … Carolyn Lambourn, Kate O'Rourke, Ursula Robb, Daniel Belton, Sarah Lawrey, Alannah Eliot, Alexandra Blair are only a few who come to mind.'
Louis worked at NZSD from 1982 to 1998. Sue Nicholls on the faculty recalls, 'I have a distinct vision of Louis with a very straight back, chin slightly dropped and direct focus. I really admired his care in presenting these works, and the students showed a deep respect for him and this heritage.' Louis, a disciplined task-master, never handed out praise before it was earned, even if then, but guarded accuracy and integrity of each choreography. These included There is a Time, The Unsung, La Malinche, Concerto Grosso, Choreographic Offering, Dances for Isadora, The Shakers, Day on Earth, Two Ecstatic Themes, Air for the G String. It was phenomenal that Louis had memorised all those works. While the notated dance scores sent from New York were interesting, he scarcely needed to consult them. Everything was in his head and heart.
Dance studies seminars in Victoria University of Wellington's Continuing Education program offered studio showings of The Moor's Pavane—(Louis reprised the role of Iago he had played opposite Limón's and also Erik Bruhn's Othello. Jenden danced The Moor, Carolyn Lambourn Desdemona, Claire Martin Emilia) allowing us insight into the jewel in the crown of Limón's repertoire. (Years later another student Daniel Belton would dance Iago to Irek Mukhamedov's Othello in Kim Brandstrup's European company. This is dance lineage of the highest order).
Equally memorable was Louis' staging of Limón's solo Chaconne, impeccably danced by Paul Jenden, the Bach/Busoni music stunningly played by pianist Richard Mapp. Jenden in slimline dark trousers and soft silk shirt, in Adam Concert Room, at a Music Teachers' symposium and in the Lutheran church in Newtown, filled these bound spaces with consummate control and a noble dance quality. They rank among the most exquisite performances I have witnessed.
A graduand dancer may never perform professionally again, but from Solino's stagings they would carry memories for life. Limón's choreographic style and aesthetic is minimalist, finely honed and paced, character embedded within the choreography, needing no embellishment, strain or added emotion. Just the moves as set.
Louis and many of his colleagues were devastated when his teaching tenure at NZSD ended. He continued free-lance teaching, working with Fleur de Thier's Rebound dance company in Christchurch and in a number of films, but his talents were absurdly under-used.
Jenden's theatrical output was prolific, and he made roles for Louis wherever possible—in the Hairy Maclary shows, The Gay Fandango, musicals and pantomimes at Circa or Bats, seasons of Fairy Stories (with Jon Trimmer also in the cast)—shows laced with biting satire and high-camp naughtiness. Jenden's legendary Swan Lake and Giselle, 20 minute one-man shows, hilariously mocking perfunctory ballet productions, with Bill Sheat claiming these were the funniest things he'd seen in the theatre.
In 2013, after serious illness with cancer, Jenden created C— The Musical at Circa. Louis played the silent role of Carcinoma and musician Sue Alexander recalls him as 'an eerie, gaunt, elegant baroque figure, dressed in a long cape which I had to pass as it lay on the floor backstage, the only position from which Louis could put it on. It was about 20 feet long and spread along the floor like a dark, densely textured Venetian corpse.'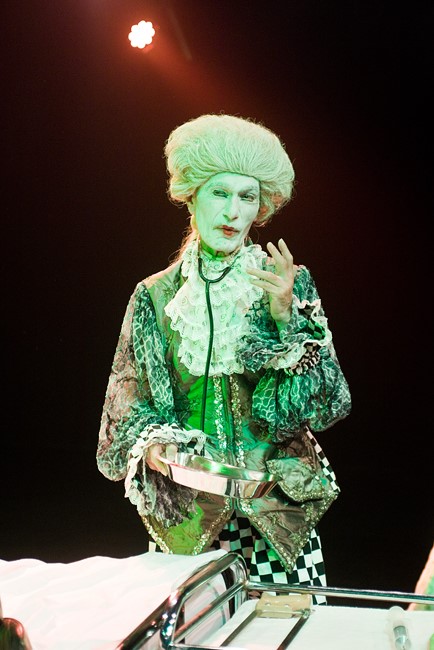 Voluminous sky-blue silk capes are worn in Doris Humphrey's elegaic Air for the G String (Louis left the costumes here when he returned to America, trusting us to choose the appropriate celebratory or commemorative occasions to dance it). One of the costume labels reads 'Renata'. Renata Donovan subsequently studied nursing, and I happened to meet her in ICU of Wellington Hospital, nursing the dying Paul Jenden. She did her work with care and compassion, sat with Louis in the waiting room, then went back to nurse the patient. Just the moves as set.
Louis returned to America in 2014. Our farewell to him included Air, and a striking rendition of Two Ecstatic Themes danced by Lucy Marinkovich. Grateful students gifted him a pounamu pendant which he wore constantly, 'a piece of Aotearoa to take with me' so no surprise to see it still at his throat when former students, led by Michael Long, enterprisingly fund-raised to bring Louis back to Wellington for the school's 50th anniversary in 2017. I took him to visit revered kuia, Tiahuia Gray (whose daughter Merenia and son Tanemahuta had both been Louis' students) to bless the pounamu with a karakia. Tiahuia asked Louis his favourite word so as to name the taonga. He answered 'Paul'.
Louis lived his last years with family in New Jersey, and died after a long illness. He is survived by his sisters, Marysue Palen, Joann Fry and their families.
Louis Solino, born 7 February 1941, Philadelphia; died 5 January 2022, New Jersey
An edited version of this obituary first appeared in New Zealand in Stuff Entertainment on 22 January 2022.
Sources: Anne Rowse, Felicity Hamill, Daniel Belton, Sarah Lawrey, Jane Woodhall, Richard Mapp, Carolyn Lambourn, Sue Nicholls, Sue Alexander
Jennifer Shennan, 29 January 2022
Featured image: Louis Solino in The Nero Show. Circa Theatre, Wellington, 2010. Photo: © Stephen A'Court. Courtesy Circa Theatre photo archive