Last week a group of dancers from Sydney Dance Company (SDC) made a brief guest appearance on So you think you can dance Australia. They performed a short excerpt from 6 Breaths, the most recent work created on them by their artistic director Rafael Bonachela. Without wishing to detract from the six dancers who had reached one of the last stages of the So you think you can dance competition, the SDC dancers were absolutely mesmerising. With their streamlined bodies, clearly defined musculature and eloquent limbs it was clear that they were reaping the benefits of strong leadership and vision and, as well, of a particular kind of dance teaching.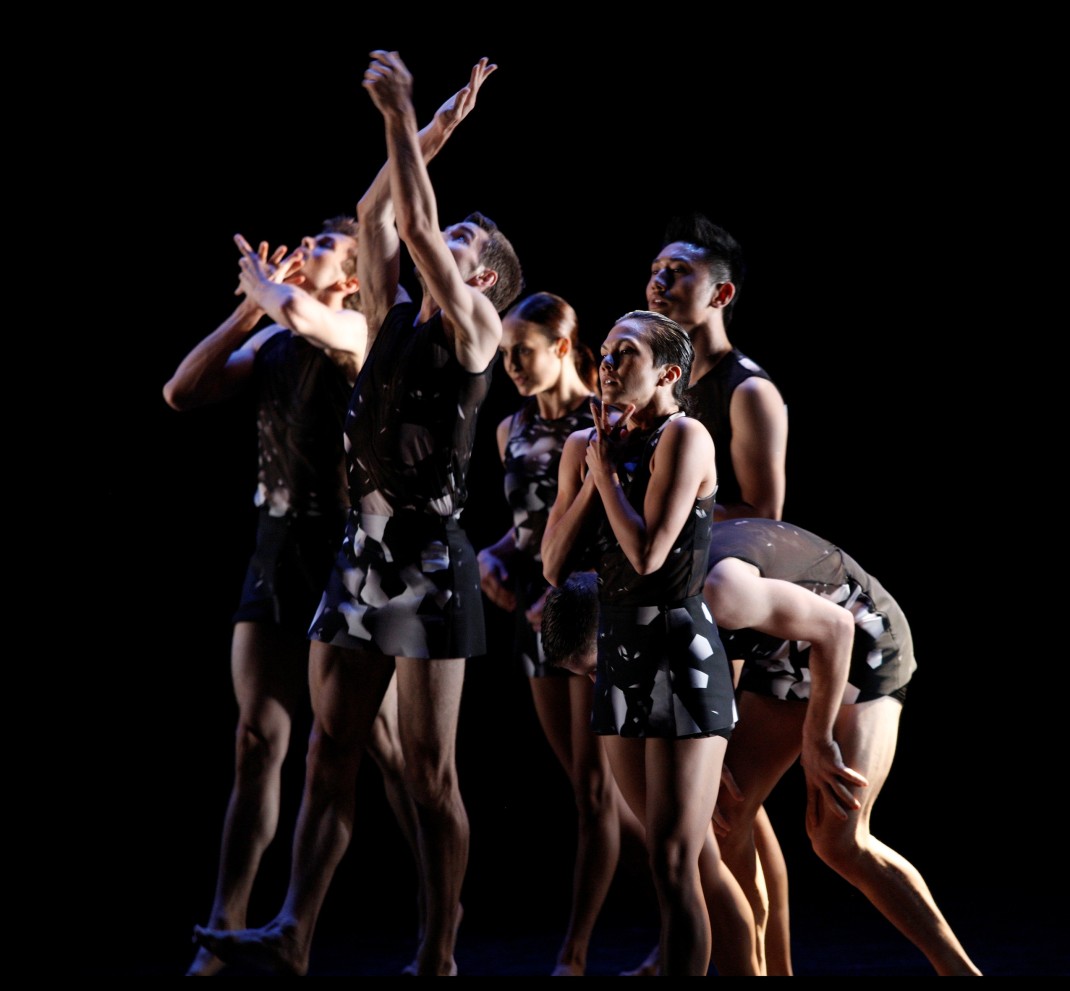 I was lucky that I had an interview set up with Bonachela the following weekend for an article to be published elsewhere, so I couldn't wait to ask what was happening in the SDC studios. What was producing dancers with such an exceptional capacity to articulate movement and with such a clear sense of focus? I guess I should have seen the writing on the wall (or on the dancers' bodies) and twigged that Merce Cunningham was in there somewhere.
Bonachela told me that his dancers take both classical ballet and Cunningham technique classes in fairly equal proportions. Cunningham technique, he said, gives the torso extra strength and flexibility. Springing to his feet he demonstrated a classical attitude (think of the familiar statue of Mercury), and then the way the same pose can be used by Cunningham where the spine, still elongated, can be pitched forward in a totally different, contemporary alignment (think of Cunningham's Beach Birds or Beach Birds for Camera).
Watching 6 Breaths in full shortly afterwards, I looked on with this new knowledge and, while Bonachela is absolutely right about the torso, his dancers also show that every part of the body is an articulate component of the choreography. In addition, they have that rare ability to highlight the space in and through which the body moves and which surrounds each part of the body. Their movements have 'weight'—and I don't mean here that they are heavy! Both the notion that every part of the body can be articulate, and that the body moves in space, are deeply embedded in Cunningham's work.
And lest this should sound as though 6 Breaths is choreographically dry and abstracted, I have to record what is perhaps my favourite moment in the work. Chen Wen enters quietly from a downstage wing. Coming to a halt, still on the side of the stage space, he places two hands on his right hip and slowly lifts his right leg to arabesque, foot flexed at the end of the arabesque line. The 'hands on the hip' move is a very deliberate one, as if to show that when the leg lifts to arabesque the pelvis must tilt forward. But as this kind of analytical testing comes to an end when the arabesque reaches full height, Chen Wen's torso stretches upwards and the breath that gives birth to this expressive and lyrical stretch continues through the neck as the head tilts slightly backwards. From there the movement swirls smoothly into the next phrase. It's over quite quickly but it is just breathtaking in the way it generates so many thoughts about so many aspects of dance.
6 Breaths is an exquisite work even without any kind of technical analysis. Apart from the choreography and the performance of it, in terms of music and design it looks forward to a new and exciting collaborative aesthetic from Sydney Dance Company. But as I left the theatre I could not help but hope that Bonachela will be that rare kind of artistic director who will always be searching for an understanding of the innate qualities of movement, for whom physicality (not just physical tricks) is what makes dance dance—whatever kind of dance we might be talking about—and who wants his dancers to know these things too and be able to translate that knowledge into movement. Now that would make Sydney Dance a quite remarkable company. It would also make Bonachela one of the very few truly outstanding dance leaders.
Film clip from Stella Motion Pictures, with thanks.
© Michelle Potter, 12 April 2010