11 July 2019. Te Auahi, Wellington
reviewed by Jennifer Shennan
Chocolate completes the quartet of shows choreographed these past few years by Sacha Copland for her Java Dance Company. Labelled the Artisan series, 'a culinary investigation into culture', each work has been themed for one of the undeniable essentials of a good life—bread (Rise), wine (The Wine Project), cheese (The Creamery) and now chocolate (Chocolate).
(I'll have a little of everything thanks. We won't complain about the omission of coffee as that might sound greedy. I just need the one cup each day but it has to be good. Today's cafes echo the coffee houses of earlier times and there are rich threads of social history one could add into the brew. But perhaps Sacha is a tea drinker? Not that I don't love a good cup of tea, mind you, and history is full of that beverage too. Maybe Japan and India and China would score a scene each? Maybe there's a second Artisan series still to come?)
A distinctive feature of this series has been the inclusion of musicians onstage and moving … Tristan Carter on violin, and sundry percussion, Charley Davenport on cello and sundry other percussion, with the three dancers, Emma Coppersmith, Lauren Carr and Ella Williams, smooth movers all. The performers mix and match and interchange, helping each other with an instrument here, a song there, a dance and some devilment. A mood of lightheartedness, gratitude for the goods, scenes of what happens when excesses take over, and the sweetness of getting life's balance right have flavoured each of the earlier seasons.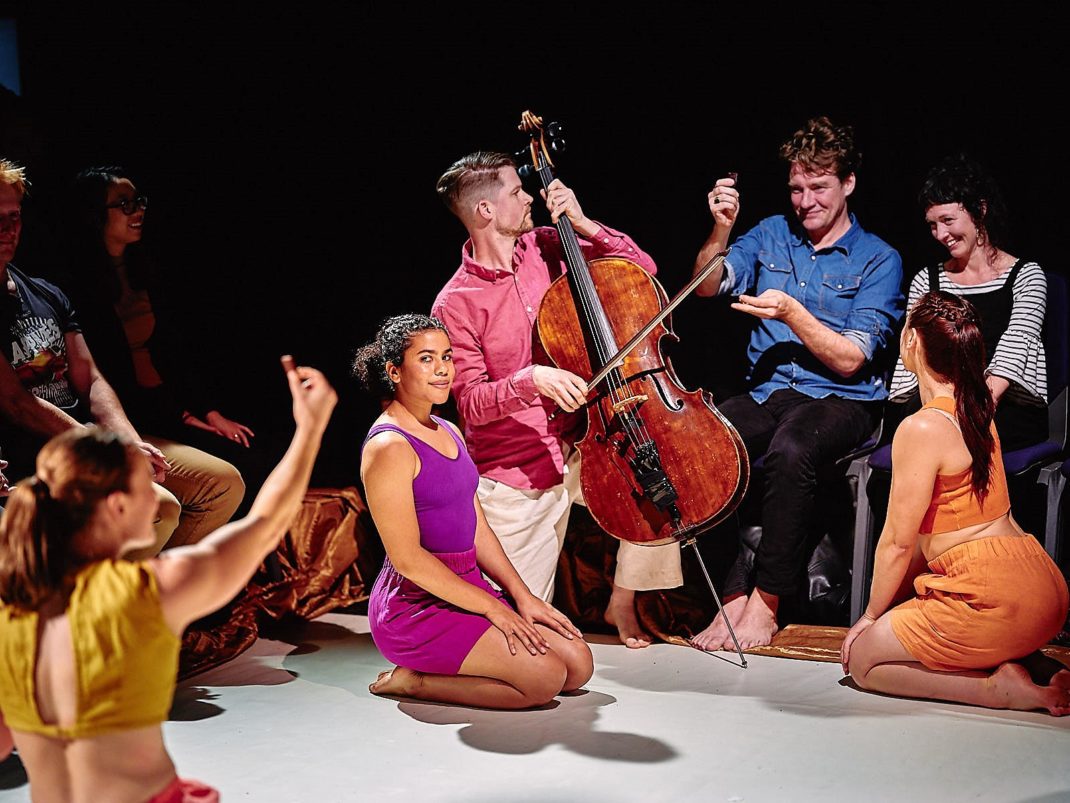 The usual demarcation of Players and Audience is deliberately deconstructed. Described as 'Immersion' dance theatre, the term signals a more-than-token amount of audience interaction. The timing of that exchange still has to be earned however, if it's to be effective, and kept in proportion to the more structured part of the performance. My impression this time was that the performers in Chocolate, right from the start, were in direct eye contact anticipating participation of the audience perhaps rather too soon and too eagerly?
In earlier instalments the artisan skills and actual processes of making, proofing, testing, producing and consuming the goods were all acted out on stage. I learnt things I hadn't known, and laughed to recognise how close to home our habits are. Certain scenes reminded me of paintings by Breugel, Vermeer, de Hooch, Lowry and Ben Nicholson. There seemed to be a framework for hints at story along the way—ambition and jealousy can be encountered in any kitchen or vineyard, discreet passions experienced in the dairy, arguments can break out in the cellar, peace-making attempted on the factory floor. With troubles resolved, the earlier dances have steered towards a finale of celebratory atmosphere and generous sharing of the goodies with audience members.
Chocolate seemed less researched and lighter throughout in content of allegory and substance than the other pieces had been. It needed a stronger story line—but a distinctly subdued atmosphere did build up for the enigmatic ending when many large bags full of cocoa nibs were slowly tipped all over the stage and onto the reclining body of one of the dancers till she lay almost buried beneath them. Maybe that was suggesting a careless use of produce, back-breaking labour for workers, exploitation of human resources, and a lament for lack of responsibility for the environmental after-effects of crop production? I may have imagined all that, but a paragraph or three in the program would have helped to anchor the thinking and choreographic intention of this unusual, inventive and enterprising work.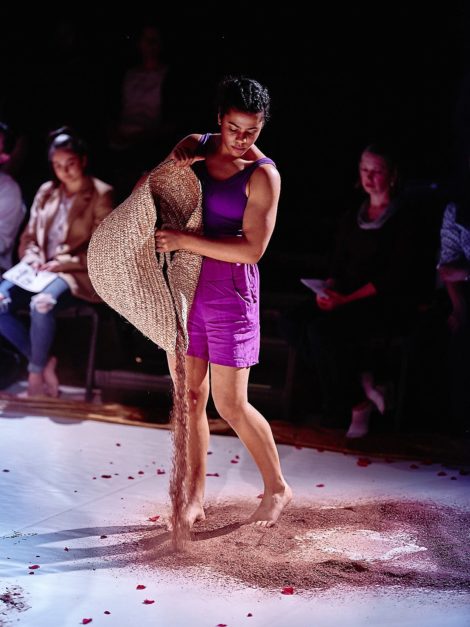 A note from the choreographer quotes Thomas Merton: 'Here is an unspeakable secret: Paradise is all around us and we do not understand.' I googled for the reference, and found there that Thomas was the son of New Zealand-born artist and musician, Owen Merton. So I did learn something I hadn't known before. Thanks Sacha.
Jennifer Shennan, 14 July 2019
Featured image: Cello Embrace from Chocolate. Java Dance Company, 2019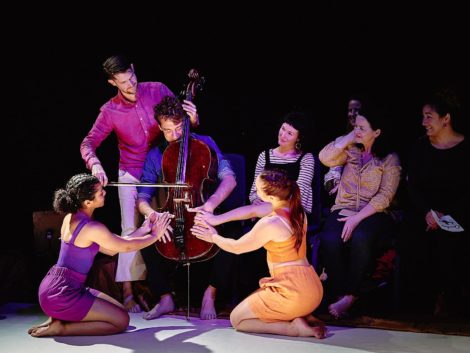 Please consider supporting the Australian Cultural Fund project to raise money to have hi-res images made for a book on the career of designer Kristian Fredrikson, which is heading towards publication. See the project, which closes on 30 July 2019, at this link. [Update 1 August 2019: Project closed]