20 September 2018. Te Rauparaha Stadium, Porirua
Reviewed by Jennifer Shennan
Crying Men broke powerful new ground for Black Grace and director Neil Ieremia in a three-performance season at Te Rauparaha stadium in Porirua.
The opening work, Gone, resulted from a recent workshop conducted with 16 pupils from local schools, Porirua College, Mana College and Aotea College. Its taut atmosphere centred on the theme of sudden disappearance of family and the familiarity of home. The work was accompanied by The Virtuoso Strings, a local young orchestral ensemble (along the lines of El Sistema) conducted by Liz Sneyd. They played an astonishingly sustained and inventive composition by Craig Utting (tho' the central string section had over-loud amplification—my impression was it did not need amplification at all).
The second work, E Toa, E Toa, choreographed by Ieremia and by Tuaine Robati, was performed by students from Whitireia Performing Arts. Its beautiful opening image, a circle of female and male dancers, arms intertwined, red hibiscus flowers bright on the dark costumes and bare skin glowing in the light, had a prayer-like quality as the dancers chanted their hope for a better world. It was a focused work from a large cast who moved with compelling energy, and the drum accompaniment was with them every beat of the way.
Both these works made strong atmospheric contribution to the serious theme of the following major work. Gone in particular reminded me of the Urban Youth Movement workshop projects in South Auckland that were part of Black Grace's program some time ago.
In Crying Men, a powerful element of theatre was introduced through the script of playwright Victor Roger, centering on the desperation and sorrow of a man unable to break free from the physical violence that has marked his life as husband, father and grandfather. A major work in four scenes, its recorded narration by Nathaniel Lees was poignant but would be wonderful to include as a live component of the work.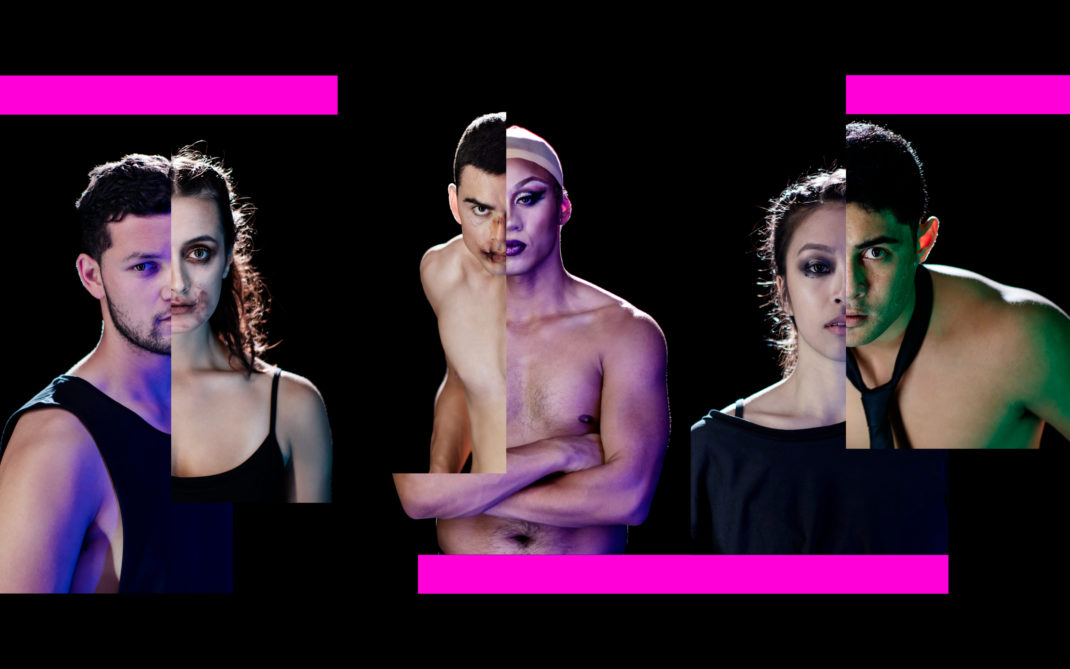 Ieremia's role as the grandfather had pathos, and the early scene of his wife being led away by female aitua (spirits) of death to the afterworld was shocking in its beauty.
A group dance of abstract design, simple in gestures but intricate in the canon and syncopation of its delivery, was a memorable gem that echoed weaving and carving patterns familiar from Pacifica arts.
The tense and violent encounters between three generation of males in one family was the continuing theme of darkness to the dance-play. A shot of humour was allowed in male/female interaction but there was no attempt made to cover up the central issue that remains a challenge in all societies as gender dynamics play out.
It seemed a pity not to employ the very considerable dramatic talents of Sean MacDonald, a foundation member of Black Grace back in 1995—but overall this was a powerful group performance. If at times sections of the work seemed repetitive or over-long, that I suspect was intended to echo the very point … where is this violence going? Where does it end? Not on Mars I think, but right here, in New Zealand, and in the Pacific. In India. How's Australia doing? Probably every country on Earth has issues that choreography could help to confront. Black Grace is equal to that task.
Jennifer Shennan, 21 September 2018
Featured image: Black Grace + Friends. Artistic Direction, Neil Ieremia. Photo: © Duncan Cole