22 March 2019. The Playhouse, Queensland Performing Arts Centre, Brisbane
It was a brave move by choreographer Liam Scarlett even to think of making a ballet out of the 18th century French novel Les liaisons dangereuses by Pierre Choderlos de Laclos. The storyline is complicated to say the least. It follows the tale of a wealthy widow, the Marquise de Merteuil, and her former lover, the Vicomte de Valmont, and their vindictive exploits centring on other, innocent players in their circle. It is filled with the less than honest means used by Valmont and Merteuil to move their tawdry plans forward. It takes a real expert to get across, via the wordless art form of dance, a narrative with so many characters involved in so many clandestine activities.
So how did Scarlett do it, and do it so sensationally?
Firstly, Scarlett has a knack for compressing detail without losing the basic elements of the narrative. So, while I am sure that second and third viewings would make the relations between characters clearer for the viewer, there was no difficulty following who was exploiting whom and in what way. The image below shows Cécile Volanges (Yanela Piñera), a young virgin engaged to be married to the Comte de Gercourt (Jack Lister), being seduced by the Vicomte de Valmont (Alexander Idaszak). Valmont's prize for carrying out the seduction (one of the more insidious acts dreamt up by Merteuil and Valmont) will be a one night stand with Merteuil (Laura Hidalgo).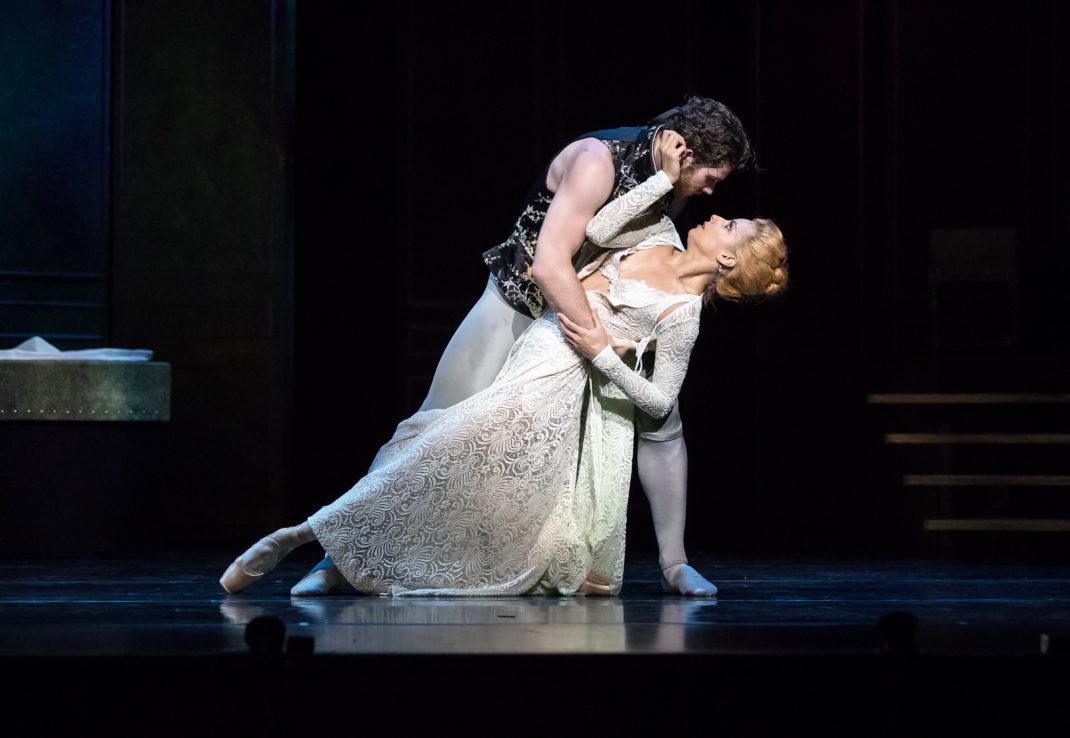 Lucy Green as Cécile and Alexander Idaszak as Valmont in Dangerous Liaisons. Queensland Ballet, 2019. Photo: © David Kelly
Secondly, Scarlett is truly a master choreographer who can, seemingly with ease, capture mood and character through movement. In the final scene, where Merteuil and Valmont engage in sexual activities, the partnering is spectacular, almost frightening, for the variety of positions in which the Marquise finds herself as she is thrown, swung and tossed through the air. It is vicious sex and leaves little to the imagination.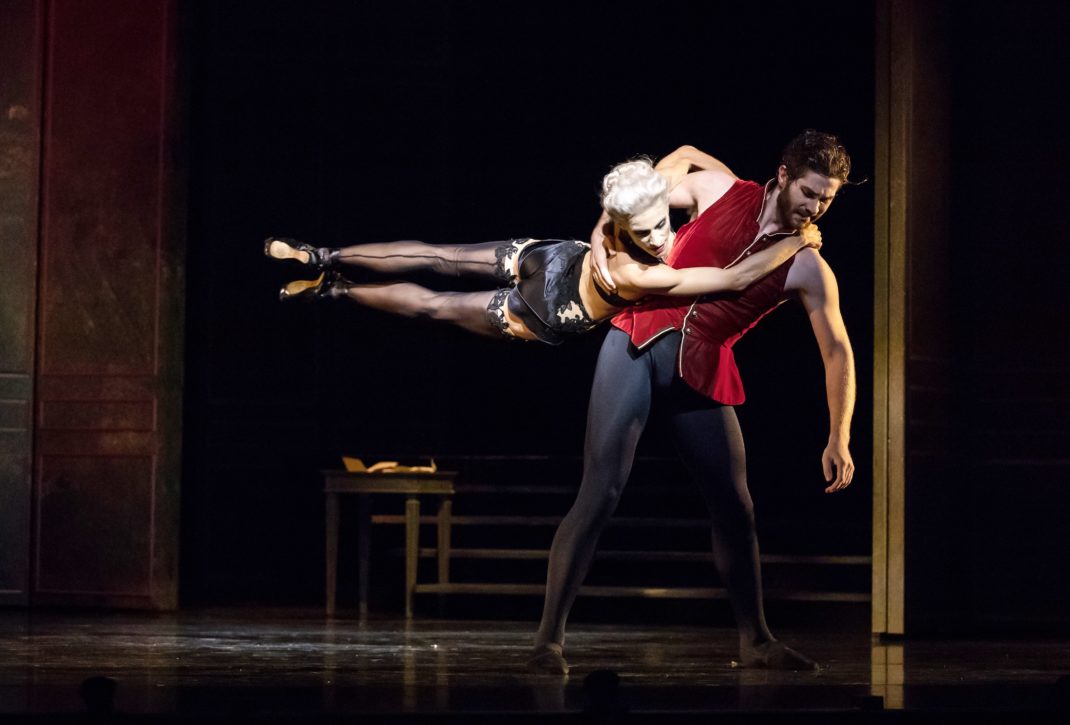 Laura Hidalgo and Alexander Idaszak in Liam Scarlett's Dangerous Liaisons. Queensland Ballet, 2019. Photo: © David Kelly
This is in stark contrast to the joyous waltzing in the scene where Cécile celebrates her social debut, or in the tender love scene between Cécile and her music teacher, Le Chevalier Raphael de Danceny (Rian Thompson), where the choreography, with its fluid, calm partnering, looked as innocent as the emerging love between Cécile and Danceny.
There were moments too when Scarlett's wonderful ability to make abstract patterns with groups of dancers was very clear. They included a section early in the work when six dancers, servants in Merteuil household (?), had a few moments just to dance, threading their way between each other like a moving tapestry.
But, of all the dancers onstage on opening night, it was Kohei Iwamoto who stood out for me. He was Azolan, valet to Valmont, and his dancing was light, fluid, and technically exact. Iwamoto made every nuance of Scarlett's choreography clearly visible, from small twirls of the wrist to larger beats and turns. And Scarlett had given him choreography that showed off his lightness, his elevation and his pleasure in dancing. It fitted well with his role as he rushed off with his bag of letters to deliver news of the next outrageous exploit of Valmont and Merteuil.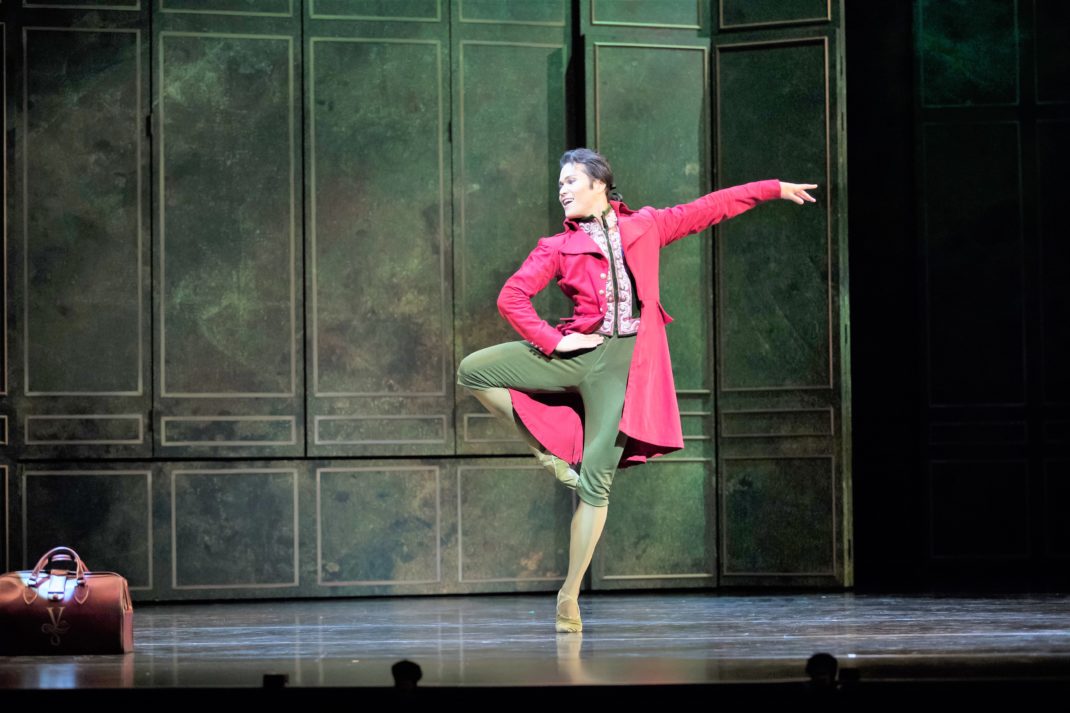 Kohei Iwamoto as Azolan in Liam Scarlett's Dangerous Liaisons. Queensland Ballet 2019. Photo: © David Kelly
Thirdly, Scarlett, with I'm sure the assistance of a company's coaching staff, makes sure that every dancer performs with an understanding of his or her role. I particularly liked Laura Hidalgo as the Marquise de Merteuil. Apart from those incredible feats in her duets with Valmont, which she handled so beautifully, I loved the personality she projected with every move and every step—she was imperious, superior and beyond reproach (at least in her eyes).
And finally, Scarlett's collaborators work beautifully with him to advance the narrative. Costumes by Tracy Grant Lord were sumptuous and elegant, befitting the aristocratic strata of French society to which the characters belonged. With sexual activities a persistent feature throughout, we often saw decorative and revealing undergarments with colour indicating character, virginal white for Cécile, red and black for Merteuil. The set design, again by Tracy Grant Lord, was for the most part a simple arrangement of panels that moved, sometimes revolving, to create new spaces. Lighting by Kendall Smith gave colour to the panels as well as setting a mood.
But it was the music that added an exceptional collaborative element to Dangerous Liaisons. Scarlett had worked extensively with arranger Martin Yates and together they had gathered together (Yates refers to their actions as 'plundering') a variety of music by Camille Saint-Saens to create a new score. Each character had his or her own musical theme, which perhaps is another reason why the ballet held together so well. And, with a piano teacher as one of the main characters, it was no surprise that piano music featured strongly. The music was played live by Queensland's Camerata Chamber Orchestra conducted by Nigel Gaynor with piano soloist Roger Longjie Cui.
The dancers of Queensland Ballet looked absolutely stunning throughout Dangerous Liaisons. The performance indicated quite clearly that the company is so much more than a State ballet company. QB is a national treasure.
Michelle Potter, 24 March 2019
Featured image: Laura Hidalgo and Alexander Idaszak in Liam Scarlett's Dangerous Liaisons. Queensland Ballet, 2019. Photo: © David Kelly