22 June 2023. Playhouse, Queensland Performing Arts Centre, Brisbane
Queensland Ballet's latest triple bill, Trilogy, is quite simply an extraordinary collection of dance works. It consists of Jack Lister's A Brief Nostalgia, a co-production with Birmingham Royal Ballet, first staged in Birmingham in 2019; Christopher Bruce's Rooster danced to songs by the Rolling Stones and first staged in 1991 in Geneva; and the world premiere of Cathy Marston's My Brilliant Career, a ballet based on Miles Franklin's novel of the same name.
If we take what is in the printed program as a starting point, Lister's A Brief Nostalgia was inspired by a short poem that begins with the line 'Even the most fleeting moments can cast great shadows' and for much of the work we watched what was unfolding onstage through dark-ish lighting by Alexander Berlage. Often the movement was reflected as shadows cast on white screens.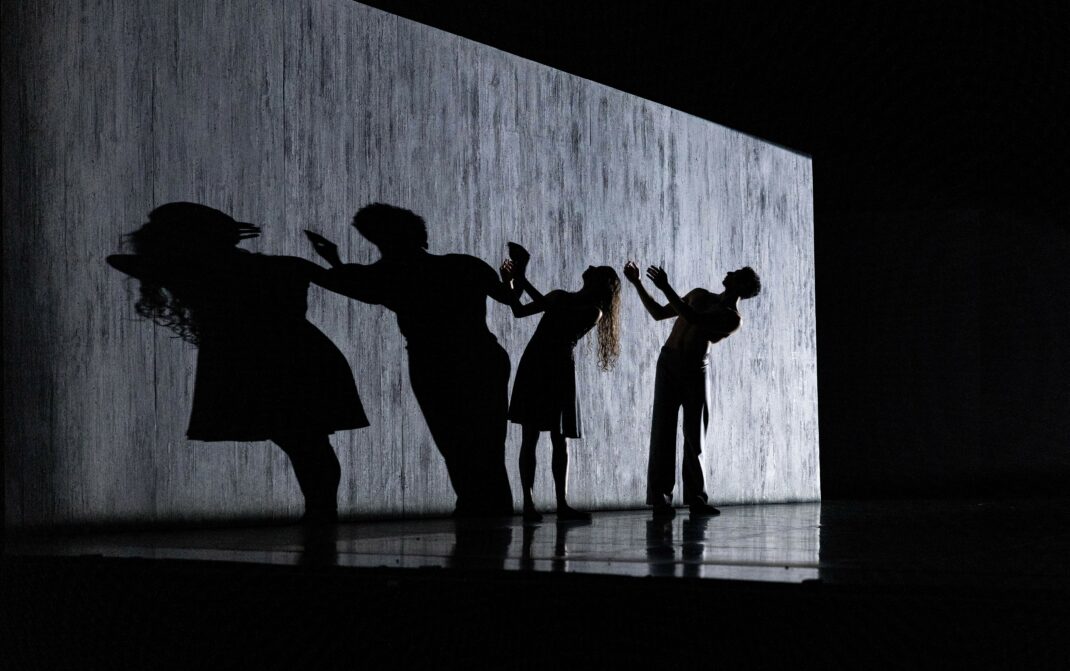 Occasionally there were 'fleeting moments' when we saw more than shadows. Groups of relatively brightly-lit dancers performed in various combinations, sometimes small, sometimes large when the full cast of twelve danced together. Lister's demanding choreography focused often on swinging, swirling arms and extraordinary lifts performed to a quite strident and percussive score by Tom Harrold.
The pattern was broken at one stage by a duet, danced at the performance I saw by Georgia Swan and D'Arcy Brazier dressed in black rather than the grey outfits worn by others. It seemed to have a love interest embedded in it and was danced smoothly and gently in a haze of smoke.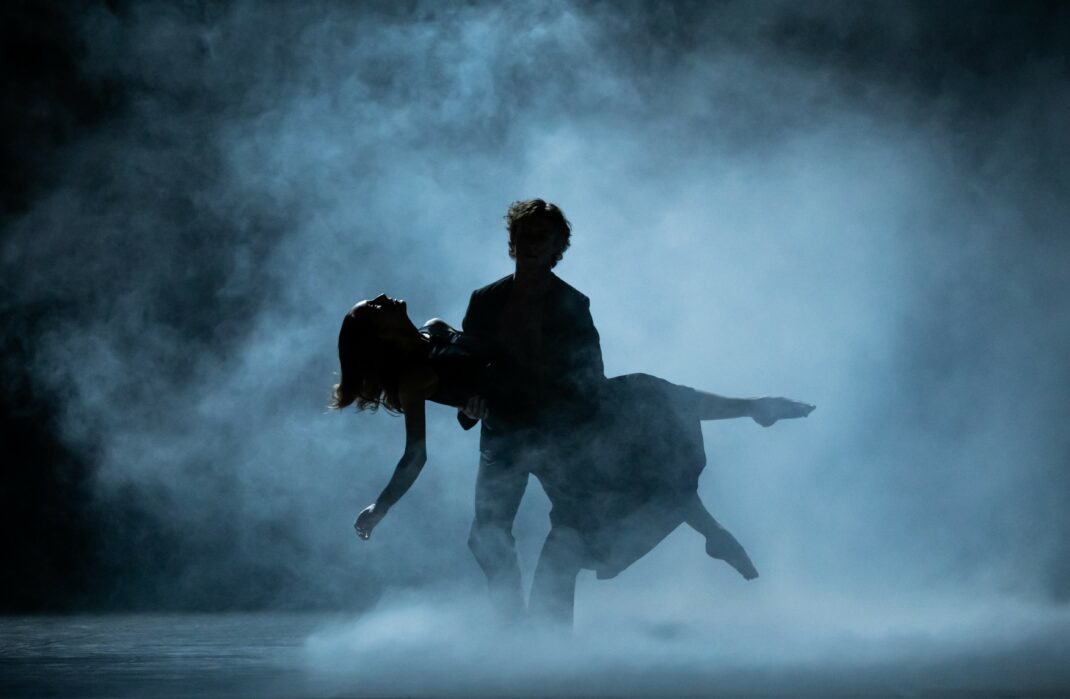 But in general, there was huge physical energy on display. It was fast-moving and often actions happened and then disappeared before our eyes. Those 'fleeting moments' were truly on display.
A Brief Nostalgia was followed by Christopher Bruce's Rooster. It is a work for ten dancers, five male and five female, and is performed to eight songs from the Rolling Stones. It looks back to the nature of male/female relationships of the 1960s. The men strut around often doing a 'rooster strut' especially in the opening section danced to 'Little Red Rooster'. They preen and show off a feeling of self-importance. The women accept, for better or worse, the way they are treated. But as Bruce himself has said, 'There is a kind of sexual war going on.'
Dance-wise the movement is a brilliant collection of ideas from across the board. While most obviously it is the rock/jive style popular in the era of the Rolling Stones but there are references to ballroom, and older court dances, as well as contemporary style choreography using the floor for rolling and spinning movements. Red and black predominate in the varied style of the costumes by Marian Bruce and are reflective of the era. For the women the costuming includes feather boas, scarves and mini skirted dresses. For some in the audience it is pure nostalgia. For most it is just huge fun to watch. And stylishly danced by the cast.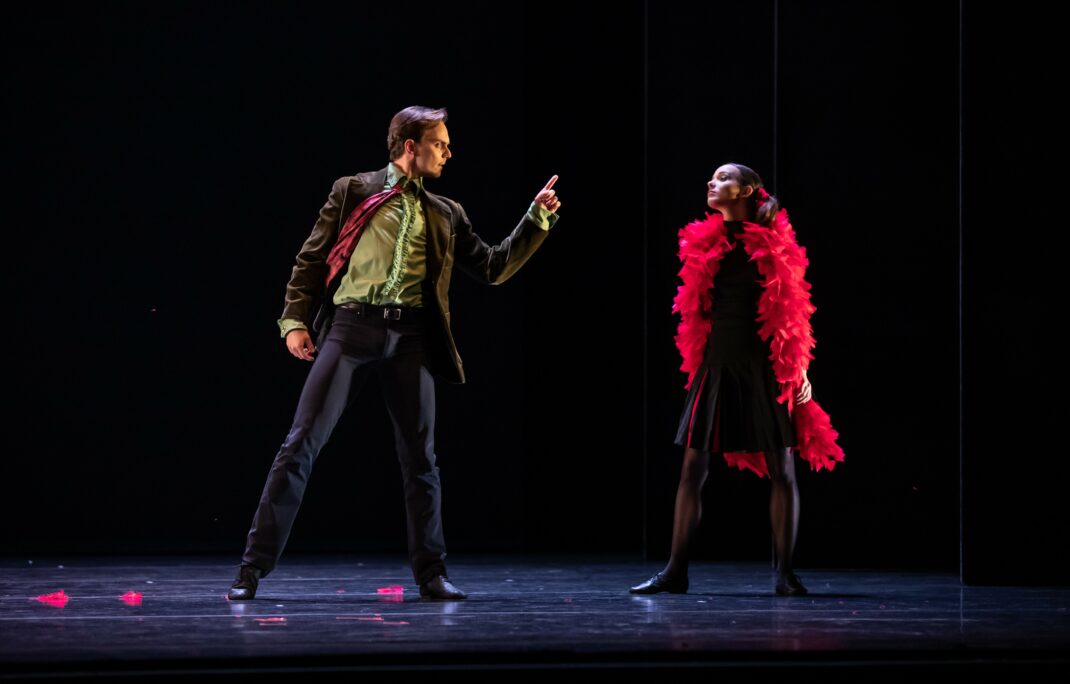 My favourite part of Rooster was the section danced to 'Ruby Tuesday', which began with a solo for a female dancer but which developed further when four male dancers interacted with her. I saw Sophie Zoricic as the soloist and her performance was sublime. She filled the space with expressive and lyrical movement, and I loved the moments when she was tossed in the air by the four men and executed (no doubt with the assistance of the men) a tour en l'air in a horizontal position as she rose up into the space above them. Shades of Sancho Panza in Don Quixote (except better!) Then, when she was partnered by Kohei Iwamoto, the dancing became extraordinarily thrilling. Two terrific artists there.
It has been a while since I read Miles Franklin's novel My Brilliant Career so I wondered how, or if I would be able to follow Cathy Marston's version of what is a complex story. Marston's work closed the evening and, as it turned out, I think she did a brilliant job, although it was good to have read the synopsis in the program as a lead-in. Every character was very clearly drawn choreographically. The movements chosen to elucidate the nature of the characters were often small, individualistic movements of the feet or the hands, or we understood the nature of the character by the way they sat or walked. But it worked brilliantly and was a remarkable achievement from Marston.
Then there was Marston's development of the leading character of Sybylla by splitting the role between two dancers, one called Syb, the other Bylla. On the surface it sounded like an odd thing to do but again it was remarkable work from Marston and was executed with remarkable performances from the dancers. I saw Lucy Green as Syb and Sophie Zoricic as Bylla. At times I couldn't take my eyes off Green, at others it was Zoricic I looked at, so the two sides of the young woman, one searching for a world without borders, one that was seeking something else, were clearly developed.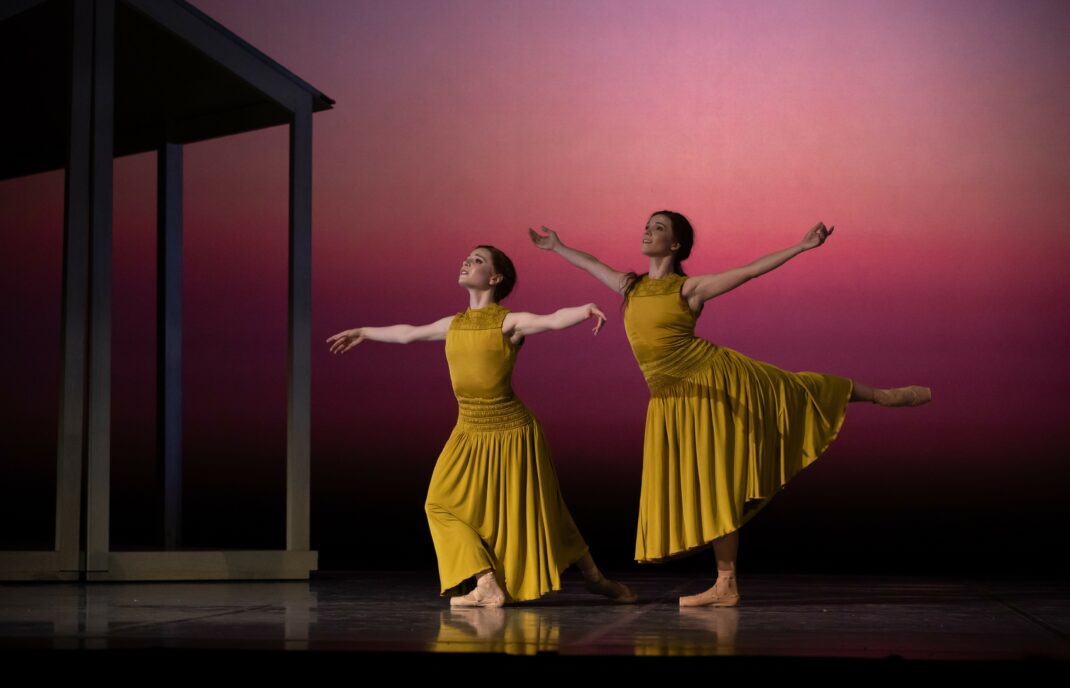 There is much more to say about this work. The different men with whom Sybylla came into contact, her grandmother (strongly performed when I saw the show by Georgia Swan) whose house and culture she moved into for a temporary time, the children in her family, the circumstances that led to her final realisation of what path her life should take, the set design that so easily could be moved to offer new locations. But as a final comment, a huge highlight came with the commissioned score from Matthew Hindson. It was so closely entwined with the choreography that at times I wondered whether I was listening to the choreography and seeing the music. Amazing work from Hindson who managed to describe the characters in his music as Marston did with her choreography.
I need to see My Brilliant Career again and to have the occasion to write in more detail. I hope it has further seasons.
Perhaps the most rewarding aspect of the evening was the wonderfully diverse approaches to choreography we saw. Ballet doesn't have to be a bunch of arabesques and pirouettes (although of course they have their place). All in all, another exceptional triple bill program from Li Cunxin and Queensland Ballet. May it continue.
Michelle Potter, 23 June 2023
All photos: © David Kelly
Featured image: Sophie Zoricic in 'Ruby Tuesday' from Rooster. Queensland Ballet, 2023. Photo: © David Kelly