25 October 2023. Canberra Theatre
Unmissable!
After all the drama surrounding the life of choreographer Liam Scarlett, leading to his death by suicide in April 2021, what a thrill it was to see a restaging of his exceptional work, A Midsummer Night's Dream—a joint production between Queensland Ballet and Royal New Zealand Ballet. It was first seen in New Zealand in 2015 and then in Brisbane in 2016. How lucky we are that Li Cunxin has seen fit to have it staged again by Queensland Ballet.

Scarlett's work, somewhat rearranged from the play of the same name by William Shakespeare, juxtaposes two worlds—that of a fairy realm led by Oberon and Titania as King and Queen, who are squabbling over a changeling child; and a mortal world inhabited by rustics and a group of 'explorers' (so to speak) who enter a forest clearing inhabited by the fairies. The love lives of the 'explorers' become a little muddled when Oberon's apprentice, Puck, receives instructions from Oberon to help with his squabble with Titania.
The forest setting is spectacularly designed by Tracy Lord Grant with strings of lights, stylised flora, a bridge among the tree tops, exotic tent-style dwellings for the fairy folk, and then some down-to-earth tents for the explorers. She is also responsible for the remarkable and beautifully coloured costumes. The work is lit with style by Kendall Smith.
Scarlett's choreography is quite individualistic. It is beautifully musical with individual steps that are sometimes so small and fast that it is almost 'blink and you miss them'. Then he invents lifts that are unlike anything we have seen before; he combines turns and jumps in unusual ways; he creates group movements that seem just perfect for the moment; and his choreography always matches the nature of the characters in the work. On this last mentioned issue, the group choreography for the rustics is a perfect example—it is, well, just rustically unsophisticated!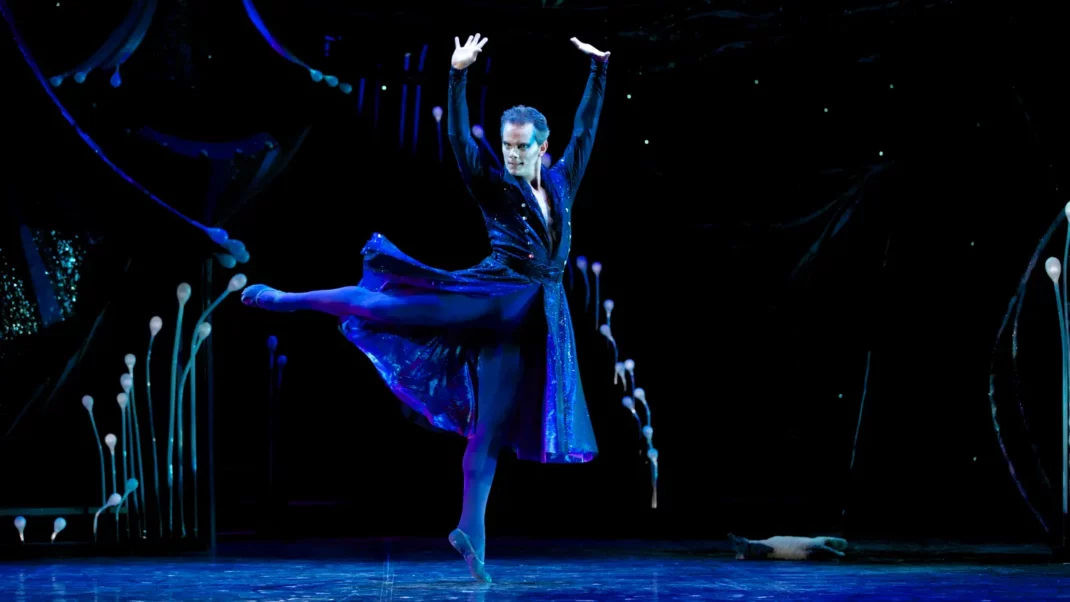 The dancers of Queensland Ballet danced brilliantly, as we have come to expect these days. Victor Estévez was a rather solemn Oberon but I loved seeing him lurking in the background (often on the treetop bridge) keeping an eye on what Puck was doing. Lucy Green handled the role of Titania with ease and the pas de deux between her and Estévez at the end of the work, when their differences had been resolved, was full of love and even a bit of sexiness. The four 'explorers', Mia Heathcote as Hermia, Alexander Idaszak as Lysander, Georgia Swan as Helena and Vito Bernasconi as Demetrius, engaged our attention throughout, while Rian Thompson as Bottom was memorable especially after the spell linking him and Titania had been broken and he struggled (choreographically) to understand what had happened.
While it is a hard task to single out individual performers in a show where the standard of performance is so high, Kohei Iwamato as Puck needs a special mention. Apart from the fact that he danced with spectacular leaps, great turns and detailed choreographic focus, the facial and physical expression that he used to give depth to his character was remarkable. I also found Georgia Swan truly engaging as the slightly crazy Helena. There was a lovely moment, after she and Demetrius had come together, when Demetrius took out a pair of glasses to show Helena that he too wore glasses.
This was my second look at Scarlett's A Midsummer Night's Dream after seeing it in Brisbane in 2016. As often happens with dance productions, the second viewing brought out things that I hadn't noticed to such an extent the first time. Apart from the comic angle which hadn't seemed so obvious before, I was entranced by the way every single character had an individuality, even when dancing as a group. The fairies and the rustics brought this out really well.
A truly unmissable show and I look forward to another viewing.
A Midsummer Night's Dream continues at the Canberra Theatre until Saturday 28 October. If you miss it in Canberra, it is part of Queensland Ballet's 2024 season and plays at Queensland Performing Arts Centre's Playhouse from 12–27 April. See this link for more information about that 2024 season. It will also be restaged by Royal New Zealand Ballet 24 October–14 December beginning in Wellington. See this link.
Update: Here is a link to my second viewing in Canberra.
Michelle Potter, 26 October 2023
Postscript: At the post performance event following the opening night of A Midsummer Night's Dream in Canberra both Alex Budd, director of the Canberra Theatre Centre, and Li Cunxin mentioned in their speeches the move currently underway to build a new and enlarged theatre space for the Canberra Theatre Centre. Both spoke of the size of the current main stage and the difficulties associated with staging some performances on it. The size of the Canberra stage has been an issue for some time now and a new stage is a terrific development. But I have to say that Li Cunxin managed to fit Midsummer onto the current stage just brilliantly even though he admitted there had to be some adjustments. He said when asked that he never says 'No I can't do it.' He always finds a way. Well that's Li. He succeeds where others can't be bothered trying.
Li also seized the opportunity to speak about another important issue—government funding for Queensland Ballet, which he says is minimal compared to funding for other major dance companies in Australia. This is a situation that needs to be changed. Under Li Cunxin and Mary Li the company has grown in size; has become more adventurous than ever; has built new and hugely responsive audiences; has brought major sponsors on board, has built a new home for Queensland Ballet (including a theatre), and now the company has a standard of performance that is hard to beat anywhere. That it has been unable to garner funding that recognises its place as a world class company is outrageous. We need to lobby those who are in a position to bring about change.
Featured image: Queensland Ballet in a moment from Liam Scarlett's A Midsummer Night's Dream, 2023. Photo: © Nathan Kelly