16 April 2016, Playhouse, Queensland Performing Arts Centre, Brisbane
Liam Scarlett's version of A Midsummer Night's Dream for Queensland Ballet is nothing short of sensational. Design (Tracy Grant Lord), lighting (Kendall Smith), and Scarlett's choreography all contribute to a show that begins beautifully as fairies dust down the scenery, light up the forest glade, and generally prepare the setting for what is to follow. And what follows holds the attention completely until the final moments.
Choreographically the work is full of surprises. Nothing seems predictable, not even the several pas de deux scattered throughout the work: Scarlett creates lifts, for example, that are fluid, dramatic, and visually exciting. Beyond the pas de deux arms flutter, feet move quickly, jumps and turns are fast-paced and every choreographic moment is wonderfully attuned to the Mendelssohn score, carefully crafted by Nigel Gaynor from several of Mendelssohn's compositions.
The storyline is also full of surprises. Why do those lovers, Hermia and Lysander, Helena and Demetrius, find themselves in a forest? Because they are out on a scientific expedition of course! Scarlett has them setting up tents, reading maps and carrying magnifying glasses and butterfly nets. And in their endeavours they are assisted by a group of local rustics, wonderfully dressed by Tracy Grant Lord in an assortment of working clothes, including some hilarious headgear.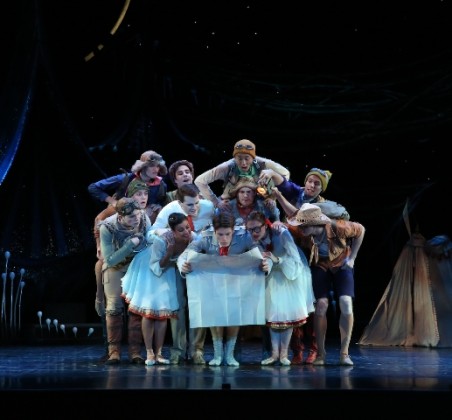 As for Queensland Ballet, it just goes from strength to strength. The corps de ballet of fairies and rustics had been beautifully rehearsed and did themselves proud. Yanela Piñera as Titania, Camilo Ramos as Oberon and David Power as Puck kept the story moving along. Lina Kim as Hermia was a delight, even when angry with Lysander (Joel Woellner), and Eleanor Freeman as the bespectacled Helena drew out the best of Scarlett's choreographic humour in all her dealings with Demetrius (Jack Lister). Vito Bernasconi's performance as Bottom was engaging and Scarlett prepared us well, giving this particular rustic a bumbling manner from the beginning.
It is hard to single out individual moments and people from such a strong and entrancing work but I especially admired:
Mia Heathcote as the fairy Mustard Seed

. She was vibrant, funny, and engaging. She danced surely and beautifully in a technical sense, and had really thought out an individualistic interpretation of this role. It was hard to take one's eyes off her when she was onstage.

The relationship between Oberon and Puck

. This relationship was a much stronger and a more personal one than in other balletic productions of this Shakespearean tale (at least ones that I have seen). It was partly, no doubt, a result of Scarlett's vision for the ballet, and how he made the relationship unfold through the choreography and mime, but it was also given a strong performance by Ramos and Power.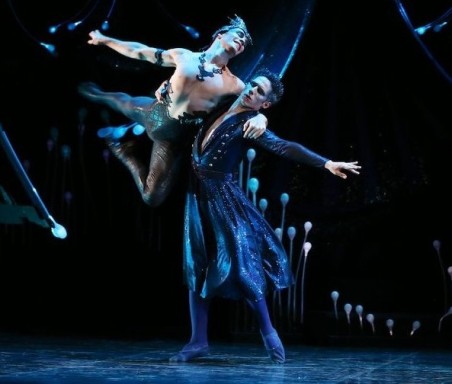 The Changeling Boy

. The child over which Titania and Oberon quarrel in the early part of the ballet was not, in this production, a little Indian prince, or anyone of unusual background as is often the case, but a regular little person wearing a purple onesie with a bedtime storybook and a soft donkey toy (yes, donkey—a wonderful early reference to Bottom).

The multi-level setting

. Tracy Grant Lord's setting is an absolute delight. With its suspended bridge going almost the width of the stage, and its gorgeous little canopied spaces, it allowed characters to appear in, on and from many corners of the stage.

The sexy bits

. Scarlett brilliantly added little sexy touches here and there. In particular there was a gorgeous moment in the pas de deux of reconciliation between Oberon and Titania where he ran his hand along her extended leg and she followed that movement with a little shake of the lower part of the leg. A frisson of excitement. Wonderful. And there were others.
Liam Scarlett's Midsummer Night's Dream is a co-production between Queensland Ballet and Royal New Zealand Ballet. A winner!
Michelle Potter, 18 April 2016