Book review by Jennifer Shennan
This impressive book contains close to 200 photographs, culled from some 3000, taken by Neville Waisbrod, tango dancer-turned-photographer of Wellington.
Evident throughout is Waisbrod's deep feeling and respect for the dance form in milonguero style. This is not tango for display or spectacle, for competition or ambition, for innovation or experiment, for the money or the bag, but rather for the intimate unspoken communication that builds between partners, between steps, between movement and music. It's both in time and across time, and as you close the book you feel you have been dancing too.
Several pithy quotes, catching what a writer, poet, philosopher, teacher or dancer has penned about tango, or wider dance ideas, are scattered throughout the book. These are few in number but that restraint only makes them more evocative since we all know that less is more. Sources of quotes range from renowned tanguero and teacher, Carlos Gavitos,
The tango is not in the steps.
The tango is between one step and another.
There, when you do nothing,
you can see whether you dance tango.
Alicia Pons, a revered teacher regularly visiting New Zealand from Argentina, Tango is a journey not a destination.
JL Borges, The tango was having its way with us.
and from Waisbrod himself, The memory of an embrace will last a lifetime, while the steps will be forgotten by the end of the night.
There are further quotes from Jacques d'Amboise, Martha Graham, Wendy Whelan, Omar Khyyám, William Shakespeare, TS Eliot, Albert Einstein. These, as well as the Introduction and the Endnotes, are given in both English and Spanish.
The photographs are black & white or grained grey, with the focus on the mutual embrace of a dancing couple—upper body, head, neck, shoulders, arms, hands (for all of which, read 'hearts and minds'). An image typically shows the face or profile of one dancer and thus the back of the head of the partner. We can read the facial expression of the one and, from the angle of head or neck, handhold raised or shoulder embraced, can imagine that of the partner. The concentration is intense. You're not eavesdropping on these dancers, but looking and listening with your eyes and limbs.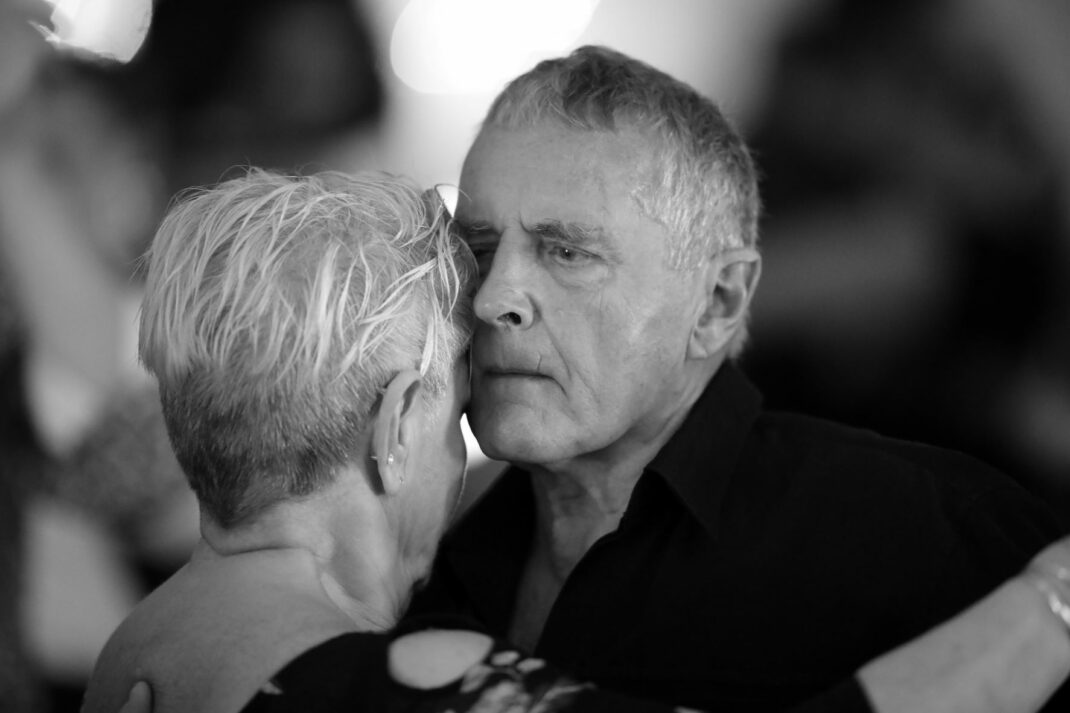 A man and a woman hold each other and we hold our breath—they've probably been married for 45 years and we can tell their life story from the enchanted eyes of the one who faces the camera, and from the inclined and trusting head of his partner. It's a love sonnet. Another couple, possibly three decades apart in calendar age, who may never have met before this milonga, are here not counting the years so much as sharing them. One tanguera is wearing a plaster cast on a broken arm and her partner carries its weight for her. The back of one head reveals hearing aids 'the better to hear the music with, my dear'. One couple is dreaming, eyes closed, a hint of a smile hovering. A young couple shares an explosive laugh and we can only guess at what caused their mirth. Another couple, both males, are dancing more than just the steps their teacher taught them. A sadness etched into one woman's face is lifted by the sense that her partner is allowing the dance to be bigger than any individual dancing it. Another image echoes that rapport, though with the gender roles reversed. Perhaps the memory of an earlier now departed life partner is nurtured by the physical proximity of a dance partner. One quote, 'Dancing is cheaper than therapy', could be the caption of several of these images, or perhaps of them all.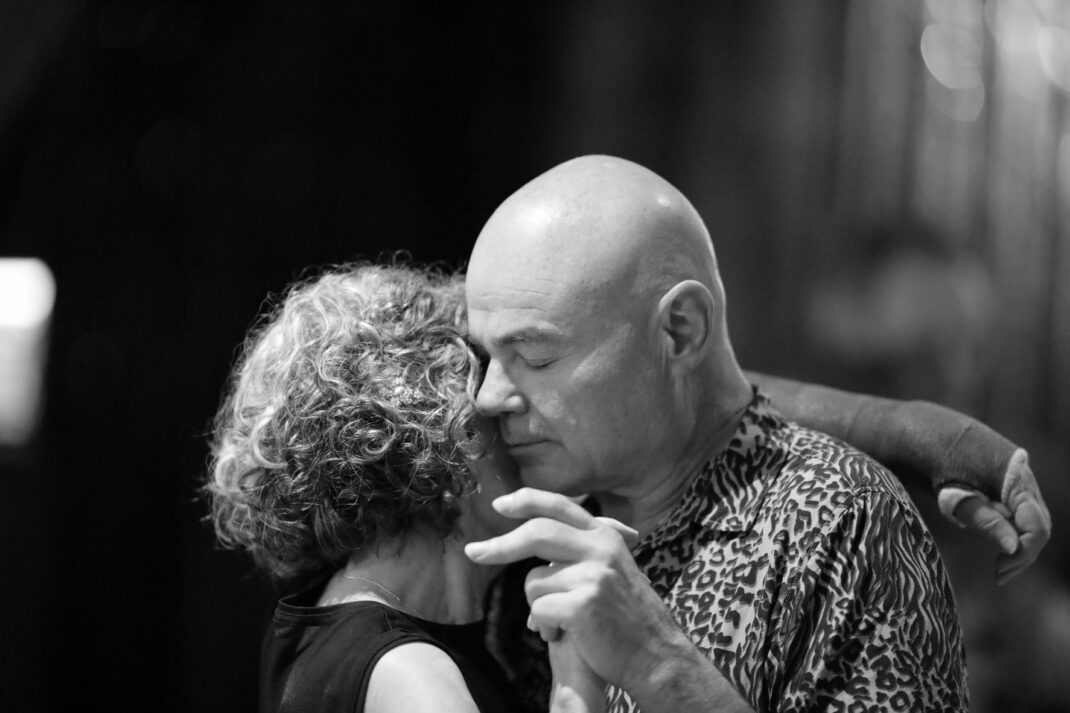 There are in fact no captions to individual photographs so the dancers remain anonymous. Although they have given their permission for reproduction, they are not posing for the camera and will be unaware they were being captured in that moment. The prime place given to the visuals within this book evokes for me the classic works of director Carlos Saura, who devoted entire feature-length films, with very few if any words, to the subject of just one dance form—Sevillanas, let's say, or his fabled flamenco trilogy, Blood Wedding: the rehearsal—Carmen: the performance—El Amor Brujo: the dénouement.
JL Borges, Argentinian writer & poet, famously wrote…Tango can be debated, and we have debates over it, but it still encloses, as does all that which is truthful, a secret. This book borrows that notion to tell its own unspoken truth.
Waisbrod did not need to travel across continents in search of these dancers. They are all in New Zealand. His credit to Belinda Ellis for editorial help and design of the book is heartfelt. Search further and you find another modest little credit, 'proudly supporting the Mental Health Foundation of New Zealand'. This is a book of considerable humane and artistic merit, and, at $75.00, is cheaper than therapy.
www.theembracebook.com
ISBN 978-0-473-59266-0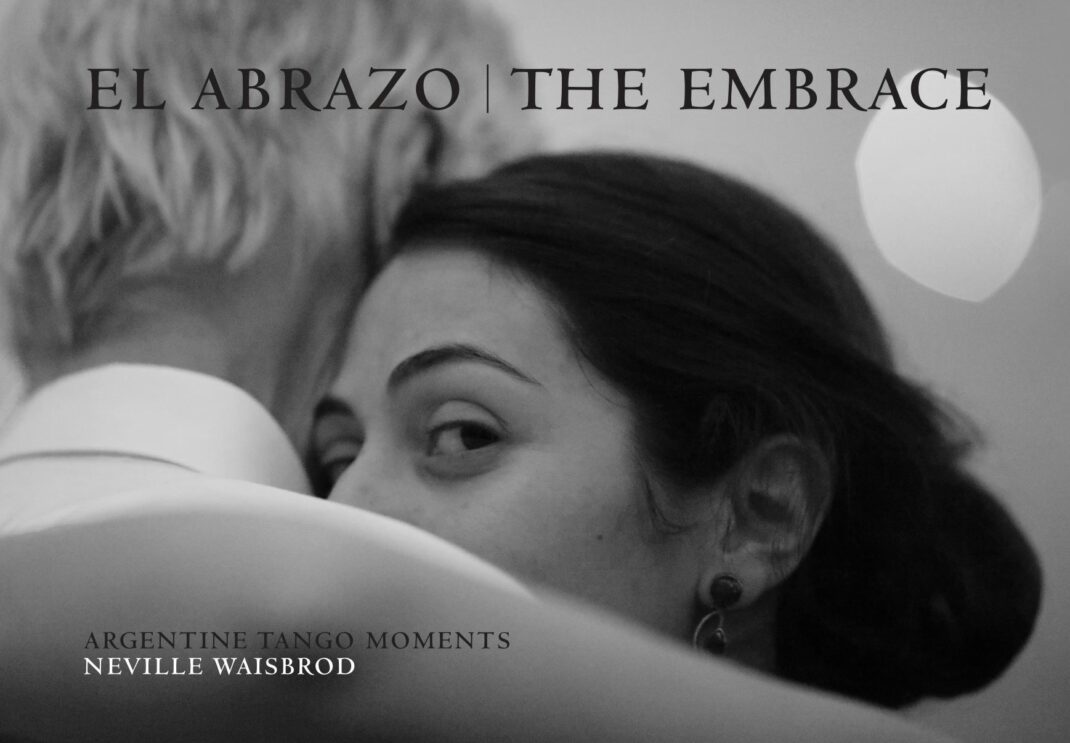 Jennifer Shennan, 10 August 2022
All photos: © Neville Waisbrod