10 March 2013, War Memorial Opera House, San Francisco
In a year that has already seen various dance productions set to Stravinsky's 100 year old Rite of Spring, and will see more as the year progresses, Yuri Possokhov's new version for San Francisco Ballet will surely have to count as one of the most dramatic. Full of suspense and tension, the work looks to the subject matter of the original staging, that is the pagan ritual of human sacrifice, for its narrative line.
There was a distinctly Russian feel to the work. Costumes by Benjamin Pierce, with their largely red-toned on white designs (with a touch of spring green), recalled the Roerich originals, and the set, also by Pierce, consisted of a sloping platform upstage, OP side, with a mini-forest of poles representing silver birch trees. Again recalling the original, Possokhov's choreography, which had the women on pointe, emphasised the down beat in the music and often used parallel or turned-in movements. There the similarities ended, however, as Possokhov made the story his own by emphasising the evil he saw as underlying the story of human sacrifice. His two elders, conjoined as a double personification of evil via a costume of stretch fabric and skeletal additions, drove the piece relentlessly to its inevitable and terrifying conclusion in which the birch trees played a major role as they were dragged down onto the body of the Chosen One.
What made this work especially mesmerising was the dancing of Possokhov's tribe of people. They seemed sometimes sexually driven, sometimes just plain obsessed, sometimes filled with fanaticism. They slithered down the ramp. They seemed to side with the elders once the Chosen One had been selected, waving a hand in the air as if agreeing. They danced with the drive that characterises the music and occasionally played along with it by drumming sticks on the ground. It was absolutely absorbing from beginning to end and brilliantly performed.
The middle work was Beaux by Mark Morris, a subtitle for which might be 'Boys Playing' or even 'Beautiful Boys Playing'. Choreographically there were moments that briefly reminded me of Cunningham, especially when the dancers' upper body was held still and erect with arms stretched straight right through to the palms while the legs executed various movements. But mostly the movement was softly balletic with men partnering men in ways that are usually reserved for men partnering women. Some charming images remain—a line of men resembling cut-out dolls, a wave from one man to the rest of the cast and three men carrying another aloft and running with him across the stage.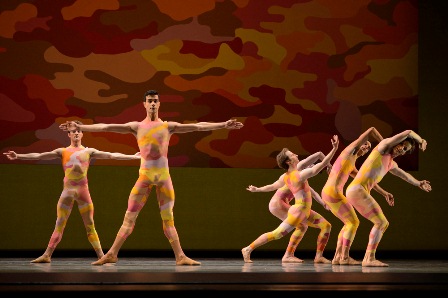 Set and costumes were by New York-based fashion designer Isaac Mizrahi. An oversized painting was hung upstage against a plain cloth. Its myriad of organic shapes in orange, lemon and shades of pink overlapped each other and the cloth was lit variously with similar colours. The nine gentlemen in the cast wore high-necked, sleeveless all-overs in similar colours to those of the painting and with similar shapes printed on them. It was a pleasant work but that's all.
The program opened with Ashley Page's Guide to Strange Places, which was premiered by San Francisco Ballet in 2012 and which is danced to music of the same name by John Adams. It seemed to be mostly about legs—especially women's legs—and how and where they can extend, and how they can be manipulated by a partner. San Francisco Ballet's dancers are beautifully athletic and so they accommodated the hyper-extensions very nicely. But to me it was uninspiring choreography. The fact that it was meant to refer to an old French book called (in English translation) A Black Guide to Mysterious Provence explained its strangeness to a certain extent. But even thinking along these lines couldn't save it. It had so little to touch the soul.
My soul was touched by Possokhov's Rite of Spring and I regret that I only had the opportunity to see one performance.
Michelle Potter, 14 March 2013
Featured image: Artists of San Francisco Ballet in Yuri Possokhov's The Rite of Spring. Photo: © Erik Tomasson, 2013. Courtesy San Francisco Ballet