09 March 2013 (matinee), War Memorial Opera House, San Francisco
What a glorious program Helgi Tomasson put together as Program 3 in San Francisco Ballet's current repertory season. With works by George Balanchine, Christopher Wheeldon and Alexei Ratmansky, to me it said the 20th century had a great choreographer in Balanchine but look where the 21st century is heading with Wheeldon and Ratmansky.
This triple bill program opened with Balanchine's Scotch Symphony, a work dating back to 1952. It was more than ably led on this occasion by principals Yuan Yuan Tan and Davit Karapetyan, she in particular combining a crisp technique with an elusive element to her dancing and thus perfectly fitting the role. Scotch Symphony shows the delight Balanchine took in making references to other dance styles and techniques and blending them with the technical strengths of his classically trained dancers and with his own characteristic choreographic patterns. In this case the precise footwork of Highland dancing sat side by side with the floating, beyond-this-world feeling of the Romantic movement in ballet. But always obvious were those unexpected Balanchine groupings and his use of the shapes and spaces thus made to develop new groupings.
The corps de ballet shone throughout, especially the men and especially Diego Cruz and Lonnie Weeks in their leading roles in the corps. They gave their roles real personality and one of them knocked me for six with a fabulous saut de basque with arms in 5th in which the lift to 5th was at least as exciting as the saut de basque. The one jarring area to my mind was the backcloth, a dark grey shadow of a castle structure by Broadway designer Arnold Abramson. To me it captured little of an elusive and blended world that the ballet itself presents.
In the middle of the program was Christopher Wheeldon's Within the Golden Hour, made for San Francisco Ballet in 2008. It is a series of interludes, seemingly unrelated, beginning and ending with sequences for the full cast. In between the beginning and the ending we see a quirky waltz for for a couple, which is picked up almost as it ends by several other couples; a fast and technically demanding duet for two men filled with turns and beats; a pas de deux that scarcely moves through space, a quartet of ladies performing at first as shadows; and a second pas deux that does move around the stage a little more.
Wheeldon's choreography in Within the Golden Hour mixes ballet technique with all kinds of other styles from ballroom to his own take on contemporary dance. This work was by far the most popular with the audience, who gave it a standing ovation at the matinee I attended. I enjoyed its changing momentum and its quirkiness, but it isn't a great work.
From Foreign Lands was specially commissioned by San Francisco Ballet from Alexei Ratmansky and had its world premiere on 1 March 2013. The performance I saw was just the ninth show and there were still a few moments when the dancers looked a little unsteady. But what a lovely work it is, exciting to watch, often surprising, often funny, and even redolent at times of those ubiquitous visits we used to have decades ago from groups performing ethnic dances from their homeland. Those tours showed us dancers happily competing with each other to jump higher, turn faster, execute the most difficult steps, and ultimately to win their lady-love.
Made up of six parts, 'Russian', 'Italian', 'German', Spanish', 'Polish' and 'Hungarian', From Foreign Lands is performed to an 1884 score by German composer and pianist Morris Moszkowski. The ballet, however, begins in silence with a brief introductory section for the full ensemble of twelve dancers. It suggests to us that dancing is to be the order if the day. But apart from that it is an opportunity to see the charming, tiered, older style tutus (finishing just above the knee) designed by Colleen Atwood. Then follow the six sections, which choreographically are largely quartets, or a variation on the quartet.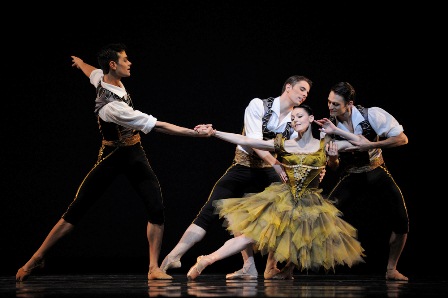 Ratmansky's choreography in this work contains some quite unexpected movement. He drops a supported cartwheel into 'Spanish', for example; elsewhere two men perform a simple jump on sequential beats so that they look like pistons going up and down; and occasionally the dancers face each other and dance mirror images. And all this alongside some glorious, 'straightforward' classical technique. I found 'German' one of the most interesting of the six sections, despite the fact that program notes suggest that it is 'over-the-top romanticism'. As a quartet for three men and one woman it had a different feel from other combinations and I loved its lushness and the smooth and flowing dancing of Jennifer Stahl.
All in all a wonderfully uplifting program!
Michelle Potter, 10 March 2013
Featured image: San Francisco Ballet in 'German' from Alexei Ratmansky's From Foreign Lands. Photo: © Erik Tomasson, 2013. Courtesy San Francisco Ballet