10 November 2023. Regent on Broadway, Palmerston North, Manawatū
reviewed by Jennifer Shennan
This return season of Hansel & Gretel, from choreographer Loughlan Prior and composer Claire Cowan, is a colourful riot of a pantomime romp that the dancers milk to the max. There are some very skilled comic performers among the soloists who use every moment and centimetre of opportunity to entertain us.
I have come to Palmerston North for the performance in Regent on Broadway, a venue that always offers a sense of occasion. The 1400 seat grand theatre, converted and beautifully restored from the original cinema house built in 1930, is a source of local pride and rightly so. The opening to this production of Hansel & Gretel, designed by Kate Hawley, is cleverly styled as a silent movie, so it's an echo to the days of Busby Berkeley, Whoopee! and Flying High! I don't suppose there's anyone in the audience tonight who saw those movies here first time round, but hey, who's to say there isn't?
The folktale as we've known it from the Brothers Grimm is not the narrative adopted for this choreography. Instead the opening has fashionable well-to-do folk and their snobbish children striding about, flaunting their wealth and casting scorn on the poor little Hansel and Gretel who have nothing much except a toy rabbit to cling to. Their wicked Stepmother is instead recast here as simply the poor wife of the poor husband whose mischievous children are always hungry, so leave home in search of food. The danger of a cruel Stepmother within the family is thus replaced by two worlds of 'those who have' and 'those who have not' as the scenario.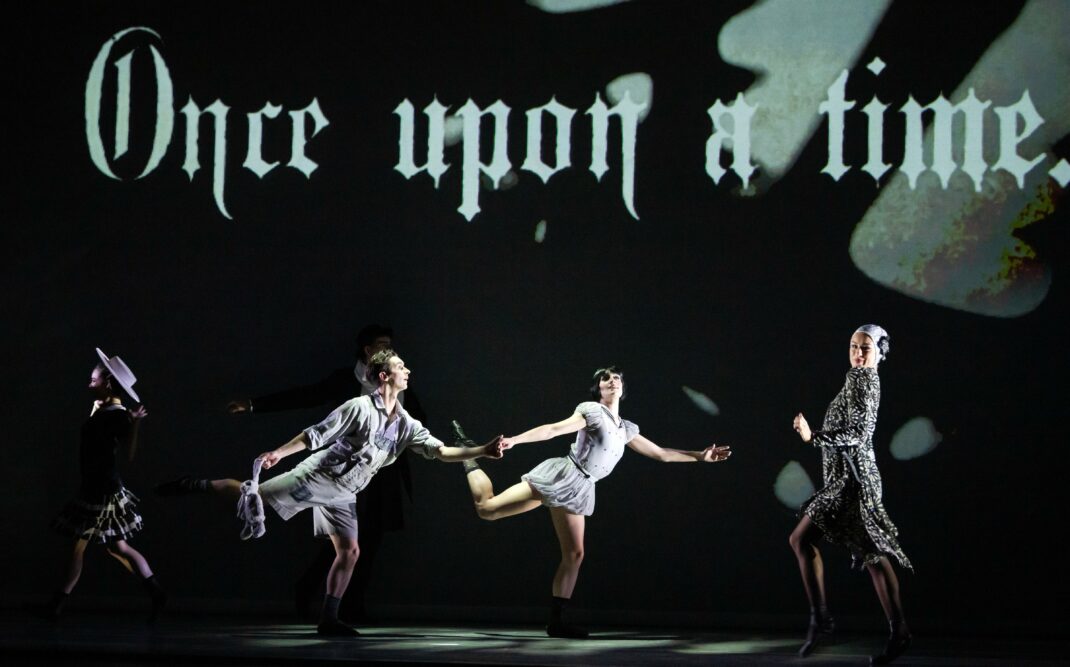 (I sensed here a poignant hint of Katherine Mansfield's story, The Doll's House—where the magnanimous Burnell children allow the working-class kids, the Kelveys, a brief visit to see their prized possession. There's extra resonance in that, since Prior's recent choreography, Woman of Words, was made as a tribute to the illustrious KM in her centenary year, though has seen only one performance in an arts festival town in the distant south. Many would love to see that work presented on a national scale, and it would further convert to a film of considerable international interest. Now there's a gauntlet to the recently welcome new Artistic Director of the Company).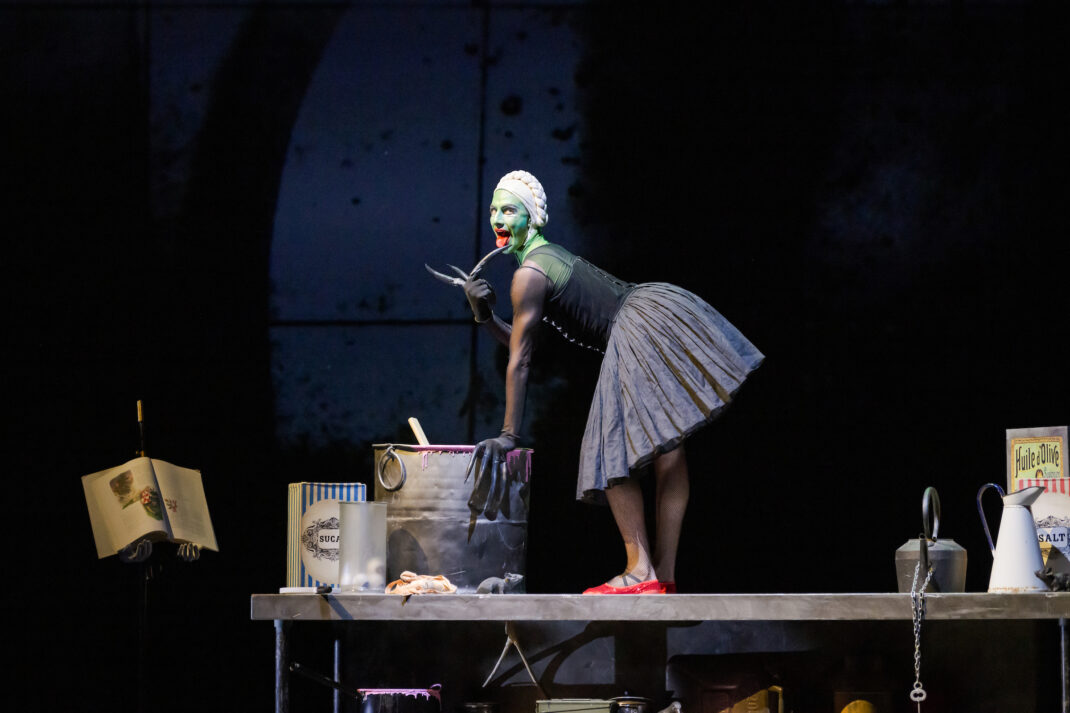 There are fetching scenes of Bird-children, Dew fairies and a Sandman who guide the siblings' journey, and the gingerbread house of Act Two opens up to fill the stage with the aromas of candy floss, toffee apples and soft-serve ice cream, though with danger lurking in the spokes of a punk-steam bicycle. The role of Hansel was danced with great spirit and comic timing by Shaun James Kelly, and Gretel was fetchingly played by Ella Chambers. Sarah Garbowski dances with a lovely lyricism so the role of gentle Mother suited her well. Ana Gallardo Lobaina, a stunning performer with a magnetic quality that claims your eye whenever she is on stage, was an outrageous Ice Cream Witch, but Luke Cooper as The Transformed Witch probably shares the prize for his high camp and wickedly funny performance, OTT but never out of time.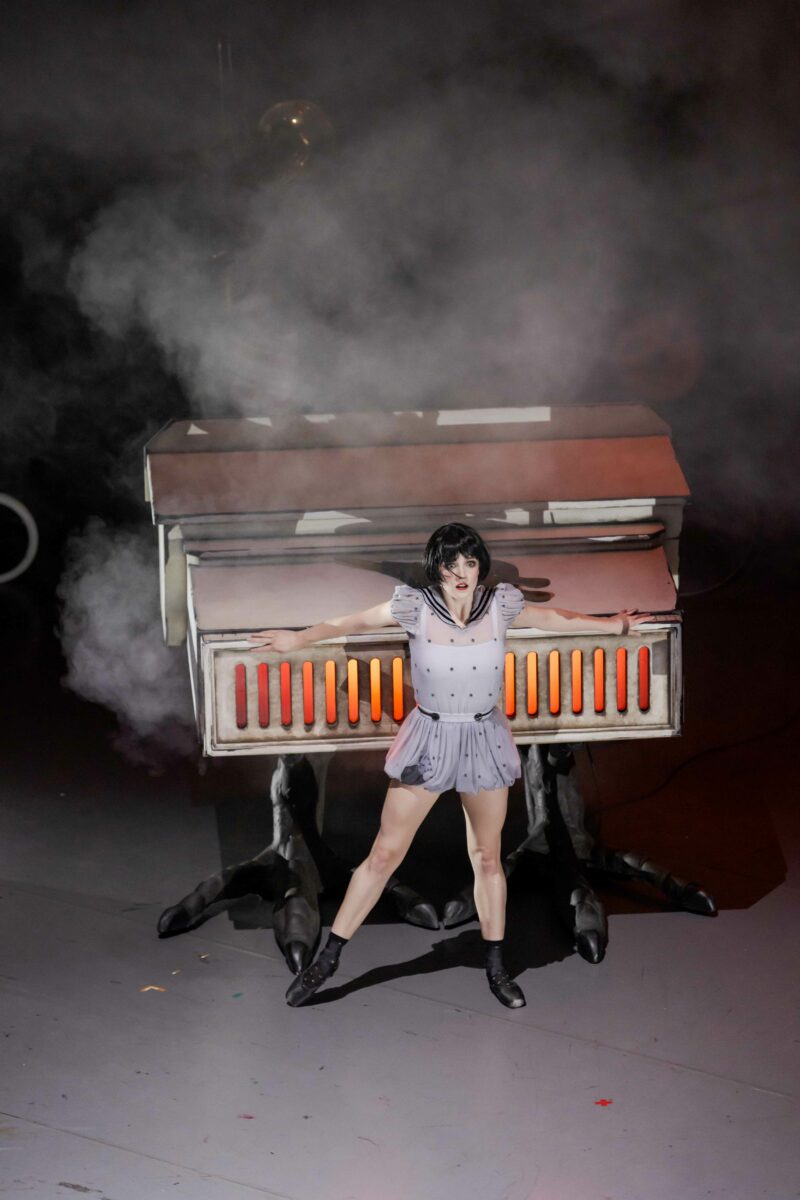 I like trying to imagine the reinstatement of Hansel and Gretel's cruel stepmother into a ballet, since that is a trope society still has to deal with, and would bring stronger drama to the somewhat lengthy divertissements in several scenes. But having said that I can also admit to being swept along by a madcap ballet that throws comic opportunities at numerous dancers who relish moving to Claire Cowan's terrific and lively score. The redoubtable Hamish McKeich conducts three different orchestras for the seasons in the main centres, but it is a recording of the New Zealand Symphony Orchestra that we hear in this performance. It is inspired music that truly motivates the dancers, but has also achieved recognition in its own right.
There's a new and happy energy in the excellent printed program, with essays from all the main contributors in the team that created this production.
Jennifer Shennan, 15 November 2023
Featured image: Ana Gallardo Lobaina as the Ice Cream Witch in Hansel & Gretel. Royal New Zealand Ballet, 2023. Photo: © Stephen A'Court