17 February 2021. Roslyn Packer Theatre, Walsh Bay
A year ago Sydney Dance Company was just days away from its first program for 2020, which was to include a new work, Impermanence, by Rafael Bonachela as part of a mixed bill program. But the pandemic struck and the program was cancelled. Impermanence was being created to a score co-commissioned by Sydney Dance Company and the Australian String Quartet from Bryce Dessner, an American composer based in Paris. The work was initially inspired by the fire that almost destroyed Notre Dame Cathedral in Paris in 2019, and by the Australian bush fires that began in late 2019. After the program was cancelled Bonachela and Dessner decided to continue their collaboration and develop the work into a full length one. This is the show that opened on 17 February 2021.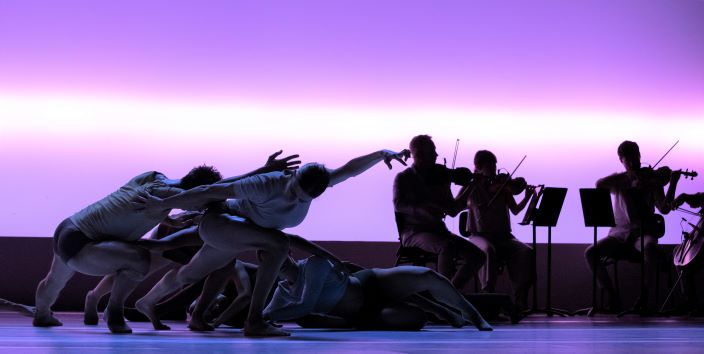 Publicity tells us that the work is about transience and fragility, but Dessner's powerful, driving score, played onstage by the Australian String Quartet seated in an upstage corner, felt to me more like determination to overcome. Similarly, for the most part Bonachela's choreography was fast-paced, dramatic and powerful and with Damien Cooper's moody lighting design, with constantly changing colour effects strongly apparent, I found it hard to see the impermanence of it all.
But this is not to say that the work was not engaging. It was. I love watching Bonachela's amazing ability to show us the unexpected in movement. I love those moments when he has the whole company onstage when we can see unison. Sometimes he has the entire company dancing as one, at other times two groups show us two separate, but still compelling instances of choreographic unison. And having live music played onstage is always something to look forward to, and something on which Bonachela seems to thrive.
As ever, all the dancers performed with their usual and incredible technical skills. But two stood out for me. I couldn't stop looking at Emily Seymour whose strong balletic background was so clear. Her turns were spectacular and were, although in contemporary mode, perfectly placed and finished. Her truly beautiful rounded arms and smooth line through the body were just breathtaking. Then Jesse Scales looked as though they were so thrilled to be back on stage. Even when standing at the side of stage waiting for their next move their body glowed with pleasure. And Scales used every part of their body to give shape and meaning to the choreography.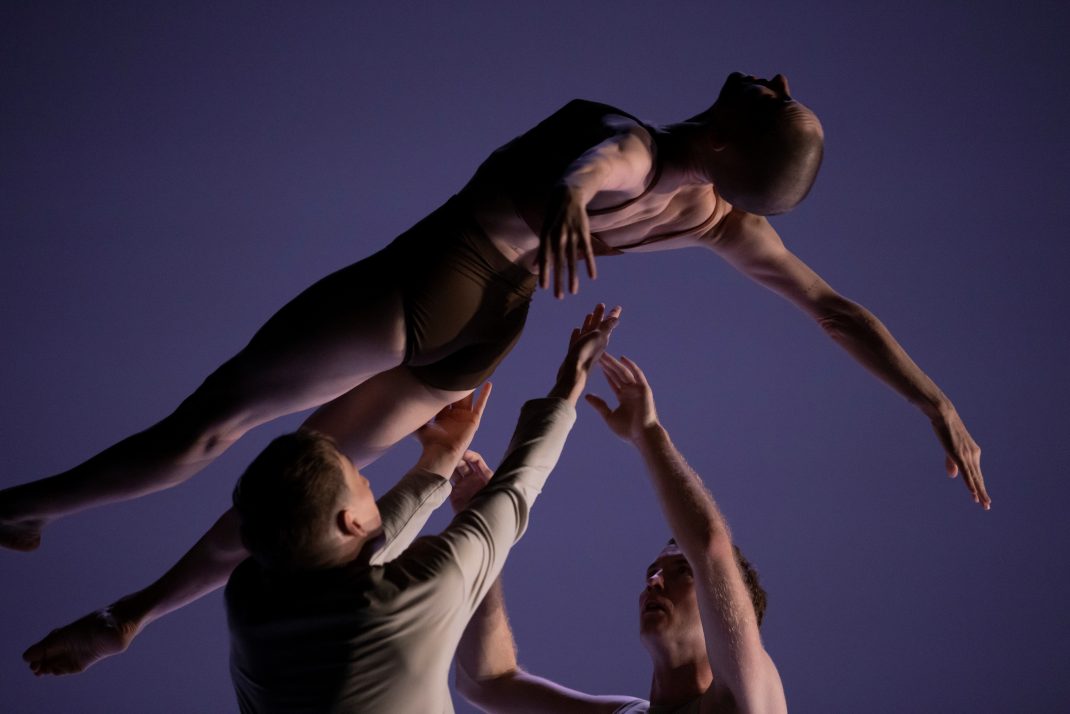 The Roslyn Packer Theatre had its COVID plan in place for Impermanence. We checked in with our phones and QR code, there was no mingling in the foyer, we were distanced (slightly) from other audience members, and we were masked-up for the entire show. But what a thrill it was to be back in a live environment watching the kind of spectacular performance we have come to expect from Sydney Dance Company. Jesse Scales said it all with their exceptionally detailed movement and their obvious pleasure in performing for an audience again.
Michelle Potter, 22 February 2021
Featured image: Emily Seymour, Jacopo Grabar, and Rhys Kosakowski in Impermanence. Sydney Dance Company and the Australian String Quartet, 2021. Photo: © Pedro Greig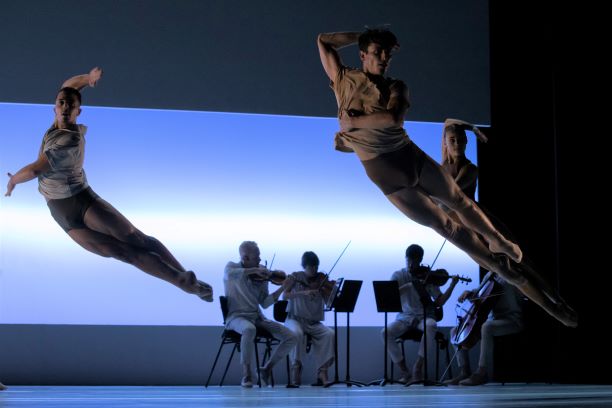 NOTE: The personal pronouns used in this review are those given for use by Sydney Dance Company.