29 July 2016, Playhouse, Queensland Performing Arts Centre, Brisbane
My review of Queensland Ballet's triple bill, Lest we forget, has been published on DanceTabs at this link.
One aspect of the production I didn't mention on DanceTabs was the lovely piece of Americana on the cast sheet. The dancers in Company B were referred to not by first name and surname but with the surname preceded by Ms. or Mr. as in:
'Pennsylvania Polka' Ms. Crilly & Mr. Thompson.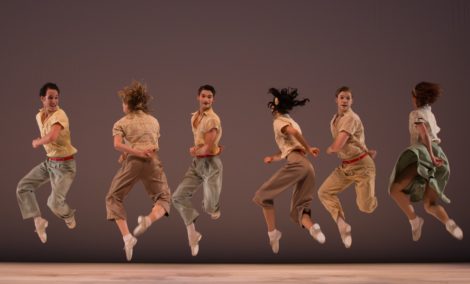 I recall being asked by a former principal of the Australian Ballet if I could refer to her in this way in reviews. I had to decline as it is not the Australian way. But I loved that the format was used in Paul Taylor's very American work. Or should I say Mr. Taylor's very American work?.
Michelle Potter, 31 July 2016
Featured image: Jack Lister in Natalie Weir's We who are left. Queensland Ballet, 2016. Photo: © David Kelly