4 November, Circa Theatre, Wellington
Reviewed by Jennifer Shennan
What a lucky stroke that this little show Lobsters ran for a fortnight season at Circa Theatre (most dance seasons here span two or three days, some are even oncers). That gave us a chance to return for several repeat viewings, and there were fresh revelations on each occasion. A late-appearing review in the local daily, in the 2nd week of the season, was nonetheless unstinting in its praise, which of course lifted telephones all over town and eventually gave this intrepid little troupe the sold-out end to the season they deserved. Good…but never underestimate the power, and therefore the ethics, of the timing of a dance review. (Other early reviews had appeared but were more about the writer than the show).
I see more clearly now what has proved so satisfying about this brilliant little, crazy little work. I say 'little' because there's a cast of five, musos included. The show lasts 75 mins, and the venue is intimate. The more miraculous that the dancing is full and generous, fast and slow and still, requiring total torso and limbs all the way through. The three dancers work to the very edges of the stage. You feel the draught as they race by. You can see every hip tilt, shoulder blade, neck curve and ankle stretch, every toe and finger tip (these are verbs not nouns) and there's not a falter to be found. It's high dance classicism in disguise, with a drizzle of cabaret jus and very naughty it is too. After numerous extraordinary encounters with surrealism, the girl and the guy eventually make it. That's a lovely way to let us out into the evening air.
It seems to me that many choreographic ventures over the last five years, maybe more, have shown a trend of apologising as regards dance vocabulary—born, I suppose, of a desire to eschew existing conventions and to seek novelty. Effectively that results in a fractured, often arhythmic, set of hesitant gestures that question meaning and express doubt, offering relativity of position rather than allowing certainty or clarity, resolution, commitment. Such semaphore-like movement of arms and hands effectively asks questions but does not want answers. Don't get me wrong. I ask questions all the time and many of them are rhetorical… as in 'Do you love me?' [not that I actually ask that one of course]. The price we pay for this contemporary post-modern sensibility and fix on innovation is the absence of line and vitality in dancing, and of synopsis or resolution in choreography.
It's also frequent practice nowadays for a choreographer to give tasks to dancers in workshop fashion, to 'ask them questions', and take their resulting 'answers', shaping them this way and that into what is then identified as 'choreography'. This was of course the choreographic practice of Pina Bausch. She was pure choreographic genius of theatre and her instincts caught life on the wing. Imitation of her, or any other art practice, will ever be only that, and worth not a lot, despite that we are surrounded by it, and very well funded it often is too. 'Creativity in the moment of choreographic collaboration' sounds like hogwash to me. I prefer Yeats, see below.
Dynamics of light and shade in the fully committed dancing body that is not fearful of itself seem like a rare treat nowadays. Douglas Wright always offered that in spades, but he doesn't choreograph any more. Lobsters has caught it, thank goodness.
So an accolade please, to Lucy Marinkovich, for choreographing a stunning and super little show that scores top marks on every front. You can tell, come the curtain call, how much they have all enjoyed performing, but there's no such distracting evidence allowed during the actual performance, with the intense concentration and stylized espression required of each. We laugh a lot but they don't—until the curtain call.
The music is superbly imagined and delivered, with music and cabaret audiences as well catered for as they might wish. Lucien Johnson has extraordinary talents, including double blowing into his saxophone (Is that normal? Who cares? It works).
Carmel McGlone is Salvador Dali's lobster, and he would have been struck dumb by her performance.
Lucy will want to share that accolade with dramaturg Miranda Manasiadis who most certainly knows what she is doing. Two years of shared thoughts and preparations between them is how you get a scenario like this. Frequently of late we see 'dramaturg' listed in the credits for a dance show but there's often little evidence of drama in the result, and it really only means another fee for a member of the 'creative team'. [RNZB's The Wizard of Oz, and more recent Romeo & Juliet would be two cases in point. It was the beautiful dancers who delivered on those occasions, and we loved them for it, but drama in the production was little in evidence]. So if there's to be any point in involving a dramaturg, there's an art involved in a choreographer allowing space for that work.
By repeated viewings of a performance we get a chance to think some more about the lines by W.B Yeats (my favourite) quote:
'O body swayed to music, o brightening glance
How can we know the dancer from the dance?'
… in other words – how do the performance and choreography relate, intertwine? It can often be hard to tell. In RNZB's recent Romeo & Juliet, the contrasting casts in the lead roles at different performances gave us a chance to see how. Mayu Tanigaito and Kohei Iwamoto at a matinee transformed the choreography from 'very good' by their performance into something 'stratospheric', but the critical record has been silent on that, and there is no photographic or videoed evidence of it, which some of us find sad, verging on very sad.
Leah McLean of Borderline Publicity is the best dance administrator I've encountered since the longest time. Lobsters really is a team effort and every one of them should take a bow, then pack their bags for the numerous festival invitations that are bound to come their way. Keep your eye on the hustings.
Jennifer Shennan, 5 November 2017
Featured image: Lucien Johnson, Carmel McGlone, Emmanuel Reynaud, Lucy Marinkovich. and Matthew Moore in Lobsters, 2017. Photo: © Philip Merry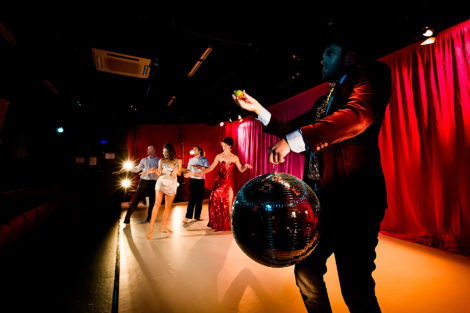 Featured image: