Matthew Bourne's film of his re-imagined Sleeping Beauty, a work that premiered as a live show late in 2012, was recorded over a week during performances at the Bristol Hippodrome. It was filmed in HD, not 3D. Personally, I remain a sceptic of dance in 3D and Bourne's film confirms for me that in this day and age a well thought through and edited film of a live performance can have all the visual impact and passion for dance that one might wish to see. As I have not seen the live show at this stage my comments on the film are also comments on Bourne's version of what is generally regarded as an iconic work in the ballet repertoire. My preview story, published in The Canberra Times on 7 September 2013, is at this link. It gives something of the background to the work, which I won't go over in this post.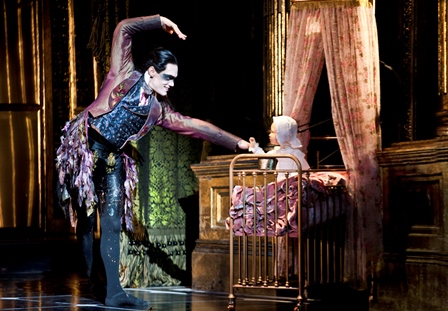 What struck me instantly about the work itself was that Bourne is an amazing storyteller and has a great way with theatrical tricks. Nothing surprising there though. We have seen it before from Bourne. Nevertheless, I need to say it again. Moving the storyline from 1890 and the babyhood of Aurora, to 1911 and her coming of age and on to the present and her marriage—and the surprise of what comes right at the end, Bourne has indeed as he says 'created a different look and set of manners, including theatrical manners, for each era'. I loved the dancing in the Edwardian scenes (Aurora's coming of age) with great use made of Tchaikovsky's well known waltz. But my favourite 'set of manners' came as the 100 years of sleep passed by and Aurora's palace home became legendary and a spot for tourists to gather and take photos of themselves and the site with their mobile devices.
Perhaps the most difficult 'era' to reconcile (for those who have been brought up with Aurora's Wedding as a staple in their dance-going experiences) is the present day nightclub scene when Aurora is sacrificed on the altar of Caradoc, son of Carabosse and the rival love interest. Aurora's Wedding was never like this! But her rescue and the subsequent events washed away any feeling of being ill at ease.
I couldn't help feeling at times that Bourne was making allusions to other ballets as the work proceeded. Those tennis players who appeared in the Edwardian scene were surely a reference to Nijinsky's Jeux and as Aurora lay on the ground falling into her deep sleep with her mother leaning over her, grief-stricken, we seemed to be seeing an allusion to the end of Giselle Act I. And was that bespectacled man in the white suit and hat lurking in the background as the Edwardian scene came to an end a reference to Aschenbach in the Visconti film Death in Venice? I saw those allusions whether or not they were intended and I guess this is what made this Sleeping Beauty so rich and engrossing for me. There was never a moment when one tended to drift away. Too much happening, too much to think about.
Looking at the work as a film, I admired in particular the way close-ups were judiciously shot to advance our understanding of the characters. I am thinking in particular of the close-up shots of Caradoc. Dressed magnificently in red and black by Lez Brotherston, whose designs for the work are extraordinary, we got the picture pretty quickly—a scheming, brooding man. Takes after his mother no doubt!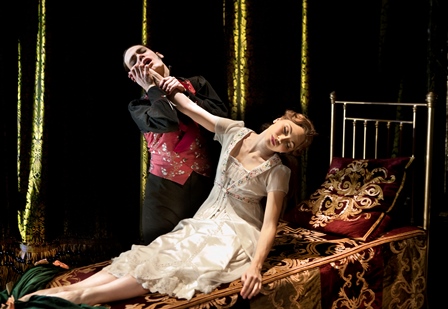 Filmed live as it was, it was charming to have an audience reaction—both laughter and applause—that wasn't canned. And the intertitles that told the story as the work moved along from scene to scene were set inside a border of roses that themselves told a story—a black rose, a white rose, a red rose. All had a special meaning within the work. The production sped along. I was immersed in it all and relished the performances, especially from Hannah Vassallo as Aurora. Even the credits were gorgeous with action shots of the main characters as their names flashed up.
This is one to see a few more times and, although Bourne says that it is good to know the traditional version as then it becomes more apparent how he has treated the storyline and developed the characters, I suspect this is a film that can also be enjoyed by those who aren't so aware of the traditional version.
Michelle Potter, 8 September 2013