12 September 2013, Canberra Theatre
As the curtain went up on Project Rameau in Canberra, with the Australian Chamber Orchestra seated on a platform at the back of the stage space and the dancers of Sydney Dance Company lined up in front of the platform, I wondered whether this collaboration would in fact work. One or two companies have been critical of the Canberra Theatre space because of its relatively small performing area (compared with some stages in Sydney and Melbourne), and there before my eyes were two companies sharing the stage. Well I need not have worried. Project Rameau was one of those made-in-heaven collaborations and the size of the stage seemed of little consequence and, after all, exceptional artists are always adaptable.
Musically Project Rameau consisted of nineteen selections of music by Jean-Philippe Rameau, two by Antonio Vivaldi and a single piece by Johann Sebastian Bach. Sydney Dance Company's director, Rafael Bonachela, responded choreographically to this musical selection with a varied series of dances ranging from duets and trios to pieces for larger groups, at times for his entire ensemble of dancers. Occasionally within these group pieces, we saw short, mesmerising solos.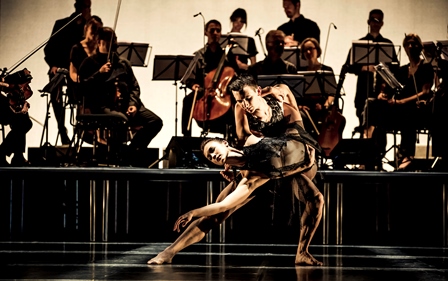 Several pieces stood out. I especially admired the dance made to the presto movement from 'Summer'' in Vivaldi's Four Seasons. This trio for one female and two male dancers overflowed with energy as Janessa Dufty was tossed through the air between her two partners. In contrast was a slow, intimate duet for two men danced to a section from Rameau's Castor and Pollux.
But the true colours of Sydney Dance Company shone in the dances made for the full company. Here Bonachela created a sense of hierarchy and formality looking back to the courtly nature of Baroque dance, with the odd wiggle of the backside thrown in. And the precision of those dancers as they moved together was absolutely stunning. Dance director Amy Hollingsworth take a bow for magnificent skills in the rehearsal room. Moving in unison creates perfection in patterns and that was what we got.
I never tire of watching Chen Wen. I admire the sense of shape and space in his every movement, not to mention his athleticism and his beautifully stretched extensions. The other individual dancer who stood out for me in Project Rameau was Andrew Crawford, dancing with exceptional fluidity. He makes a great partner too for Juliette Barton. But it is with reservation that I single out any one dancer. They are such a wonderful ensemble of movers and it is an absolute joy to watch them.
Ben Cisterne's lighting added a very contemporary element to the show but also realised ingeniously that sense of perspective that marked Baroque stages.
Project Rameau was nothing short of an enthralling collaboration with a thrilling final sequence to a contra danse from Rameau's Les Boréades that turned into a choreographed curtain call.
Michelle Potter, 14 September 2013
Read my preview story on Project Rameau published in The Canberra Times, 31 August 2013, at this link. (UPDATE 12/11/2019 link no longer available)