16 March 2018. State Theatre, Victorian Arts Centre, Melbourne
This program was a retrospective of works by Graeme Murphy and was in celebration of his long association with the Australian Ballet. The evening began with a brief film clip of Murphy talking about those moments for a choreographer, and by extension for a dancer and for the audience, when a transformation occurs, when a choreographer is able to draw out from a dancer a quality that is artistry at the highest level. The brief interview (a monologue really) was a deeply personal reflection from Murphy and showed his humanity, his humility, his own artistry, and his respect for dance and those who engage with it.
The program that followed was a fine opportunity to ponder on what is distinctive about Murphy's choreography. It consisted of excerpts from several of Murphy's works, largely made originally for Sydney Dance Company, and a performance of Murphy's Firebird, made for the Australian Ballet in 2009. Although Firebird has never been a favourite of mine—somehow it reminds me of a weird cult activity—it was distinguished on this occasion by an exceptional performance from Lana Jones in the title role. Her immersion in the role was complete and her first entrance was stunningly controlled, and believe me the choreographic requirements of that entrance are demanding.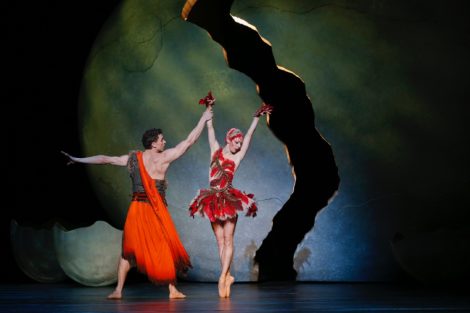 But what emerged as the evening progressed was the diversity of Murphy's output. His works have humour, but are also often clearly serious in emotional impact; they occasionally cross cultural boundaries; they are always closely connected to music, and his musical choices are themselves diverse; they can be classical in their dance vocabulary, or not so classical as the work demands; they are sometimes narrative-based, at other times quite abstract. Never a dull moment!
What was also fascinating was being able to see some of Murphy's signature choreographic phrases and groupings across the course of the evening. What stood out for me was the way he uses small groups of dancers, often four, and has them work together as one. Bodies are thrown, swirled, turned upside down, but always engage in a smooth and lyrical manner.
In terms of the works presented, the highlight for me was Grand, the work he made in 2005 in honour of his mother, a pianist. A grand piano onstage was played by Scott Davie (as it was in 2005) and we were treated to several excerpts from this wonderful, funny, emotional work that was strongly musically oriented in so many ways—'sweeping in conception, intimate in detail and constantly surprising in choreographic invention' I wrote in 2005. It made me long to see the full work again, but it was a treat to see as many sections as we did. They included the delightfully funny Chopsticks section and the Gershwin number, one of those remarkable uses of four dancers who seem to dance as one whatever impossible moves they are asked to make.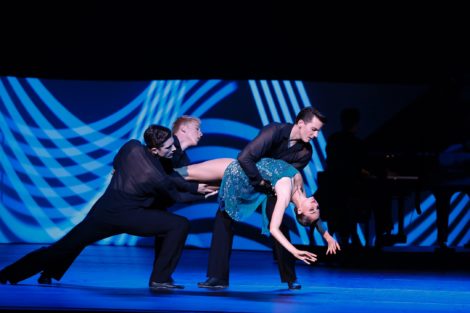 The big disappointment of the evening was Shéhérazade, that exquisite short work for two men and two women made by Murphy in 1979. It was performed without the luscious, blue silk tent/canopy with its gold decorative elements, which was such an intrinsic part of Kristian Fredrikson's designs for the work. Without it most of the mysterious and erotic quality of earlier performances was lost, as was the allusion to the art of Viennese painter Gustav Klimt, and the over-ridingly blue and gold colour scheme that Fredrikson imagined (and achieved). Those hanging strips of what looked like tinsel at times were quite out of place. Just before the work's opening in 1979 Murphy told a journalist: 'One of the fascinating aspects of this work will be the design inserted into the dancing. In a sense the dancers will be wearing the set.' Not this time!
Having said that, however, the standout performance of the entire evening came from Lana Jones as the second of the female dancers in Shéhérazade. Jones' technique was impeccable. But it was her beautiful attention to choreographic detail that grabbed my attention. Those moments when she moved her wrists in little twisting circles, while holding her hands and arms close to her slightly curved body were breathtaking, as was the way she moved her neck and chest at times. And how spectacular she looked in those iconic poses for all four dancers, which mark certain stages of the work.
The evening belonged to Graeme Murphy and I salute him for all those works that have thrilled us over the years. But bouquets to Lana Jones for two standout performances during the evening. She had it all, and I thought she was dancing not just choreography but Murphy's choreography.
Michelle Potter, 18 March 2018
Featured image: artists of the Australian Ballet in Grand, 2018. Photo: © Jeff Busby