Innovation—contemporary program
22 November 2018. Te Whaea, Wellington
by Jennifer Shennan
This Graduation season offers two programs, Tradition (Ballet) and Innovation (Contemporary Dance), on alternate nights. Does this suggest that new choreography is expected only in the latter but not in the former? If anything, the opposite swing of the pendulum is needed, with a balance of heritage and newly minted work, across both streams. Students of ballet should be just as actively encouraged to explore choreography as their 'siblings' are, and by the same token, classics of New Zealand contemporary work need to be staged more often. There are plenty of choreographers whose works would be eminently suitable—Douglas Wright, Michael Parmenter, Raewyn Hill, Daniel Belton, Mary-Jane O'Reilly, Taiaroa Royal would be among the first to consider.
It is in fact globally recognised that ballet and contemporary dance today exist in a symbiotic relationship, and that a hard-out ballet class (minus the pointe shoes perhaps) is a daily fix for dancers of all textures. The old binary does not hold, and today's dancers have to be able to do whatever choreographers ask for. Having said that, the Innovation program showed strong, committed performers willing to share a passion that depends less on physique than personality, more on commitment than technique.
E Tolu, the opening trio, had its premiere in Mangere in South Auckland in June, and will have been just as welcome there as it was here. Starting with the summons of putatara, there followed a range of patterns and moods from contemplative to forceful to humorous, suggesting haka, siva, fautapati with a nod to Bob Marley and Nina Simone. It brought centre stage the quick and ready wit of Maori/Pasifika dancing men in a great program opener.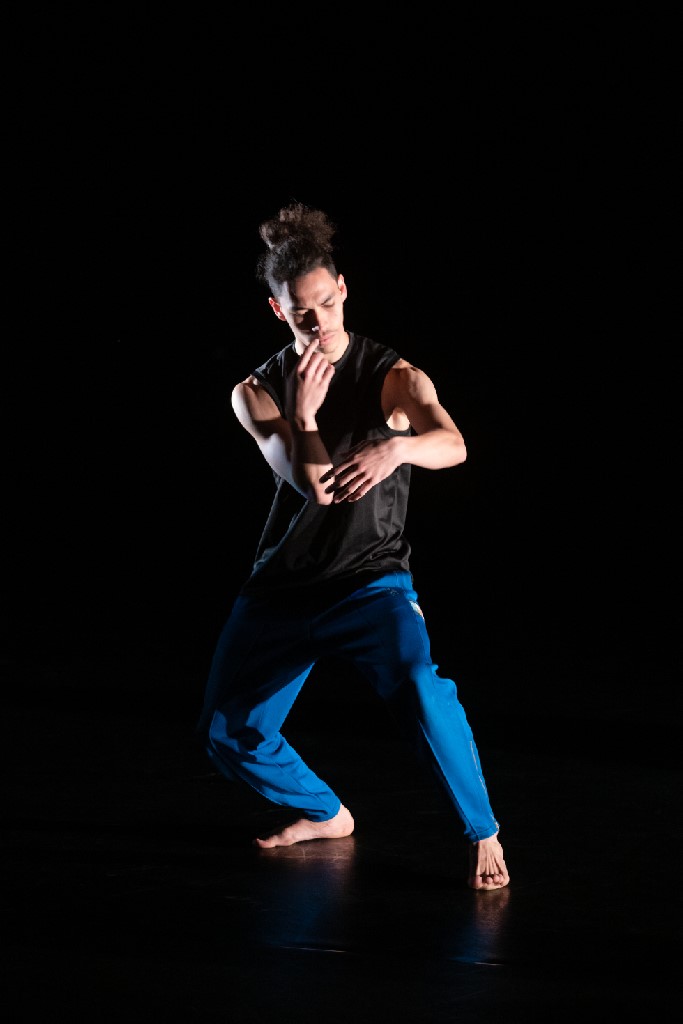 Wicked Fish, by Huang Yi of Cloud Gate Dance II, Taiwan, was an astonishing achievement. A relentless surging of bodies in both vertical and horizontal, linear in both directions, in mysterious shadowed light of silver, grey and white, it was completely mesmerising. Cloud Gate is one of the most interesting dance companies in the world today and it can only do good for young students, and all of us, to be made aware of them and their repertoire. Music by Xenakis was the water they danced in.
Huri Koaro (Inside out), by Gabrielle Thomas, assisted by Megan Adams, is a work from Atamira dance collective's repertoire. It brought a welcome and convincing Maori female presence to the stage, with patterns suggesting taniko and kowhaiwhai, then moves to a driving pate rhythm. There was an unusual and welcome stillness and silence for some of the groupings, then poi swinging across the stage brought contrast to the solo central dancer.
It's Written in the Walls by Adam Barruch had an atmosphere of trouble in an unidentified situation…a refugee camp perhaps, or some confined place? The dancers' focus remained internalised, and a sense of urgency or risk was caught in the striking linear groupings of the performers.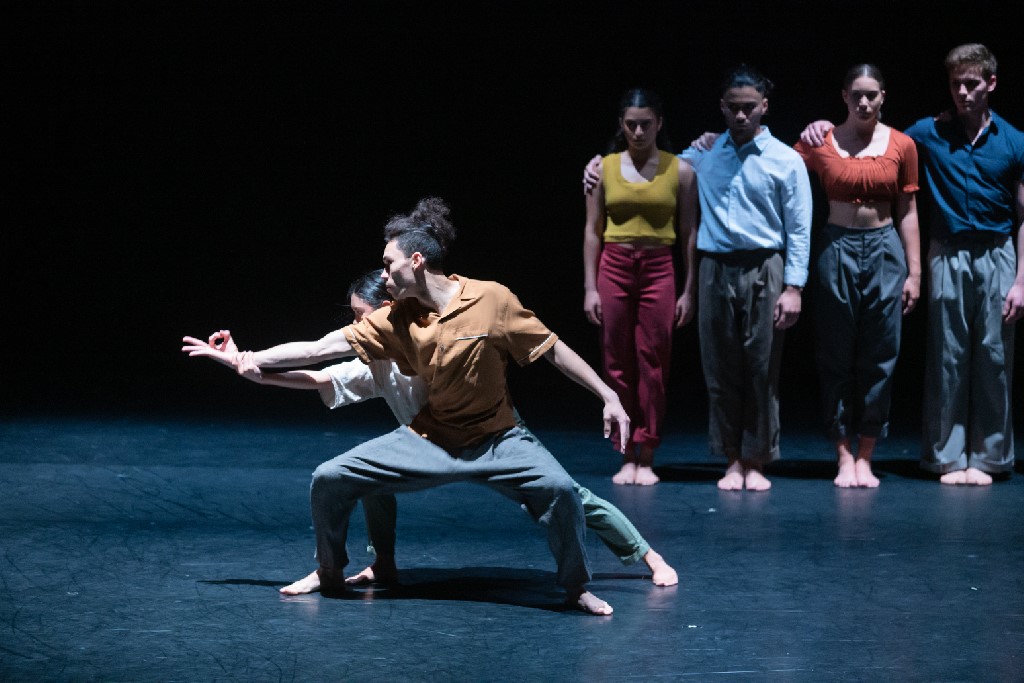 Static by Lauren Langlois set itself a hard task in portraying the neurotic and obsessive behaviour of two dancers as the starting point, which, true to its title, seemed also to be its endpoint.
Les Méduses, a work by Damien Jalet, involved a large group of dancers in striking formations and curiously stylised costumes which occasionally suggested the weaving of spider webs. By contrast, a sound score of relentless chisel-like strikes evoked the notion of arduous work in progress of carving or sculpting from a large mass of stone or marble. It brought high energy to the closing work on the program.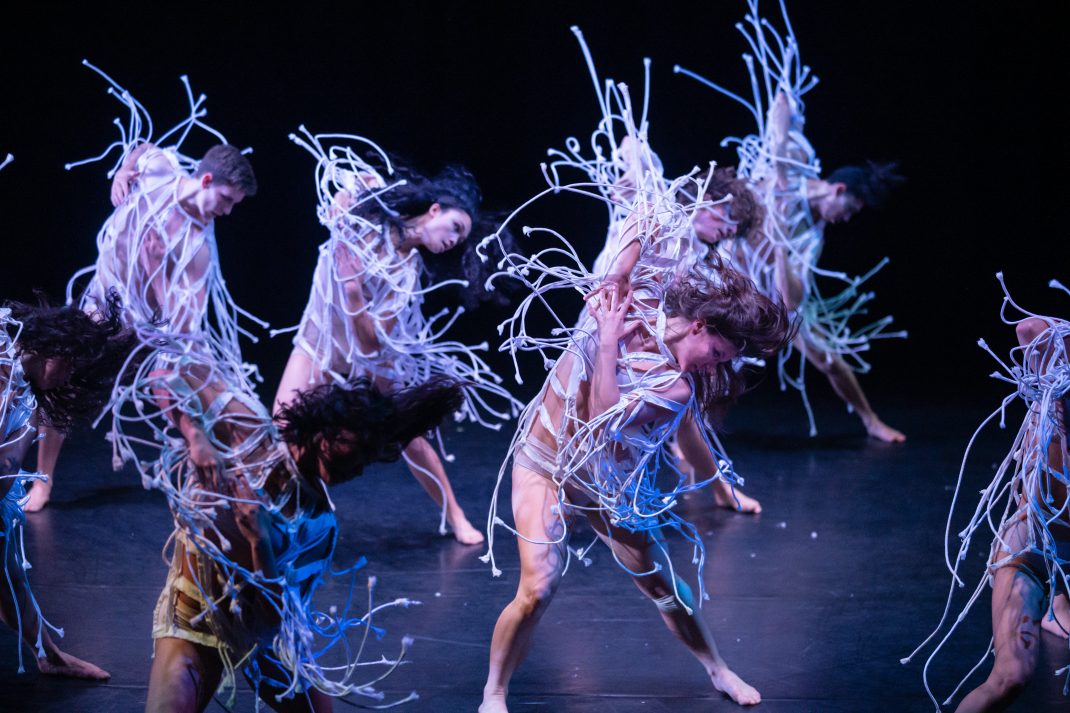 All told, a spirited evening. Wicked Fish will stay long in the memory for the images and atmosphere it evoked, of dangerous and mysterious forces, of relentless drive and unstoppable momentum. It uncannily evoked history, presaged the future, and kept reminding me of the three books I am reading – Vincent O'Malley's New Zealand Wars, Stephen Fry's Mythos, and Douglas Wright's Terra Incognito. That's a big ask of a short dance, but just occasionally that's what choreographic masterpieces can deliver.
Jennifer Shennan, 23 November 2018
Featured image: Dancers of New Zealand School of Dance in Huang Yi's Wicked Fish. Graduation Season 2018. Photo: © Stephen A' Court