24 May 2019. The Hub, Victoria University, Wellington
reviewed by Jennifer Shennan
Talking about Music, Dancing about Architecture.
A striking performance by New Zealand School of Music last Friday brought instrumental music and dance into unusual proximity. Those who, like myself, believe in the vibrancy of live music and dance interactions are drawn to the alchemy that can result from interwoven performing of both arts.
The Hub is at the centre of students' common space at Victoria University. It is occasionally used for performance though remains accessible at the edges to students' coming and going. This creates an atmosphere of openness and something less than the formality of a recital in a dedicated concert space.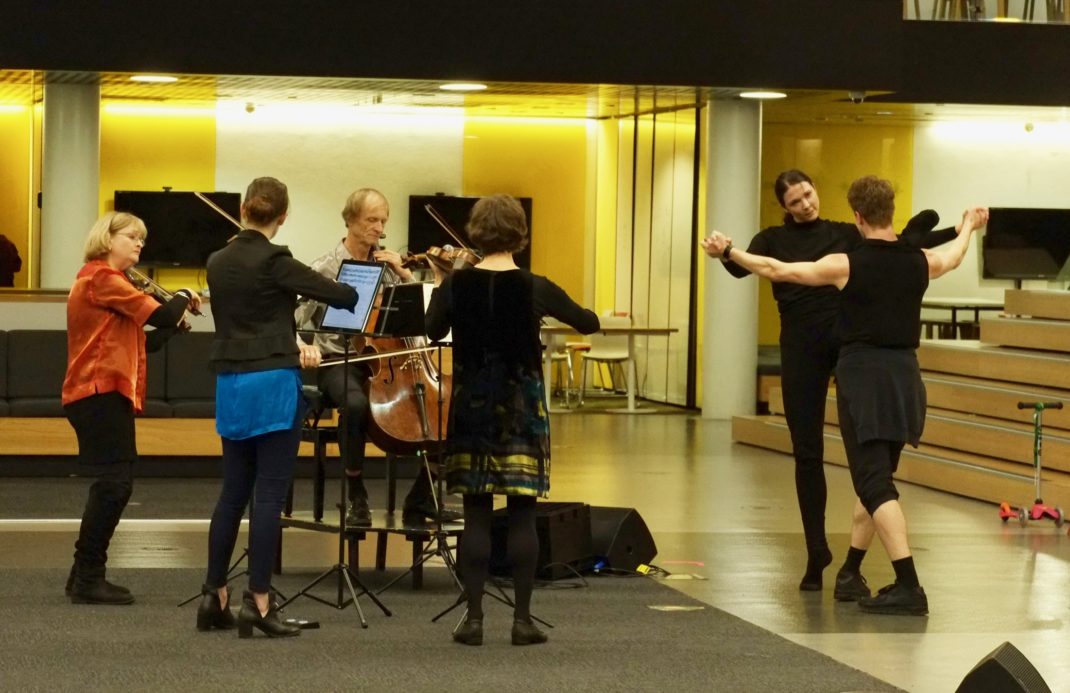 Hamish Robb and Beth Chen on piano as Duo Ombré opened with Debussy's Petite Suite with its resonances of dance rhythm bedded in to the score. These were given welcome comment in Hamish Robb's spoken introduction.
'Talking about music is like dancing about architecture' is a saying attributed to many, and points to the primacy of an original work, and the sometimes superfluous attempts to translate that into verbal form. Robb however has a natural gift of talking about features in the score, and can highlight moments in playing them without sounding in the least arcane. This commentary is both refreshing and helpful to our listening.
Mozart's Sonata for Piano Four Hands was of course quivering with dance life. It's on record somewhere that Mozart declared he'd rather have been a dancer than a musician, and you can hear what he means. Rachmaninoff's Six Morceaux was then played and we were invited to 'listen orchestrally' to suggestions of colours in the keyboard rendition.
The New Zealand String Quartet, also based at NZSM, performed the second half of the concert. They played renditions of two dances by Erwin Schulhoff: Alla Czecha and Alla Tango Milonga. Schulhoff's career was cut tragically short in war time yet what he did compose is full of interest. The big one though, most enthusiastically introduced by cellist Rolf Gjelsten, and also alive with dance rhythms, was Bartok's String Quartet No.5.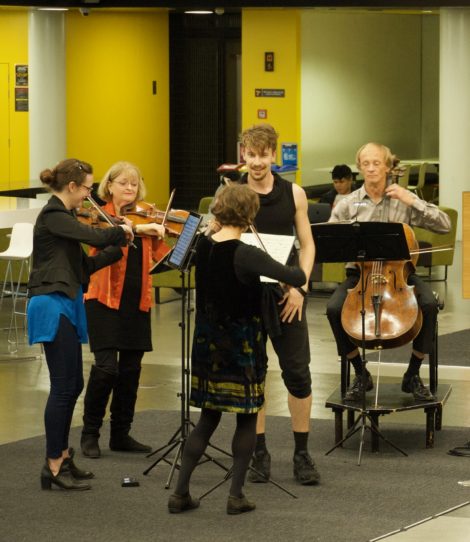 Two dancers—Loughlan Prior and Laura Saxon Jones performed to several movements within these works. Their clean and attractive movement was expertly and intimately positioned in and around the musicians, even at times playfully daring to act as conductor to their performing. There were lines and angles suggesting architecture, light images, costume as shared skin, pauses and speeds that emphasised the dance-like qualities of movement of the musicians in performance… and the dancers' movement seemed to produce an empathy of visual music.
This is close to the way that Tokelau people behave—different music, different dance, but the same marriage between both.
Jennifer Shennan, 28 May 2019
Featured image: Loughlan Prior and Laura Saxon Jones performing with artists from the New Zealand School of Music, 2019. Photo: Stephen Gibbs