22–28 May 2019, Te Whaea, Wellington
reviewed by Jennifer Shennan
Thirteen short works comprise this program of new choreography by graduating contemporary dance students at NZSD, directed by Victoria Columbus. In past years, such a performance, while always spirited, has proved challenging to review since each piece, albeit of different style and tenor, with many contrasting music sources and costume changes throughout, has seemed disconnected from what followed, yet hard to separate out in the dark.
This year a most welcome coherence, with light and shade alternating, emerges within the sequence of dances. The same costumes, soft neutral greens, greys, creams and browns, are worn throughout and this helps enormously with focus and cohesion, both for dancers and for audience. A thematic momentum with echoes and resonances from one piece to another builds towards real theatre. Across an 80-minute unbroken run-time of new work, that's nothing short of remarkable.
The opener, Huddle, (by Vourneen Canning), takes place in the foyer. Twelve dancers are drawn slowly into a circle that surrounds a central figure, soon replaced, as momentum builds within a calm centrifugal timeless strength. This natural grace gives way to robotic staccato movement as the second piece, 0110100001100001 (by Alec Katsourakis) orders us by beckoning gestures to follow the dancers into the theatre. Two worlds in stark contrast, one green, one bionic, yet we all live in both.
As we enter the auditorium, bright lime green spotlights are dotted here and there, some shining into our eyes, not sure why, unless it's to emphasise an atmosphere of alienation. Now seated, in the half round, we watch in comfort the 11 dances that are loosely stitched together by the performers' subtle entrances and exits from the aisles threading between our seats. That suggests we're all in this together.
Silence s'il vous plaît (by Chase Clegg-Robinson) has a sculptural quality and an air of prayer, even lament, from its choral accompaniment. Micro Muse (by Neve Pierce), Hana (by Olivia Castagna), In a Moment of Reckless Freedom (by Alessia Augello), Adrift (by Rachel Trent), Plato's Atlantis (by Bjorn Aslund), Charged (by Cheyanne Teka), Manuka (by Franky Drousioti), La Luna (by Jasmine Susic), Papa (by Arohanui Watene), The Kids are Alright (by Nadiyah Akbar) share similar features of a large number as chorus, with occasional solo, couple or small group moments, yet each has its singularity.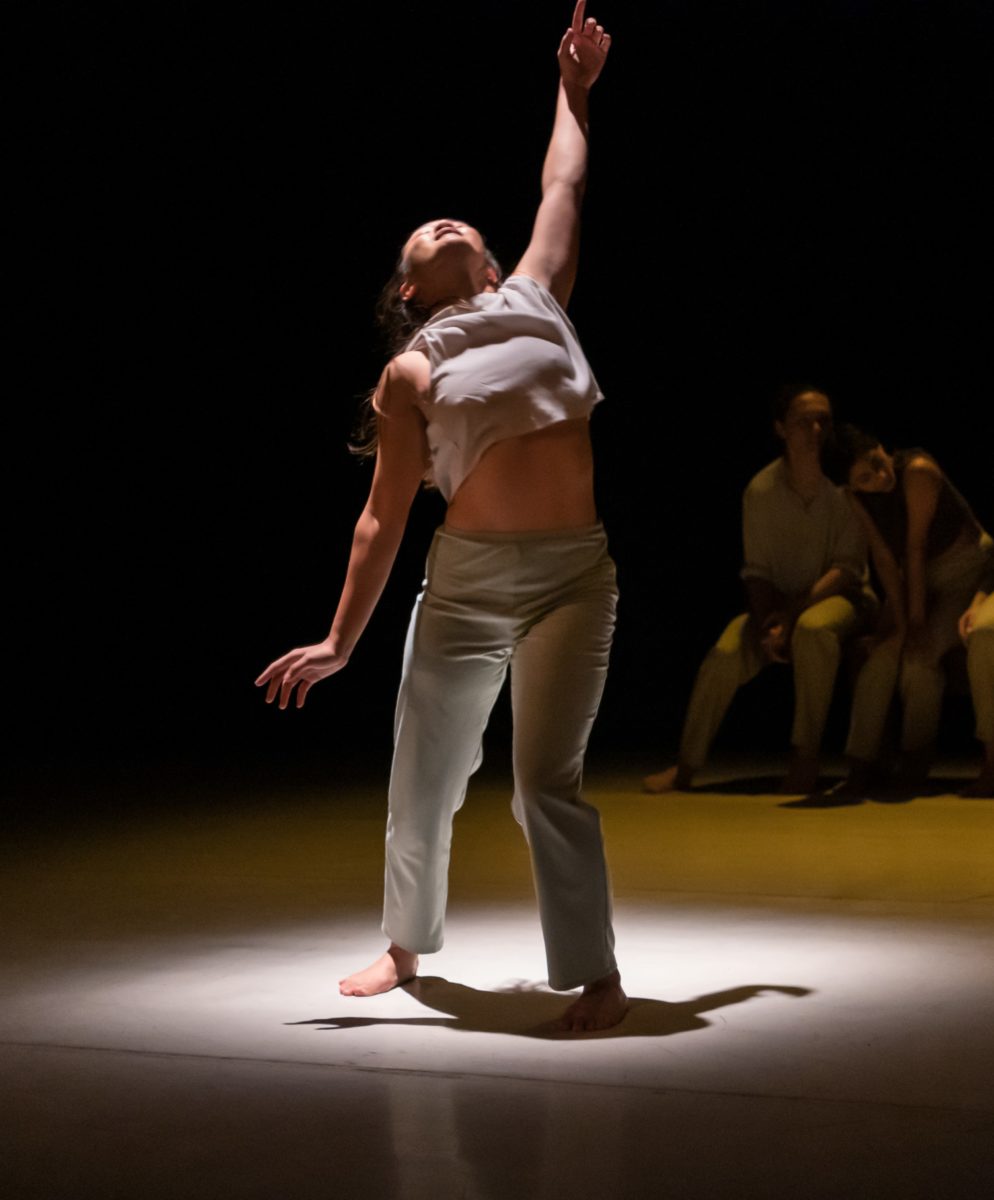 (left) Courtney Mae Lim in Papa; (right) Nadiyah Akbar and Amit Noy in Plato's Atlantis. Photos © Stephen A'Court
There's irony in the song Mr. Sandman, bring me a dream. We are surprised by an exquisite duet, one man one woman, dancing love with each other. It lies at the kernel of the suite of dances. There's a welcome explosion of joy and fun as E Papa Waiare is sung and danced and smiled.
Dancers are not pedestrians, they're high flyers. But amid the movement vocabulary these days there's less jumping, leaping, soaring—the things that dance does so well— the airborne stuff. There's more gesturing, more sculpture, walking, running, falling, rolling, standing—the groundborne stuff. In each case of course, motivation is what matters.
The printed program notes are amorphous at best, incomprehensible at worst. (Why is this such a lost art? There are models to study, some to emulate, some to eschew. Douglas Wright probably produced the best program copy I've encountered—pithy, poetic, themed; locally, Lucy Marinkovich and Sasha Copland know how to write about what they've choreographed; then there's Cloud Gate, and Hamburg Ballet, and the weekly listings of events in The New Yorker that capture mercurial dance in wondrously lucid precis. Words about dance matter because, memories aside, they are what remains after curtain-fall).
Whenever I see a sign on the box office counter 'This show contains strobe' I ask why, then ready myself to close my eyes whenever it begins. (It always reminds me of the roadside sign 'Beware Falling Rocks'. Not a lot you can do about that either).
Overall though the lighting was effective and atmospheric.
But the dancing itself, which is primarily what we're here for, is beautifully modulated and impeccably performed. All these performers can expect to find professional careers and good work somewhere. One is an absolute knockout and would score a job tomorrow in many a company worldwide.
The program's themes and mood seemed to share something of the concern we are hearing from young protesters, local and world-wide, begging for governments to take urgency over environment and climate-related issues, to examine the quality of life, to think and to listen. I felt echoes of what David Attenborough, and our foremost climate scientist, James Renwick, are speaking. Following their lead, youngsters are saying to oldsters 'If you won't behave as adults, we will'. All power to them, and to these dancers.
There's a nationwide Teacher Strike planned for next Wednesday, the day after this season ends. That will flood the streets with school students who would thrill to see this program, as many will share its concerns. Challenge to NZSD to add two extra matinee performances on that day. There are ways to spread the word, and the auditorium would overflow. You could invite those students to then write about what they saw.
I am well aware that the young dance-makers may not have consciously intended any of the themes I found arising from their work. That's the good thing about a dance performance. We make of it what we will. Lucky us.
Jennifer Shennan, 23 May 2019
Featured image: NZSD Choreographic Season 2019. NZSD dancers in Huddle. Photo: © Stephen A'Court