4 September 2013, State Theatre, Victorian Arts Centre, Melbourne
This double bill opened with Paquita (or parts of it), a work in the classical tradition of Marius Petipa. It concluded with a Romantic work, La Sylphide, with the Erik Bruhn choreography after August Bournonville. Putting a work from the classical era with one from the Romantic age is probably a little risky. For such a program to be a success stylistically the company involved needs to have a good understanding of the differences between the styles and, more importantly, dancers who can demonstrate those differences. With the cast I saw, I'm not sure this happened.
Paquita was led strongly by Leanne Stojmenov and Daniel Gaudiello and the corps de ballet worked beautifully together giving a performance that made me smile with pleasure at how exciting pure classical ballet can look. The brilliance, the formality, the elegance and decorum that characterise classicism in ballet were all there. Ako Kondo was the absolute star in this performance of Paquita. She had the third solo and her series of relevé turns in attitude and arabesque, and her diagonal of double pirouettes were spectacular. And how gorgeous to see her execute a grand jeté en tournant with the arms lifting and lifting into and through 5th position as if the arms were (as they should be) part of the movement and not just an add on. Wonderful. Other soloists performed well but could not come anywhere near Kondo for pushing the ballet technique to the limit.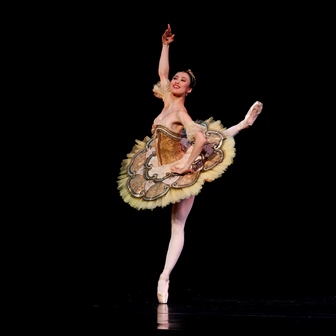 On the other hand, La Sylphide, led by Lana Jones as the Sylph and Chengwu Guo as James, was a little disappointing. I don't believe Jones is suited to the Romantic style, or else she was not well coached in her preparation for this role. Although she is more than capable in a technical sense of executing all that is needed throughout the ballet, she looked more than a little coy and her movements seemed stiff, especially in the upper body. She certainly didn't seem ethereal to me. Chengwu Guo has a a beautiful jump and technique in general. His entrechats and other beaten steps were outstanding, especially in his Act II solo. But it all looked so forced, as if he were trying too hard. And for me the beautiful ballon that so characterises Bournonville was missing. Bournonville doesn't have to look spectacular, it has to look easy, which is different from hard-edged spectacular. In looking easy it gains its own very distinctive, remarkable appearance.
But what was really disappointing was that I thought the supernatural element was totally missing in Act II. Little of the mood had changed from Act I and, really, if the Australian Ballet is going to stage a work of the Romantic era it needs to work to make the dichotomy between the real and the surreal more clear, whatever cast we might be looking at. That dichotomy is at the heart of Romanticism in ballet.
Michelle Potter, 5 September 2013
Featured image: Dimity Azoury, Amy Harris, and Natasha Kusen in La Sylphide. Photo: © Jeff Busby, 2013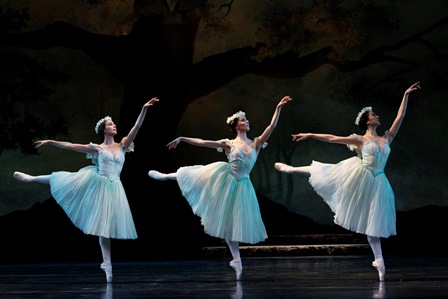 See this link for my comments on a second viewing of this program.