This is an expanded version of my review first published in The Canberra Times, 17 September 2011, p. 30 under the title 'Fluid postmodern take on a classic'.
13 September 2011, State Theatre, Victorian Arts Centre, Melbourne
In an interview published in the September issue of the Qantas inflight magazine, choreographer Graeme Murphy said of his new production of Romeo and Juliet for the Australian Ballet that we should 'bring a lifeboat'. Well he had a point because this production, which had its world premiere in Melbourne on 13 September, is a very fluid one indeed. It opens in a town setting, which could be Verona at the time Shakespeare's Romeo and Juliet is set. But over the course of the evening the location and the era change wildly. We see the marriage of Romeo and Juliet in Japan, the killing of Tybalt and Mercutio in India and the mourning of Juliet in a harsh, blood red desert setting. The characters ride bikes in one scene. Romeo, Mercutio and Benvolio find themselves in a row boat in another. And more.
Graeme Murphy's Romeo and Juliet is quintessentially postmodern. It has moments of humour and irony. It is filled with allusions to all kinds of cultural objects and issues—devotees of the Hare Krishna movement even make an appearance. Murphy also references himself and his work through some choreographic moments that look back to the vintage days of Sydney Dance Company. The scene in which Juliet receives a potion to induce a death-like sleep, when six black clad figures support Juliet in expansive swooping and flying movements, is just one example of this glance back at previous choreography.
Murphy also incorporates fabric into the choreography and the production overall. And while on this occasion his costume designer, Akira Isogawa, may well have had a strong input into how fabric has been used, Murphy has been playing with lengths of cloth and curtains of fabric throughout his choreographic career. One of the most dramatic uses of fabric in Romeo and Juliet occurs when a bolt of scarlet silk, initially resting amongst other rolls of fabric on the side of the stage in the Indian market place, unwinds and streams across the stage as the Capulets and the Montagues engage in their bloody feud.
This Romeo and Juliet is a collage of ideas playfully deconstructed and the remarkable thing is that it works. Everyone knows the story and Murphy has assumed this familiarity with the plot and has pursued a vision for a work that is like no other that the Australian Ballet has ever presented.
On opening night Madeleine Eastoe and Kevin Jackson as Juliet and Romeo led us on this journey of love and death. Eastoe in particular danced with joy, passion, despair, every emotion that the story requires. Her opening dance, with its quick footwork and fluid upper body movement, filled us with pleasure and anticipation.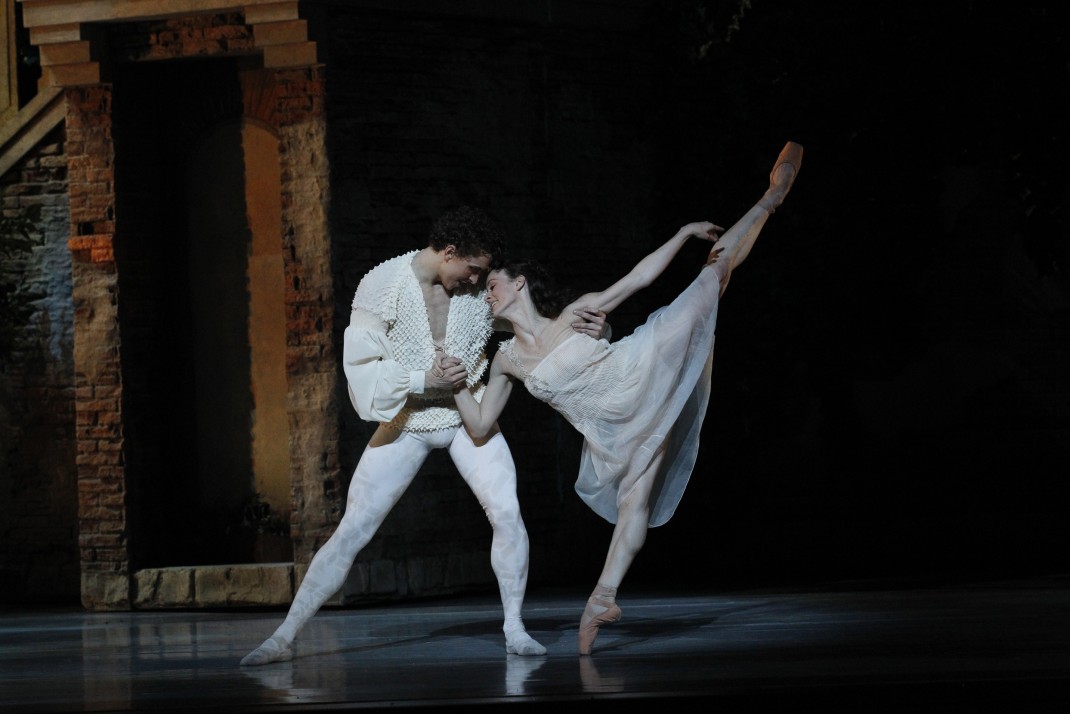 Daniel Gaudiello continued to impress as Mercutio and moved, as his name in this ballet implies, like quicksilver, darting here and there, unpredictable and always impassioned in defence of his friends. Juliet's nurse, usually played as a somewhat plump and bumbling if kind-hearted older woman, was intelligently performed by Elizabeth Hill and became (thankfully) a much less pantomimic role. A character introduced by Murphy—Death, the Prince of Darkness—provided a through line for the meandering locations and times. Death picks up bodies, which he places in a wooden cart (rather like the carts that carried the French to the guillotine in 1789—another reference). Or sometimes he just hovers menacingly in the background. It's not a big dancing role but one that requires a very strong presence. It was very ably performed on opening night by Adam Bull.
In addition to Akira Isogawa, the collaborative team on this production included Murphy's creative associate, Janet Vernon, set designer Gerard Manion, and Damien Cooper who lit the show. From among literally hundreds of costumes created by Isogawa, I especially liked the beautifully cut, high-collared black coat for Death and the pale olive, very simple costume for Juliet's nurse. I was amused by the costume for Paris, which seemed to have a kind of gold 'breast-plate' of muscles. Paris is rarely portrayed in a sympathetic way and this addition to his costume suggested an inherent vanity. Manion's strongest contribution was a visually arresting painted front cloth comprising a huge bunch of gold, pink and blood red lilies from which the deepest colours drained to grey as the cloth rose at the beginning of the work.
This Romeo and Juliet may not appeal to everyone, especially those who like their ballet to be more in a modernist vein, that is somewhat coherent in form. Did I miss the John Cranko version of Romeo and Juliet, which has been in the Australian Ballet's repertoire for decades? Yes, a little, but in the same way as I occasionally yearn to see a traditional Swan Lake, rather than Murphy's newer production. It's part of the balletic legacy and we need to be reminded occasionally that we have a heritage.
But Murphy's approach in 2011 raises many issues that are discussed across other art forms and it is refreshing to see this occurring in ballet, an art form that is so often seen as a little dowdy. Of course such issues include the notion that postmodernism is dead so we have to wonder whether this Romeo and Juliet is already outdated? But whatever one might think, it is a production worth seeing.
Michelle Potter, 19 September 2011
Featured image: Madeleine Eastoe and Kevin Jackson in Romeo and Juliet, 2011. Photo: © Jeff Busby. Courtesy of the Australian Ballet
UPDATE, 11 December 2011: Romeo and Juliet. A second look