21 October 2017, Haig Park, Canberra. Floriade Fringe
This year Floriade, Canberra's annual floral display in celebration of the arrival of Spring, got an addition—Floriade Fringe. Spread over three days, 19–21 October, it was, like all Fringe Festivals, a mixed bag of offerings across a range of alternative endeavours in the arts, and in assorted other areas. But it also had an artist (or rather artists) in residence—Alison Plevey and her Australian Dance Party. Australian Dance Party at this stage in its development is still a pickup company with dancers changing from work to work. On this occasion, the company consisted of Plevey, Jack Riley and Eliza Sanders. The specially commissioned work was Seamless and it took a look at the fashion industry.
We have come to see Plevey's work as an unapologetic comment on those aspects of society and politics that she feels strongly about. Seamless began by taking a look at models and their behaviour, and the stage that was set up in Haig Park was T-shaped in the manner of a catwalk. The dancers wore an amazing assortment of clothing, from grunge to glamour (not to mention underwear). Bouquets to Nina Gbor and Charne Esterhuizen for their contribution here. Plevey was a standout in this section as she strutted down the catwalk, mocking the distinctive walk models use.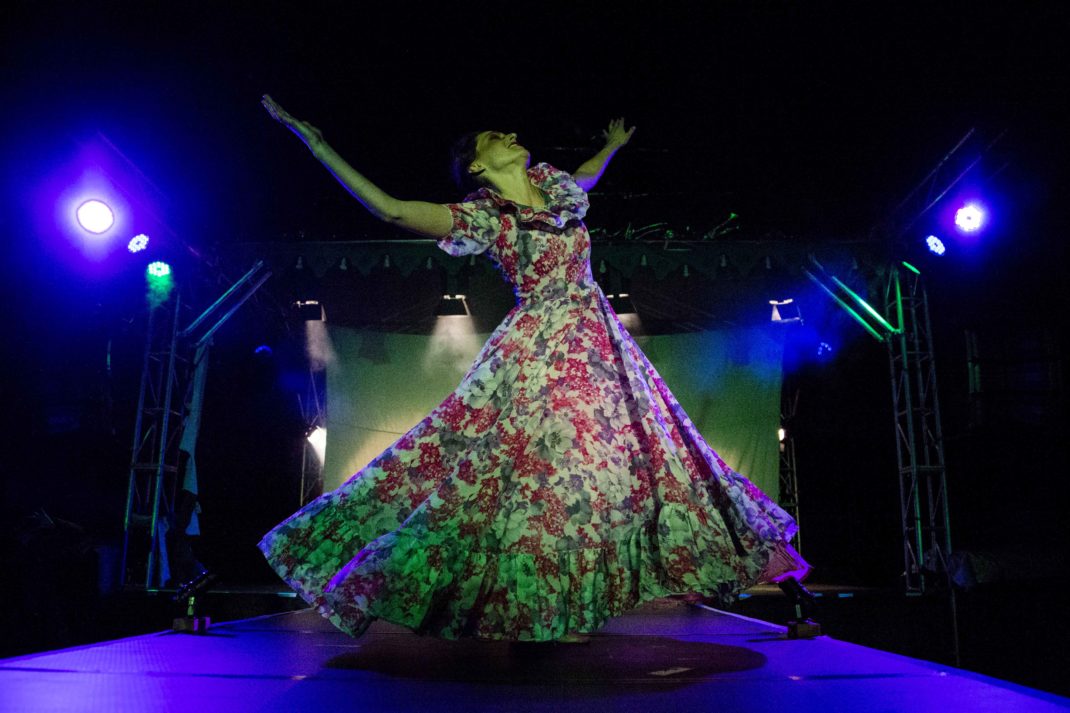 But I also enjoyed the slightly supercilious attitude each of the dancers presented as they posed in various ways. Plevey also made a comment on the shape and size of models, and the attention their thinness has attracted recently. She pushed and poked her body and watched it in shadow-form on the back screen as she tried to make herself look as thin as possible.
But the work moved on to comment on other aspects of the fashion industry. Against the background of footage of sewing machines relentlessly and repetitively sewing seams, the three dancers, dressed in white, unadorned pants and tops, danced out a similarly repetitive and relentless series of moves. This section, which seemed overly long (although perhaps with the right intent), I assume was a comment on factories churning out fast fashion. There were other sections, however, that left me a little lost. I wasn't really sure about the wrapping of Riley in a diaphanous purple cloth, although it was interesting to watch.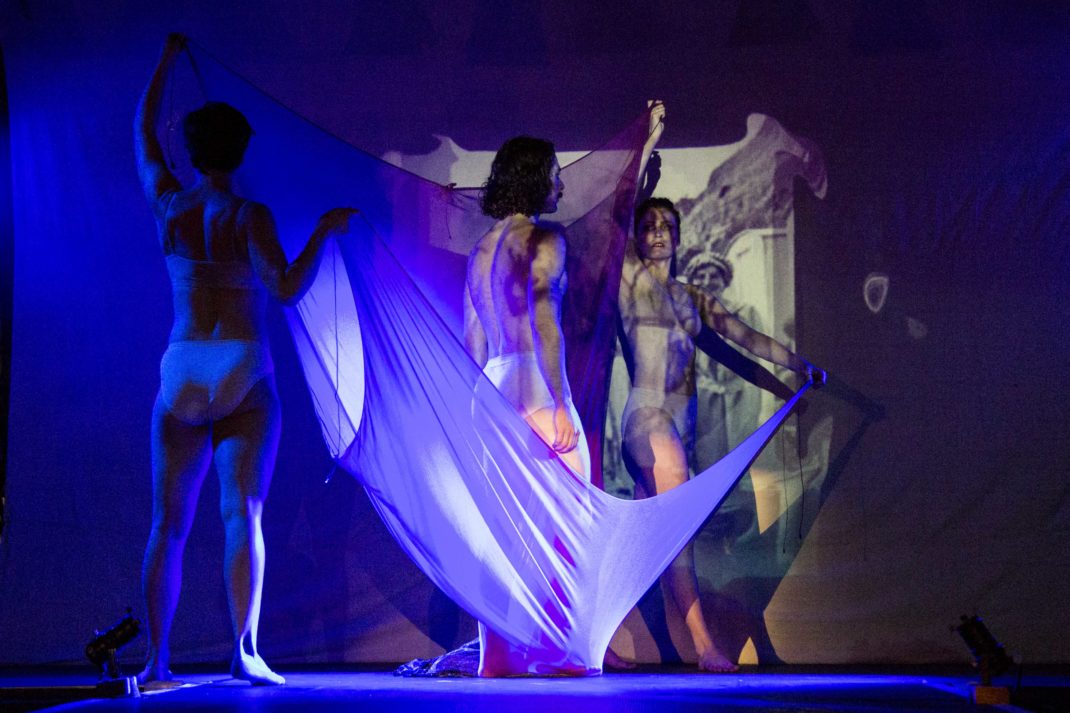 Towards the end the three dancers 'engaged' with an assortment of clothing, dressing themselves with as much as they could fit on and swapping items with each other. This was fun to watch too and I guess had to do with recycling clothing—an op shop experience gone wild.
While I felt not all the sections were clearly articulated, Seamless was an interesting, outdoor, evening event and was wonderfully danced by all three performers. I continue to be surprised at what Plevey and her dancers get up to, and think we in Canberra are lucky to have Australian Dance Party performing as much as they do with so little mainstream funding support. Plevey just picks up opportunities, wherever they may be, and runs with them
Michelle Potter, 23 October 2017
Featured image: (l–r) Eliza Sanders, Alison Plevey and Jack Riley in Seamless. Australian Dance Party, Floriade Fringe, 2017. Photo © Lorna Sim