14 June 2018, Canberra Theatre, Canberra Theatre Centre
Below is a slightly expanded version (with different images) of my review of Australian Dance Theatre's The Beginning of Nature. The Canberra Times review is available online at this link. In addition, I was lucky enough to be contacted by the composer, Brendan Woithe, after my review appeared. In the ensuing correspondence he explained in some depth how the score could often sound as if it were a powerful electronic soundscape when on stage there were just four string players performing on two violins, a viola and a cello, along with two singers.
It appears, if I understand Woithe correctly, that the sound produced by the string players is manipulated in real time by a computer system, built and pre-programmed by Woithe so that no human intervention is required. The sound produced in this way is combined with the vocals and a small amount of pre-recorded backing at times to produce what we hear during the performance.
As I suggested in my review, the remarkable sound that emerged from this process varied in what it suggested and, as such, made an inestimable, collaborative contribution to the overall work.

The Beginning of Nature. Australian Dance Theatre. Choreographer: Garry Stewart. Composer: Brendan Woithe. Lighting: Damien Cooper. Costumes: Davis Browne. Indigenous consultant: Jack Buckskin. The Canberra Theatre. June 14 and 15
Garry Stewart has been artistic director of the Adelaide-based Australian Dance Theatre for almost two decades now. During that time, he has built up a reputation for choreography that pushes the human body in directions that at times look almost impossible. He often also works with ideas that stretch the imagination to its limits. The Beginning of Nature, his latest work, is no different.
Thematically the work examines rhythms in nature. Sometimes this happens in a gentle way. Stewart's nine dancers create undulating patterns with their arms, or swirling movements with their hands, or they use their bodies in mesmerising swaying movements. At other times those rhythms are more violent and the dancers throw themselves into moves that are wild and free. Sometimes animal or bird actions are evoked as bodies swarm as one, or tidal patterns emerge as the dancers course across the stage together. There are connections of all kinds, including a moment where two dancers are locked together at the mouth. Some spectacular moves are performed with a dancer balancing on a single part of the body—the head or the hand for example. Other movements find the dancers springing suddenly from a prone position on the floor into the air. There they seem to pause momentarily, execute a cabriole while parallel to the floor, and then return to a prone position. It's like a sudden explosion from a volcano.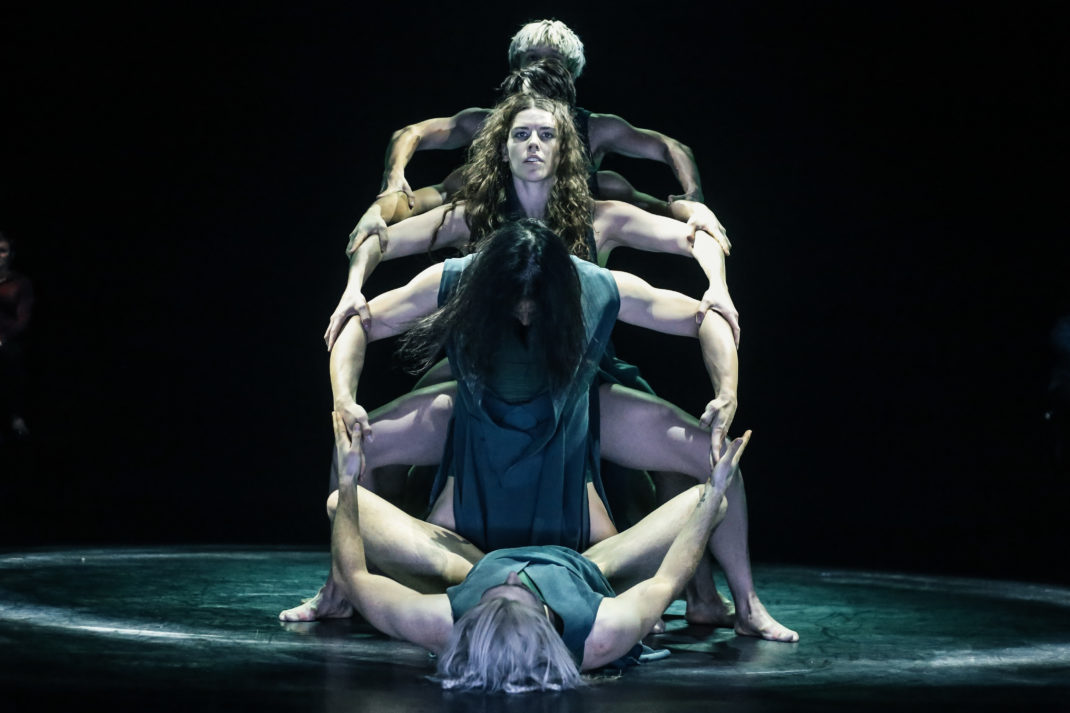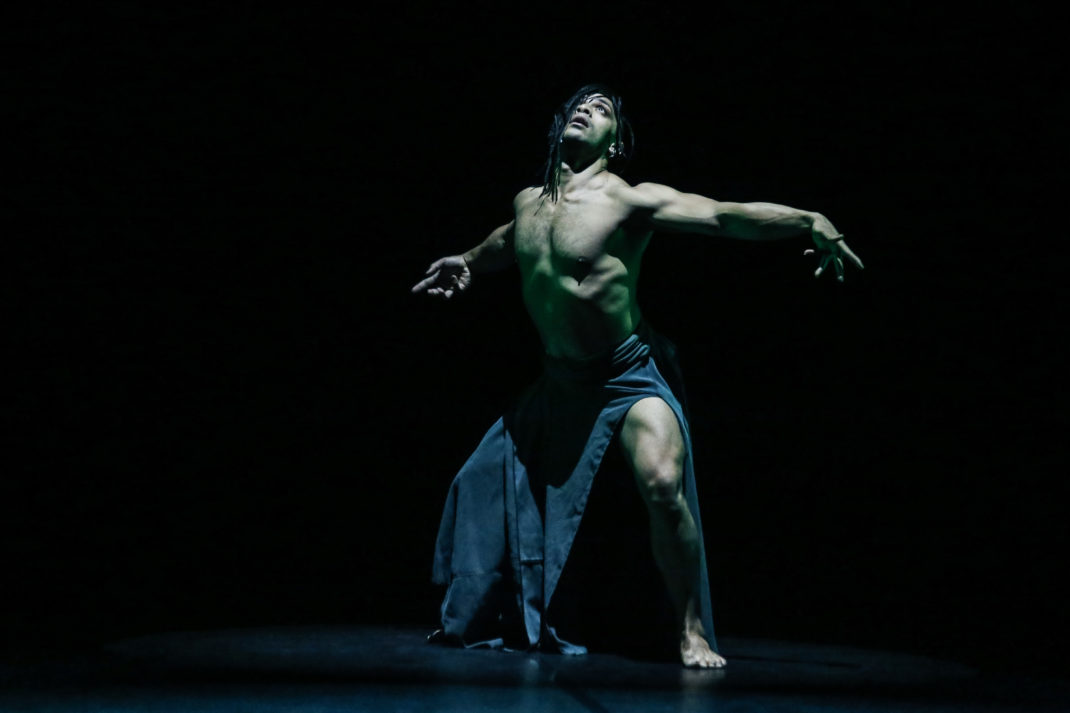 I also felt there was an atavistic element to the work. The dancers wear their hair in somewhat unkempt styles and, where the hair (or wig) is long, they fling it from side to side as they move. They are also completely involved facially and bodily in expressing the rudimentary forces that are at the heart of the work.
Musically the work is transfixing. A score by Brendan Woithe evokes the sounds of a huge range of natural forces from rain and wind to more gentle aspects of the world and its seasons. It is played onstage by string players from the Zephyr Quartet, with two other actors speaking and singing in the Kaurna language of the Adelaide Hills. A consultant, Jack Buckskin, and his team are responsible for the powerful Indigenous aspect of the work, which highlights a language that had all but disappeared until work began to restore it from a kind of phonetic dictionary assembled by German missionaries. Costumes by Davis Browne are a greenish blue, although the colour changes with the lighting. They are quite simple in design and cut, and can be added to (and subtracted from). Sometimes the dancers appear to be wearing a toga-style dress, while at other times costume is reduced to just a pair of trunks. Lighting by Damien Cooper, with its occasional hazy effects contrasting with patches of brightness and an emphasis on green highlights, is another spectacular feature of a work that is, all in all, a remarkable collaborative endeavour.
Many adjectives come to mind to describe the overall effect of The Beginning of Nature. It is poetic, elemental, ritualistic, and even operatic in the intense theatricality that pervades it. But more than anything The Beginning of Nature is absolutely compelling and engrossing to watch. It simply takes over and sweeps us along. And how beautiful it looks on the stage of the Canberra Theatre with its wide proscenium, giving what Stewart himself referred to as a 'panoramic feel.' The panorama of nature is before us.
Michelle Potter, 17 June 2018
Featured image: Dancers of Australian Dance Theatre in The Beginning of Nature, 2018. Photo: © David James McCarthy