7 June 2013, Lyric Theatre, Queensland Performing Arts Centre, Brisbane
The back story to The Bright Stream has been told and retold. Originally created in 1935 with choreography by Fyodor Lopukhov and with a score by Dmitri Shostakovich, the ballet lasted just months. Set on a Soviet-style farm at harvest time, but with some eccentric touches to the story of collective agriculture, the ballet was banned by Joseph Stalin.
As the overture begins in Alexei Ratmansky's restaging of The Bright Stream for the Bolshoi Ballet, which dates to 2003, we understand something of this back story. We are faced with a front cloth covered with various Soviet slogans and some headlines from Russian newspapers, said to be those of Pravda in its review of The Bright Stream, and in its review of another of Shostakovich's scores, that for Lady Macbeth of Mtsensk, which Stalin also hated. Amongst the extracts and slogans are 'Ballet falsehood', 'Muddle instead of music', 'Tractors and kindergartens are the gearbox of the new village', and others of a similar nature.
Working from the original libretto, but without any choreographic notation from the 1930s, Ratmansky has built his version of The Bright Stream, the title being the name of the collective farm, using his classical heritage mixed with his unique choreographic sensibilities and a clear talent for humour and characterisation. What emerges over two hours is a comic ballet based on the lives of a group of peasants living in the steppes of the northern part of the Causcasus region. They become entangled with a visiting group of entertainers from the city and what ensues is a world of flirtatious encounters and mistaken identities, the latter largely as a result of moments of cross dressing.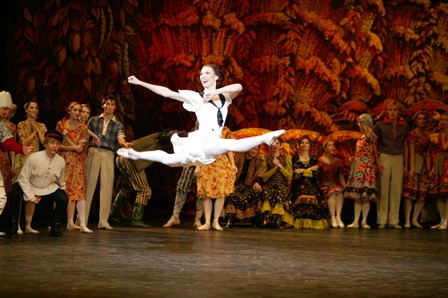 What a joy it was to see the beautifully accomplished Bolshoi dancers performing Ratmansky's choreography. Whether whipping off a few fouettés (with never a hint of moving across the stage), performing a series of jetés, or tossing off a manège of jumps, they danced with such attack, made everything look so easy, and always looked as though performing was pure pleasure for them. The two leading ladies, Maria Aleksandrova as the ballerina from the city and Nina Kapstova as Zina the local entertainment organiser, both gave finely sculpted performances, but the entire cast deserves bouquets.
Ratmansky's choreography for groups of women was especially captivating. He often arranged steps in canon and the overall image that emerged as arabesque followed arabesque, for example, was a little like the movement of plaiting and unplaiting. I loved too the characters that populated The Bright Stream—the elderly folk in particular—and I especially liked that, while they were all drawn with broad, comic brush strokes, there seemed to be no desire by the dancers to overplay their characterisations. As a result these folk were funny and eccentric but believably so.
But perhaps the most fascinating aspect of The Bright Stream was Ratmansky's development of those scenes in which, as a joke, two of the main characters, the Ballerina from the city and her partner, dress in each other's costumes and set up a romantic tryst with two elderly dacha dwellers who have joined the harvest festivities. Ruslan Skvortsov, dressed in a long white Romantic tutu, gave a wonderful performance as the (cross-dressed) Ballerina. Ratmanksy's choreography for him was an absolute delight. It had moments that recalled Giselle, Pas de Quatre, Les Sylphides and La Sylphide, all arranged in a topsy-turvy mix. The image of Skvortsov with his index finger under his chin à la Pas de Quatre will remain in my mind for some time.
So was there any hint of politics in this work? After all, collective farms did not always operate as happy and productive initiatives in Soviet Russia. Well, the Grim Reaper appears during the final scenes as the harvest festival begins. He joins in the dancing with his scythe swinging wildly round and round. But the people largely ignore him and he disappears as unexpectedly as he appeared. We can make what we like of this appearance but it adds a touch of politics to a fascinating ballet that shows Ratmansky as a choreographer of unusual and diverse strengths and abilities.
Michelle Potter, 9 June 2013