29 June 2018, State Theatre, Victorian Arts Centre, Melbourne
The Australian Ballet's latest triple bill, Verve, once again raises the fascinating question of what is contemporary ballet? And once again the three works on the program, one each from Stephen Baynes, Tim Harbour, and Alice Topp are examples of how varied answers to that question can be.
Constant Variants from Baynes was first made in 2007 although this is the first time I have seen it. It opened the program. It is impeccably constructed and is so at one with the music, Tchaikovsky's Variations on a Rococo Theme, that it is like seeing as well as hearing the sound. It gives us lyrical movement and sculptural poses. There are moments of playfulness and moments of wonderful unison from the dancers—a male trio stands out in particular. Michael Pearce's set of partial picture frames, variously coloured, glow beautifully under Jon Buswell's lighting. Constant Variants is calming, beautiful and recognisably classical.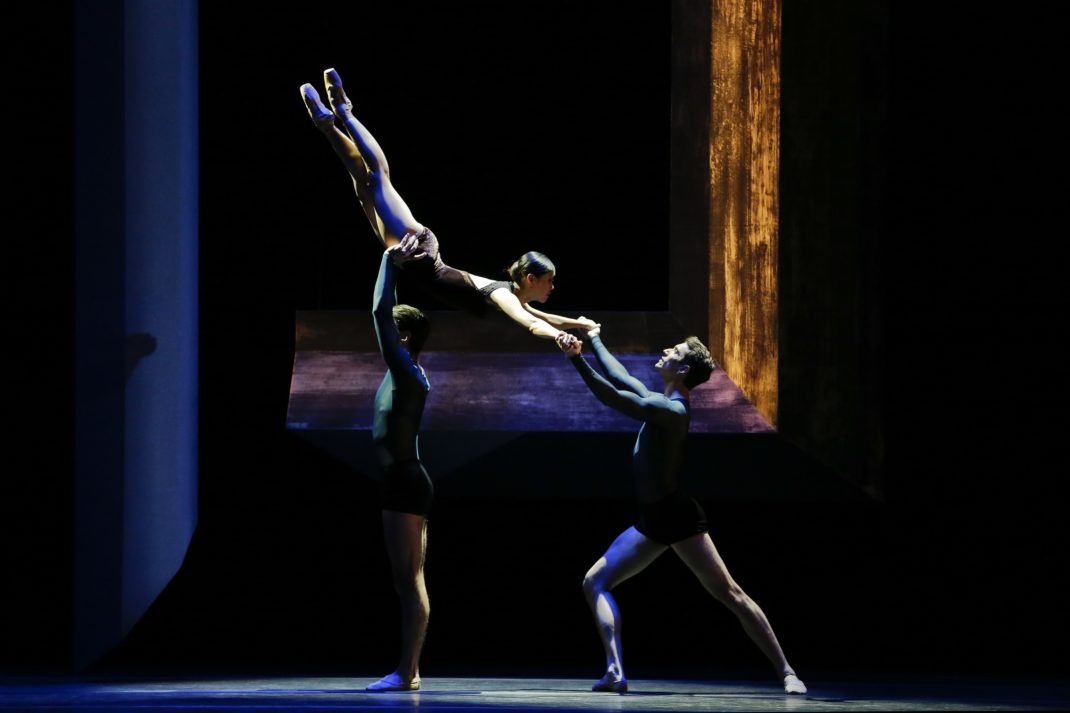 The evening closed with Harbour's Filigree and Shadow, first seen in 2015. I felt uneasy in 2015 and still do. Choreographically it is detailed in the extreme and the dancers capture that detail beautifully. But they constantly move sharply, cutting the air with their limbs, and I longed for a bit of curve to break up the razor-edged look. Aggression and anger predominate. But what makes me especially uneasy is that Filigree and Shadow doesn't lead anywhere. I can't see a structure, just a constant coming and going. For me that doesn't work.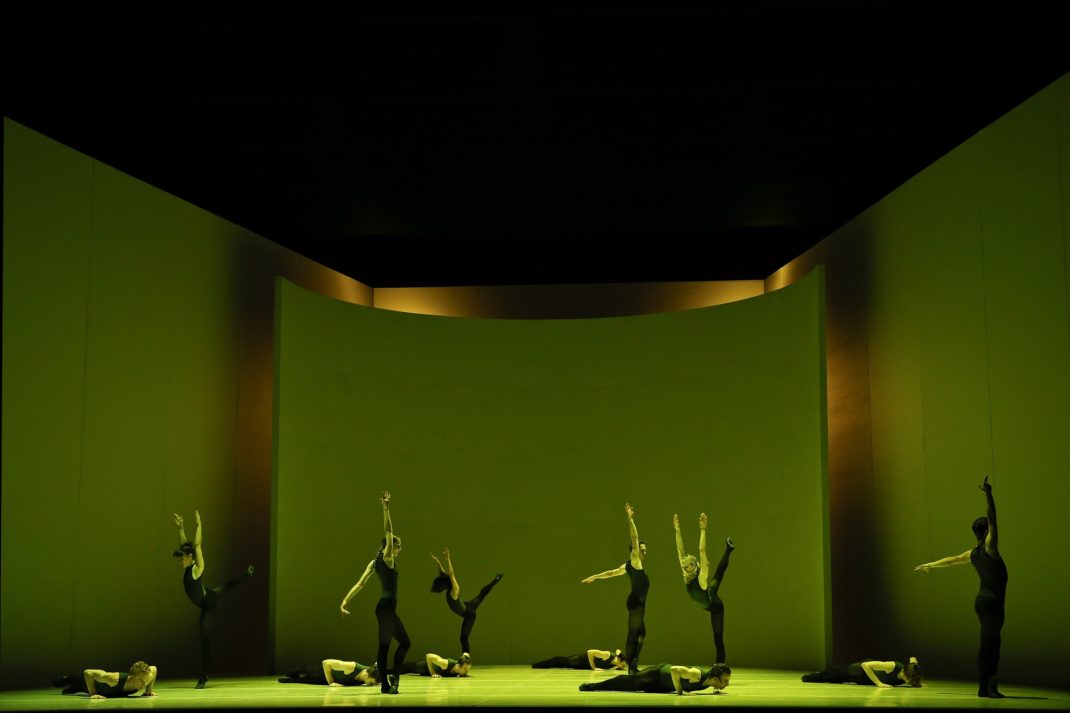 Placed in the middle of the program was Topp's latest creation, Aurum, danced to four separate works by Ludovico Einaudi. And it was astonishing. There is a choreographer's explanation for the inspiration behind the work, which is the Japanese art of repairing broken ceramics with gold or metallic lacquer. But to tell the truth Aurum exists without an intellectual explanation. It is completely visceral. It is about us and how we connect and we are just carried along by its emotional power.
Its surging choreography is compelling (althought there were a few moments when I felt I was watching a phrase or two from a work by Jiri Kylian). But I loved the gorgeous, swooping lifts, the stretched and elongated bodies, and the often precarious balances. A particularly moving pas de deux between Adam Bull and Coco Mathieson stood out.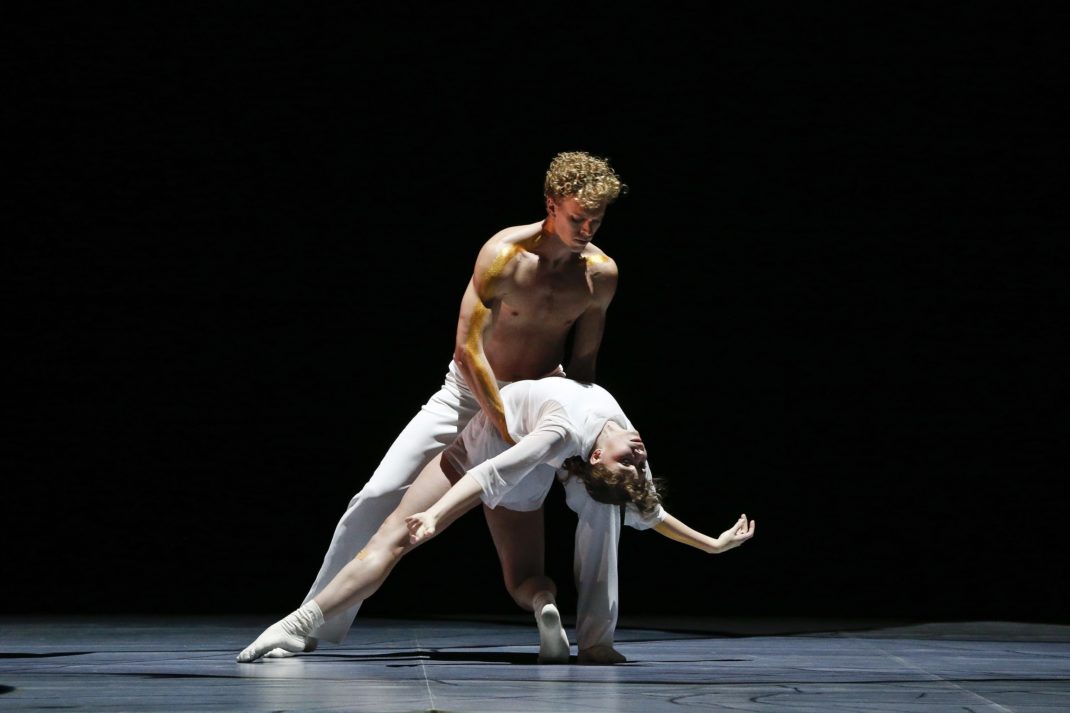 And of course there was that amazing group section, the third of the 'movements'. It completely engulfed the audience as it pounded its way to a conclusion when the audience broke out into an uproar of pleasure and excitement (and it wasn't even opening night). Then there was the final section, another pas de deux this time between Kevin Jackson and Leanne Stojmenov, which played with shadows and was thrillingly lit by Jon Buswell. It seemed to resolve all the emotional drama that had gone before it.
It is hard to remember another work that has had such an instant impact in Australia, except perhaps Twyla Tharp's In the Upper Room. Let's hope Aurum gets another showing soon.
Michelle Potter, 1 July 2018
Featured image: Kevin Jackson and Leanne Stojmenov in Aurum. The Australian Ballet 2018. Photo: © Jeff Busby