12 April 2020. Sadler's Wells Digital Stage
I first saw Rain back in June 2011, almost 9 years ago now. Then it was danced by the Paris Opera Ballet. I was full of admiration for the work then, and for the way the dancers of the Paris Opera Ballet performed, but I wondered what it would be like when danced by de Keersmaeker's own company, Rosas. Rain, as danced by Rosas, was due to be shown at Sadler's Wells in April 2020 although the theatre closed down due to COVID-19. But, for a short period of time, Sadler's Wells has made a 2016 filming of it available online, which is where I watched it.
The excitement generated by de Keersmaeker's choreography was still there—unpredictability combined with a certain logic, random movement combined with repetition, the off-centre leaning of bodies, and the general feeling of pleasure listening to the Steve Reich score (Music for 18 Musicians played live by Ensemble Ictus) while watching how de Keersmaeker's movement related to it.
But I did feel a different kind of emotion watching Rosas perform Rain. Ballet dancers hold their bodies differently from other dancers. They have a different feeling of where the centre of movement lies and they have a different feeling of how the body reacts to the space around it. I got the feeling that the Rosas performance was being danced by people who were simply walking down the street at times, and then bursting, sometimes unexpectedly, into dance. It was not unpleasurable, just different.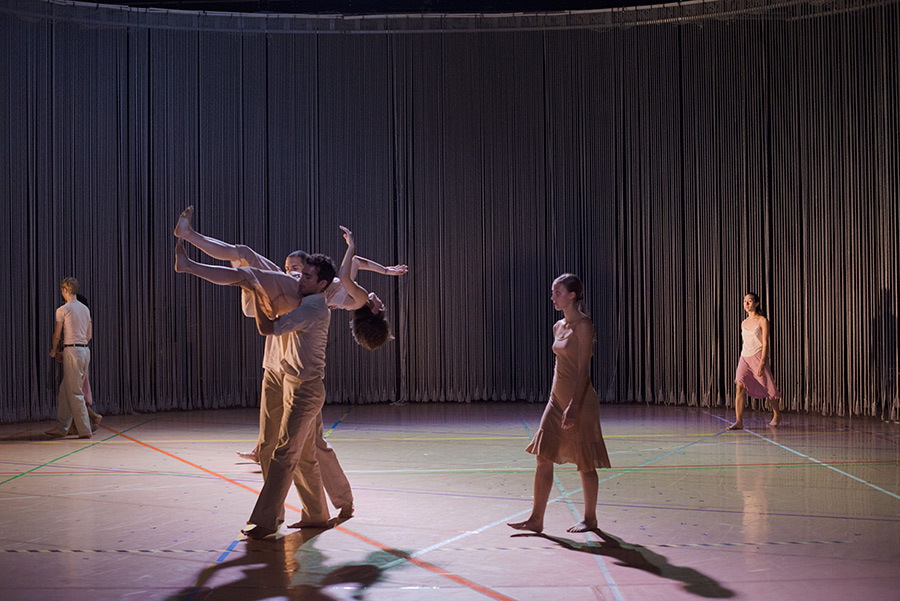 Two dancers stood out for me. Léa Dubois had a real feel for pushing every movement to its fullest extent. Her arms arms and legs extended beautifully, she used her upper body strongly, she made contact with the audience, and she had excellent elevation, which she used effectively. My eyes kept turning towards her. Frank Gizycki also had a strong stage presence and there was both pride and pleasure in the way he moved.
One section I especially enjoyed was a trio quite early in the work by the three men of the cast. De Keersmaeker's choreography had the three sometimes dancing together in unison. But mostly she featured a two to one arrangement swapping the dancers, however, so that combinations were never predictable. Nor was the focus predictable. Sometimes one dancer led the way, sometimes two, sometimes all three.
In all it was an interesting experience seeing the work on the company it was made for, but I guess the experience of seeing a work live will always outclass a digital stage presentation. All credit, however, to Sadler's Wells for looking after its committed audiences so well. I look forward to the next presentation at a time when 'live' is pretty much impossible.
Michelle Potter, 12 April 2020
Both images from the Sadler's Wells website.