10 March 2021, Australian National Botanic Gardens, Canberra
Symbiosis was Australian Dance Party's contribution to Canberra's Enlighten Festival for 2021. Made in true ADP style as a site-specific work, it took place in various parts of the Australian National Botanic Gardens. It was in fact a guided tour through the Gardens with snippets of dance, music and poetry, and even instruction about various plants, inserted at various points. Again in true ADP style, the work had political overtones, on this occasion issues associated with the environment. True to its title, it explored both conflict and interference, as well as fusion between species (including the human species) in the world in which we live, the natural world that is.
We set off with a guide (Liz Lea dressed as a kind of outback botanist) and began our journey with a walk through the lush rainforest area. There we encountered, at first individually, members of the Canberra-based group Somebody's Aunt. As we made our way through the gully, we could hear them breathing and see them gently moving as we passed by. Eventually we reached a higher point and could look down at them as they came together to embrace each other, and perhaps the environment (?).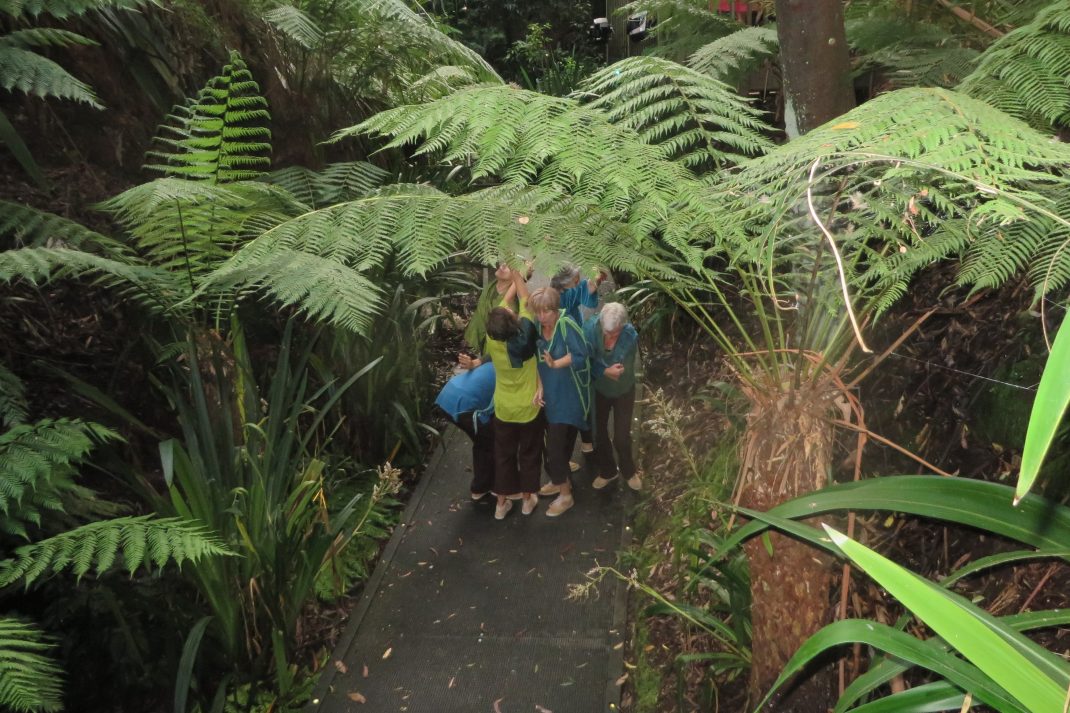 Further along the rainforest gully we were asked to pause and looked up to see Ryan Stone moving across a ridge of trees and plants to sounds of a human voice created by Stone and poet Melinda Smith. And so we continued with the botanist-figure naming various plant species and explaining various matters about other species and their place in nature. We encountered Levi Szabo engaging acrobatically with a tree and its spreading branches, and with the benches that were on the ground close to it. At various points we also noticed Alison Plevey as a kind of lizard/dragon lurking in the bushes and on the paths.
The standout item for me was a section featuring Olivia Fyfe performing to a soundscape by Alex Voorhoeve on electric cello. Fyfe dramatised thoughts about the fate of a tree, with those thoughts ranging from the idea of protection to horror at what was the eventual fate of the tree. Voorhoeve made those changing thoughts audible in stunning fashion. It was an extraordinarily moving section, made especially so by the collaborative blend of movement and music.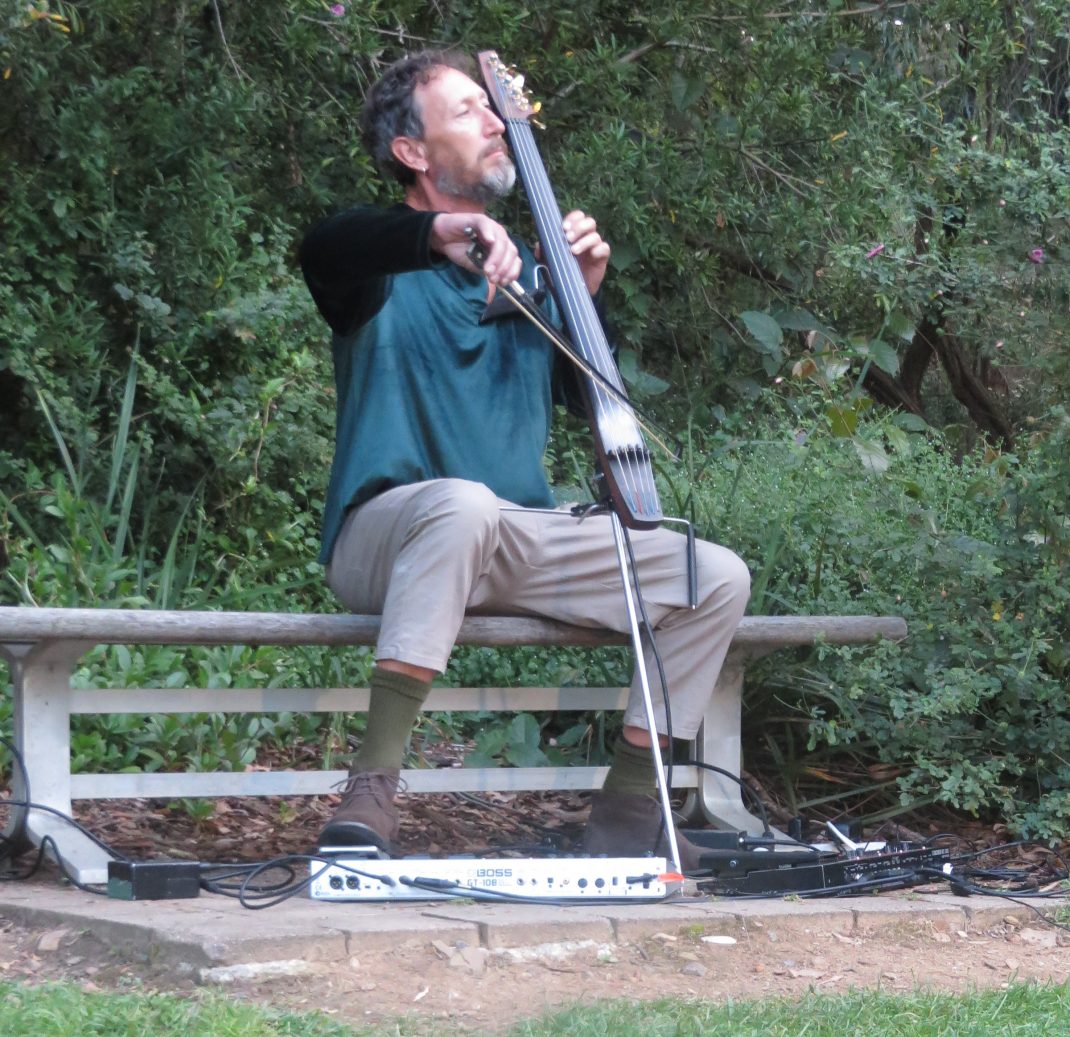 The most obviously political section came towards the end when Alison Plevey played the part of some kind of leader attempting to convince her audience (of plants) that 'the bigger picture' was being considered, while the 'green' organisation she represented moved along (or didn't) with its environmental plans (or lack thereof).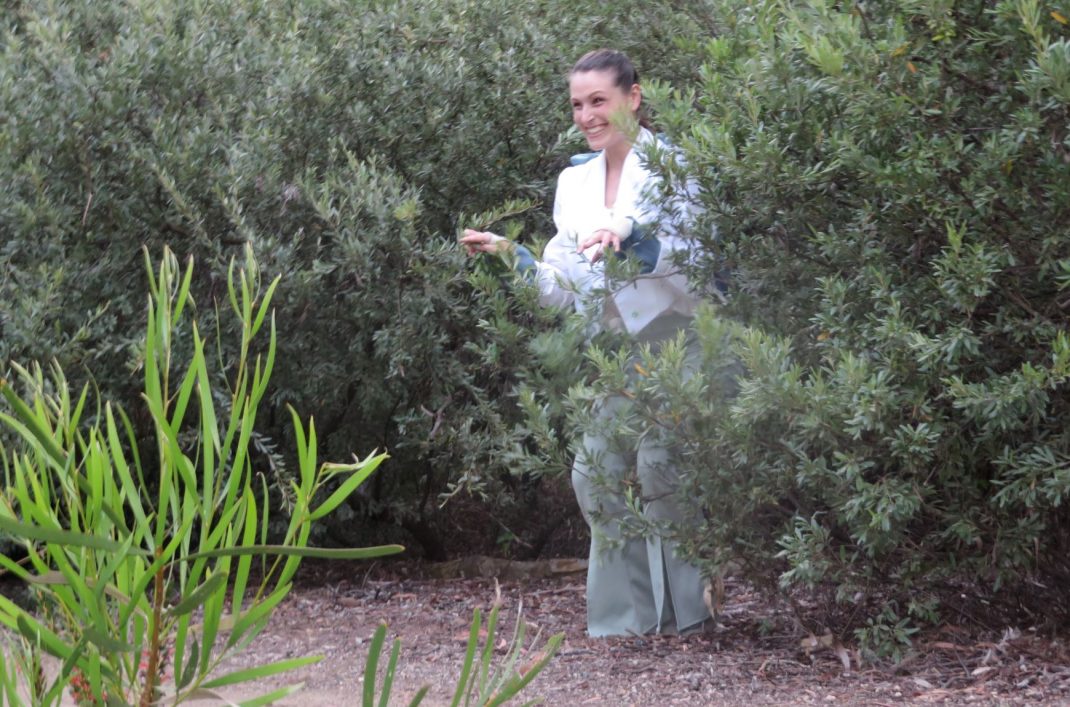 In addition to the moving performance from Voorhoeve and Fyfe as they contemplated the destruction of a tree, an exceptional performance came from the Gardener, danced and acted by Elizabeth Dalman. So immersed was she in her character and so beautifully disguised in her costume, especially that soft-brimmed hat, that it took me a while to realise that it was in fact Dalman. She appeared and re-appeared several times as a kind of 'extra' until the very end when she led the concluding dance. She began by setting up the shape of a star, made from bark pieces, on the ground at the final venue. Accompanied by the words of Melinda Smith, which were often difficult to make out in the very open space of the Gardens, one by one the performers we had watched came together. Maintaining her distance from the others, Dalman soothed and comforted, calmed and regenerated. She showed her true colours as an extraordinary artist throughout.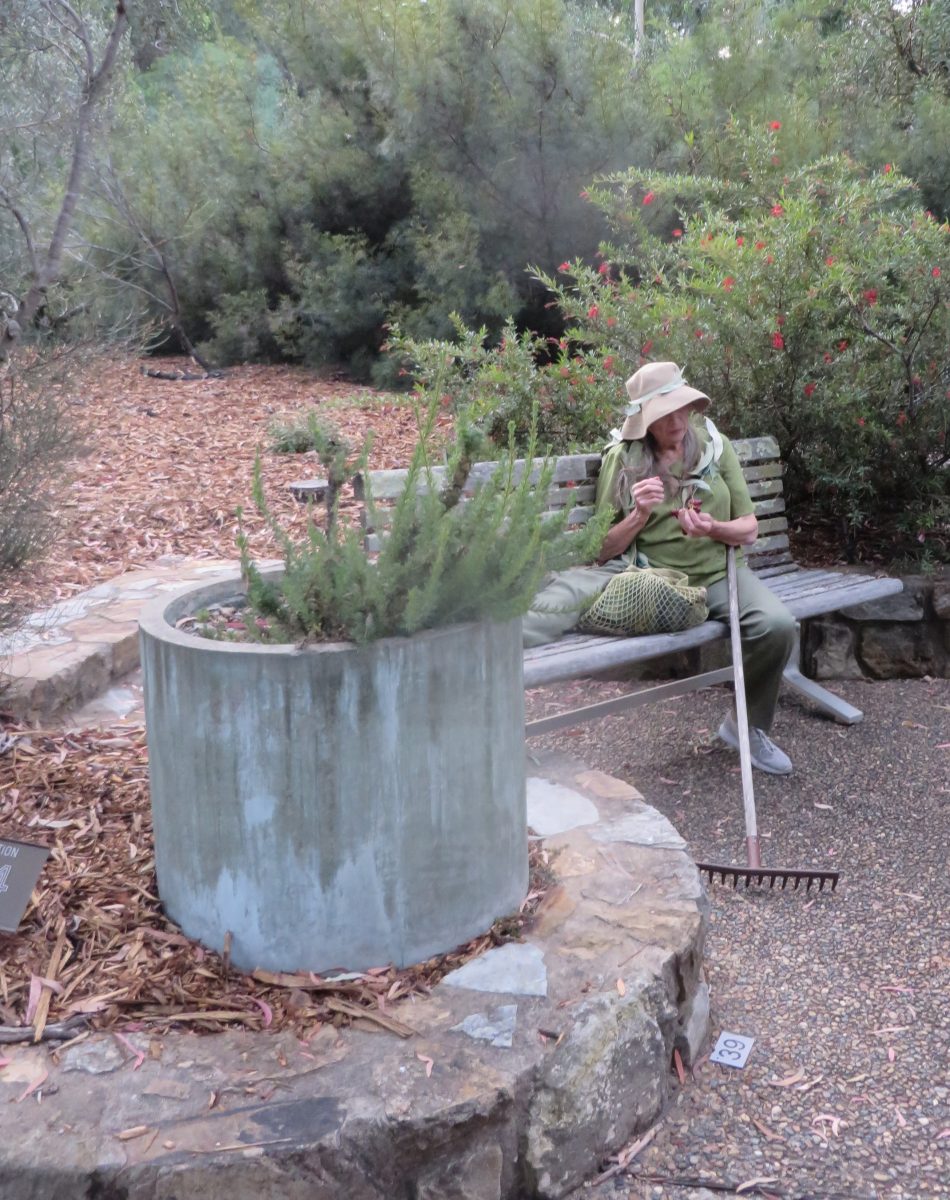 Symbiosis lasted for 90 minutes, which was, at least for me, about 30 minutes too long given the small amount of performance we saw. Did we really need all that botanical information? A little was fine but announcing all those Latin names of various plant species was pretty much unnecessary. We can go on a special Botanic Gardens tour if we need to get to know that kind of information.
Symbiosis was in essence an after-dark show, although I ended up seeing it in the early evening, which gave me lots of pleasure. Looking at published images taken during evening shows, I am glad I had the opportunity to see it in an 'enlightened' situation where the performance skills of the artists involved were clearer. The pleasures of carrying lanterns during the late evening shows, as I believe was the case, and the fairy lights that decorated the pathways, may have been fun but I prefer to have a clear view of how the artists are performing.
Perhaps the final note is to say that the event was constantly permeated by the sound of the wind in the trees and the birds calling each other. Even a hungry magpie hopped across the grass looking for scraps for its dinner as Fyfe and Voorhoeve were at work. From the point of view of the ambient sound, and the slow change of light as dusk began to fall, the show was very special.
Michelle Potter, 13 March 2021
Featured image: Olivia Fyfe in Symbiosis. Australian Dance Party, 2021. Photo: © Michelle Potter