16 November 2022. Te Whaea Theatre, Wellington
reviewed by Jennifer Shennan
This year's Performance Season by New Zealand School of Dance offers two programs that alternate throughout a ten-day season. The opening program has five works all choreographed by Loughlan Prior, performed by the school's stream of classical ballet students. The following evening has five works each by a different choreographer, performed by contemporary dance students.
Loughlan Prior graduated from NZSD, followed a performing career and has more recently become a full-time free-lance choreographer. Even as a student he knew the pull towards choreography and has already a prolific output, one could say outpouring, of both short and full-length works, including a number of dance films, to his credit. His works have been seen widely in New Zealand and also staged in a number of countries abroad.
His pithy and helpful program notes are reproduced here since they don't need re-writing…
Storm Surge
Music: Matteo Sommacal, The Forgotten Strains (For Piano and String Quartet);
Exile Upon Earth: 3. Pensive; Follow It Blindly (For Piano and Cello);
The Sign of Gathering (For Piano and String Quartet)
Costume Design: Max de Roy
Inspired by the wild weather of Wellington, this newly created work explores the drama, beauty and fragility of the human body. Placed within varying environments, small fragments of movement are pieced together to create a complex matrix of shifting forms and patterns. The dancers are seen to dart and weave through a vibrant landscape evoking turbulent skies
The opening section in low light had a mesmerising quality in arm movements suggesting the ebb of kelp tossed in the tide. Next a duo of abstract movement in unison, followed by a sequence with emotion newly introduced, gave the sense that the choreography was evolving through layered references, the weather outside towards the weather inside. All eight dancers were focussed and in form for this premiere performance, with Aidan Tully particularly noticeable in the cast.
Verse
Music: Antonio Martin Y Coll, Differencias sobre las Folias
Physical calligraphy. A script embodied in flesh
dedicated to Wellington arts patron, the late David Carson-Parker

Verse, a solo, beautifully performed by Joshua Douglas, is a carefully chiselled transition of a 17th century sarabande towards a contemporary sensibility. Prior has taken the minimalism of baroque dance movement vocabulary, through which intense emotion can be conveyed, from its iteration as the legendary Folies d'Espagne. The first known review of a dance performance in European literature is of a sarabande, by François Pomey mid 1660s, and I've yet to come across a finer account of a danced performance in any era. I'm drawn to art that reminds us infinity lies in both directions, ever outward, ever inward, as we walk backwards into the future. I would vote Verse as my favourite work from both programs if it were a competition, which thankfully it's not.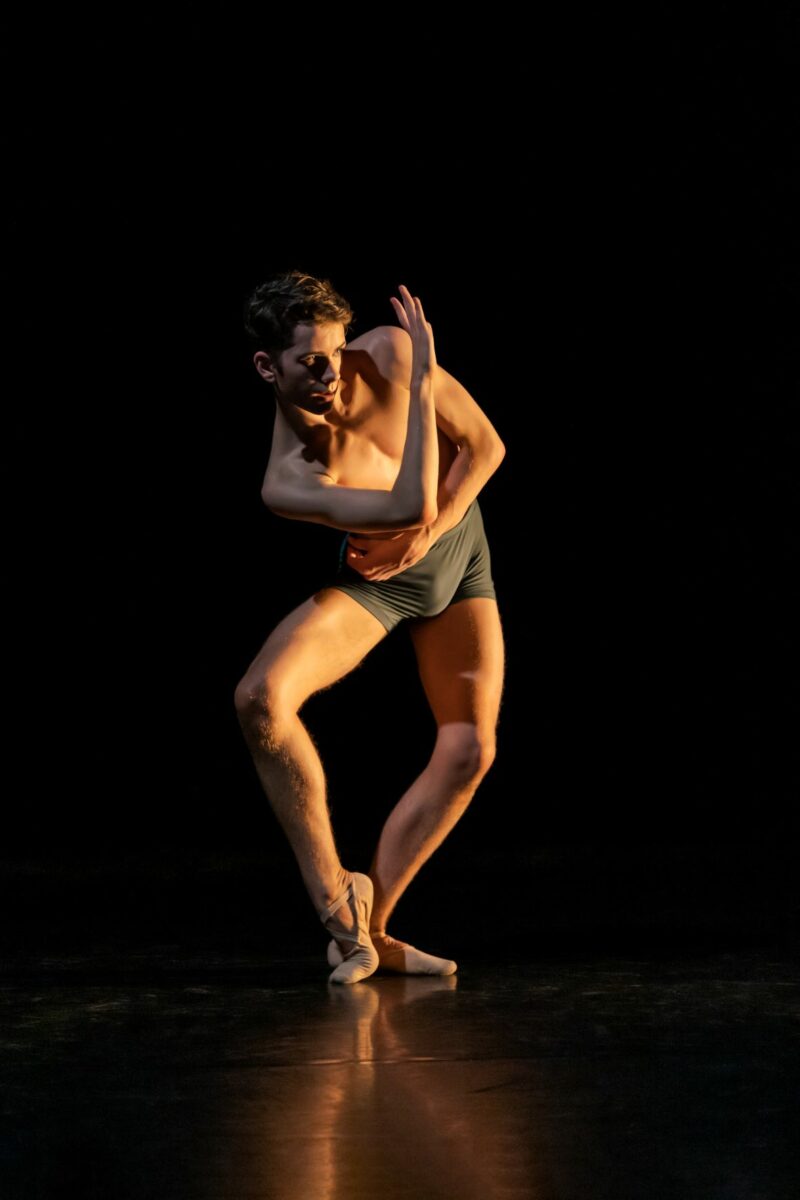 (Verse takes its strength from the single music source, Diferencias sobre las Folias, theme and variations by Antonio Martin Y Coll, superbly rendered by Jordi Savall and Hesperion XX1. In contrast, a number of the other dances across both evening's programs use excerpts from many different music sources for a single dance work, leaving a choreography to devise its own structure, predictably with varying degrees of coherence).
Curious Alchemy
Music: L.v Beethoven String Quartet no.3, op.130; C.Saint-Saens, String Quartet no 1, op.112
This short work was commissioned for students of the Canadian National Ballet School for a festival in 2017.
Four dancers in smart red contoured leotards moved with an attractive energy, conveying a playful mood of youthful enthusiasm. MIguel Herrera was particularly immersed in the humour of the style.
Time Weaver
Music: Philip Glass, Metamorphosis
This hypnotic and seemingly infinite, arrangement of Glass' work for harp is symbolic of our relationship with the continuum of time and the perceived linear passage in which we live our lives. Two figures are captured curving, sculpting, playing, 'living' inside an unending duet, an ouroboros. If the stage light was never to fade, the dance could go on forever.
India Shackel and Aidan Tully performed this sustained pas-de-deux with unflinching care and admirable command of the technical demands it makes, resulting in a ritual or prayer-like atmosphere.
Coloratura
Music: N. Porpora, O. Davis, G.Giacomelli, R.Broschi – numerous excerpts.
Originally created for Palucca Hochschule für Tanz Dresden, this stylish work never made it to the stage due to the Covid pandemic. Now in 2022 the piece finds a new home at NZSD and has been expended into a large ensemble work to feature the talents of every classical student. Fun, quirky and irreverent, Coloratura pays homage to the vocal mastery and comedic timing of world-renowned mezzo soprano Cecilia Bartoli. There is high energy and pure joy in every note, inspiring an infectious celebration of dance and music.
Fun, quirky and irreverent, indeed, as the excesses and extremes of staged opera are satirised. A lip-synching Diva, played by a masked Rilee Scott draped in fineries, struts the stage while he delivers many repeats of soft vague arm gestures in floating arm-covers to assist delivery of the lyrics. However the variety of would-be dynamic gestures that opera singers actually use while performing is a minefield waiting for choreographic exploration, since these are the often clumsy remnants of the earlier time when singers also danced and dancers also sang. Here a large dance chorus of attendants played backing, fronting and siding roles and one could imagine an expanded version of this piece in a heightened explosive finale with the ripped bodices and revelations of star performers in competition laid bare, as opera's surreal characters sing and love, sing and dance, sing and suffer, sing and die, then come back to life for the curtain calls.
One suspects that Loughlan Prior finds a new dance idea every day of his waking life—and more in his dreaming life. This was a special opportunity to showcase his work on many young dancers who clearly relished their roles and gave spirited performances.
———————————————————-
17 November, 2022. Te Whaea Theatre, Wellington
The contemporary dance program opened with the premiere of Craig Bary's State of Perpetuation. In an arresting beginning to a vocal section, the dancers held sculptural shapings in what was possibly the best lit work of the evening. It invited our own response, and the recurring motifs of hands quivering in wiri, or circular motions of wrist that suggested the thrust of poi movement I found both subtle and memorable.
(I know it's important to thank the sponsors but one could hope space could be found in an 18-page printed program for a summary profile of each choreographer. Craig Bary was an exceptional student at the school years back, and later a phenomenal performer in a number of Douglas Wright's choreographies. Dance is ephemeral enough by its nature so deserves the respect of memory within its legacy at every possible opportunity).
Midlight, choreographed by Christina Chan and Aymeric Bichon, was a duet danced by Persia Thor-Poet and Seth Ward. Their two bodies intertwined as one almost throughout, inviting thoughts about where individual identity is reshaped within a relationship.
Rubble, by Holly Newsome, had a large cast moving to vocal and percussion sections. Its theme involved the motivation needed to get up and get on with the daily dance. The song, Rise & Shine, framed the work with humour.
A Kind Tone, by Tyler Carney-Faleatua, again with a large group cast, explored the lifting of layers, both literally in swathes of draped costume, and metaphorically in regard to how a community supports individuals. Sequences of a slowly locomoting tight-knit group from which different individuals had to push and struggle to emerge, were memorable.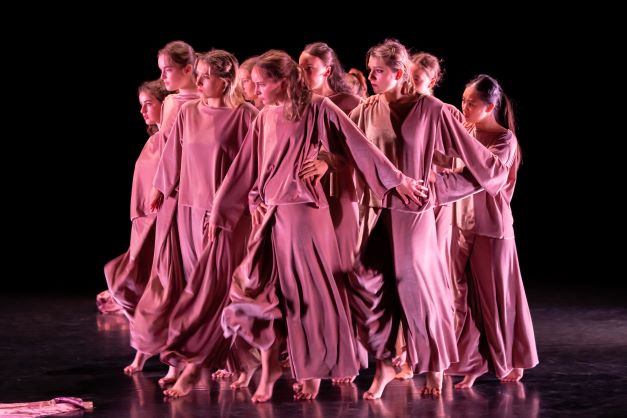 Sarah Foster-Sproull, another graduate from NZSD some years back, is a gifted choreographer with a major output. Her work here, To The Forest, To The Island, with music by Eden Mulholland, gave a strong cadence to the program and the dancers were galvanised into energised performances as they explored the notion of the places where we take refuge.
The work was originally conceived for film by students at Auckland's Unitec. In this live version, a number of tube light sticks carried and positioned around the stage then reflected sequences of many bright colours which moved towards strobe effects. This seriously challenges the audience's viewing access, and I confess my response is always to close my eyes at any time where lights are shone at the audience or strobe effects are used in the theatre. It was clear however that the committed dancers relished the chance to perform in a strong and animated choreography.
In different ways, works on both programs referenced themes of identity of individuals and of groups, as well as motivation in how to respond to challenges. The last three years of tumultuous experiences related to the global pandemic have affected life for every individual, family, neighbourhood in the country, indeed in every country on the planet. The resilience needed to adapt and continue when continuity is often the first casualty, with dance training programs probably more challenged than most enterprises, is reflected in many of these works.
To many the divide between 'classical' and 'contemporary' dance is more of an aesthetic concept than a reality in today's professional dance world, and several of the works we saw could have been performed in either program. The school's whakatauki or motto—Kia kōrero te katoa o te tinana/to talk with the whole body—offers encouraging reminder of the choreographic aspiration to get the physics of motion to reveal the physics of emotion.
Jennifer Shennan, 19 November 2022
Featured image: India Shackel and Aidan Tully in Loughlan Prior's Time Weaver. New Zealand School of Dance 2022. Photo: © Stephen A'Court