24, 25 November 2017, St James Theatre, Wellington
Reviewed by Jennifer Shennan
This program was a dazzling line-up of works that showcased and celebrated the strengths and talent of young dancers and graduands of New Zealand School of Dance (NZSD). The moment when fledglings leave the nest is always poignant. Some of these young dancers have taken instant wing and are moving straight into positions with prestigious companies—Queensland Ballet, West Australian Ballet for example. Godspeed to them. Most curiously, not one is joining Royal New Zealand Ballet (RNZB).
With numerous dancers departing from RNZB this week, that raises a number of questions, which this review is not placed to answer, but should none-the-less be somewhere, somehow addressed. Eva Radich in her Radio New Zealand Concert Upbeat program recently asked the question in interview with the company's artistic director—'Royal New Zealand Ballet. What's the New Zealand moniker mean?' We all need to think about the answer. A major part of New Zealand's dance identity is at stake. That belongs within, not apart from, international dance identity.
In years back, NZSD graduation was always staged in the Opera House, a similar proscenium theatre to the St.James. Some years ago the School moved into newly refurbished premises, Te Whaea, which includes an in-house theatre, which naturally became the venue for dance performances. While that suited some of the contemporary repertoire and choreographic experimentation programs, it is a truth that ballet repertoire had to become differently scaled and proportioned to fit the much smaller venue. Here, back in a proscenium arch theatre with scope and size on their side, all the students were launched into orbit and became dancers. They'll have now become infected with what Lincoln Kirstein called 'the red and gold disease'.
It is pleasing to note that of the 11 works on the program, 5 are choreographed by NZSD alumni.
The opening, Beginners, Please! offers a glimpse of two small children at the barre, in a simple sequence of plié to rond-de-jambe; then light moved to another young pair; then to two current NZSD students. Staged by Sue Nicholls, this was a beguiling cameo that evoked the celebrated ballet Etudes, by Harald Lander, 1948. It is poignant to think that Poul Gnatt would have danced in that work in Royal Danish Ballet, and Anne Rowse, director emeritus of NZSD, sitting to my left, danced it many times in Festival Ballet, as also did Russell Kerr. Martin James, single most illustrious graduate in NZSD's history, no contest, is sitting to my right. He trained at the School, danced most wonderfully in RNZB, then performed in English National Ballet and elsewhere in Europe, eventually to Royal Danish Ballet where he became leading solo dancer, was knighted for his services to ballet, and eventually became the company's ballet master. These are the seeding sources that cast prismatic variations across professional dance in New Zealand that students need to know about. We can give more than lip service to that. Given the Danish heritage of RNZB, Etudes is a work many of us have waited years to see here, and why wouldn't Martin James stage it? This echoes the Maori whakatauki proverb, 'walking backwards into the future'. We can only see what has already happened. Look at that as you go. All these thoughts were caught in the little opening miniature. Well done, Sue.
Tempo di Valse, arranged by Nadine Tyson, to Tchaikovsky's Waltz of the Flowers, was 'an exuberant work for a large ensemble, festive in mood'. Program notes are not always accurate but this one certainly was.
Aria, solo for a masked male, choreographed by Val Caniparoli, to Handel/Rinaldo overture and aria, is a remarkable dance, performed to breathtaking perfection by Mali Comlekci. Small wonder he flies straight into a contract at Queensland Ballet where an outstanding career awaits him. What a shame we won't be able to see that develop, but we wish him airborne joy.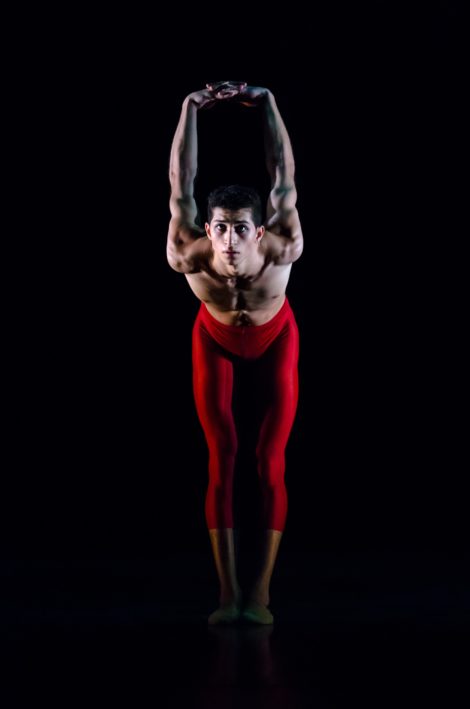 Curious Alchemy by Loughlan Prior, to Beethoven and Saint-Saens, is a fresh lively lovely dance in which youth is celebrated, and hints of the ties of friendship and the possibilities of relationship are subtly subtexted to the movement which suits the young dancers extremely well. The cast—Clementine Benson, Saul Newport, Jaidyn Cumming and Song Teng —are thrilled to be dancing, and that excitement shines through. Loughlan, himself a spirited dancer with RNZB, and a former graduate of NZSD, is loaded with choreographic energy and ideas, so that is fortunately one continuing career we will be able to follow.
Forgotten Things, by Sarah Foster-Sproull, is a very special choreography, initially developed on students at NZSD in 2015, and here brought to a stunning re-staging with a cast of 23 contemporary dance students. The music composed by Andrew Foster, begins full of life-affirming rhythms that evoke the best Renaissance dance music, then moves to percussive richness that support this mysterious procession—Sarah's best work to date in my opinion. It is a stunning achievement to use parts of the dancers' bodies, beautifully lit, as nano units of life force, and then thread these as metaphor into life at the level of society and community. This is a work that could be performed by any school or company, classical or contemporary dancers. Now there's something for every choreographer to aspire to, since that's nearer the reality of the dance profession today.
The wedding pas de deux from Don Quixote was danced, by Mayu Tanigaito and Joseph Skelton, as a gift from RNZB—and what a gift. That pas de deux would have been danced in New Zealand several hundred times over the decades, but never has it steamed and sizzled like this. Skelton dances with calm control of his prodigious technique and has a most interesting career we are always keen to follow. The transition from class-in-the-studio to role-on-stage that Tanigaito always brings to her performances is rare, and something to study, if only you can. She reveals the nature of dance.
Kenneth MacMillan's Concerto pas de deux, dates from 1966 but carries its vintage timelessly. With two grand pianos soixante-neuf on stage, the Shostakovich beautifully played by the School's pianists, Craig Newsome and Phillip O'Malley, the stage was set for Olivia Moore and Calum Gray to give the performance of their young lives to date.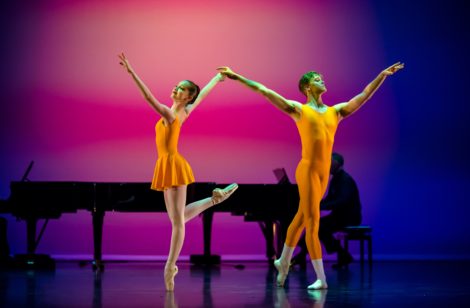 S.U.B. (Salubrious Unified Brotherhood) was a duo by Victoria Columbus working with performers Connor Masseurs and Toa Paranihi. The 'Nesian identity with rap and break dance, its isolations, its nonchalance, its cut & thrust, its mock battling, was brilliantly timed and caught in this sassy little number.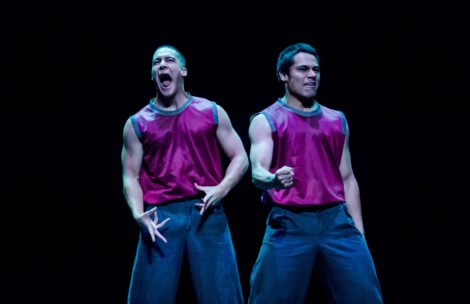 Allegro Brillante, by George Balanchine, dates from 1956 and is more of a period piece. It was performed with great verve and aplomb by the cast of eight dancers.
The Bach, by Michael Parmenter, to a Bach cantata, Erfreut euch, had a cast of 15 dancers who revelled in the exuberant dance sequences and sets of striking ensemble patterns. These were interspersed with walking sequences that stood rhythmically quite apart from the baroque energy and motivation of the danced sections.
The final work, William Forsythe's In the middle somewhat elevated, was first performed in this theatre by Frankfurt Ballet during the international arts festival 1990. The choreography is as challenging and confrontational now as it was then, as is also the score by Thom Willems. The intensely asymmetrical and aggressive aesthetic comes across as thrilling, or scary, depending on the viewer. I am in the former camp, but can hear what others say—it is either loved or hated. Passionate opinions about dance in a theatre in New Zealand are no bad thing, but it's for sure that the asymmetries that pull within the classical technique represent a post-modern departure from the canon that Forsythe represents. It's a pity that the two gilded cherries hanging from on high, giving title to the choreography, are set so high they are noticed by no-one.
The RNZB dancers in the cast who stood out most memorably include Abigail Boyle, Tonia Looker, Alayna Ng, Shaun James Kelly, Kirby Selchow, Mayu Tanigaito, Kohei Iwamoto, Paul Mathews, Felipe Domingos. We wish all the Company dancers and all the School's students well.
Jennifer Shennan, 27 November 2017
Featured image: Jill Goh (centre) with dancers from the New Zealand School of Dance in Forgotten Things, 2017. Photo: © Stephen A'Court