Jewels. The Australian Ballet
I didn't post a review of the Australian Ballet's Sydney season of George Balanchine's Jewels. Somehow I just wasn't inspired to do so. The way Balanchine groups corps de ballet dancers in many of his works, and has them join hands and weave in and out of linear patterns, is starting to look a little out of date to me.
During May I read Francis Mason's book I Remember Balanchine, which has been sitting on my bookshelf for a very long time. It was first published in 1991 (I bought it in 1995) and has the subtitle 'Recollections of the Ballet Master by Those Who Knew Him'. Contributors include dancers, choreographers, administrative personnel, doctors and others who worked with Balanchine in New York during the 1940s and onwards. For me the most interesting comment about Jewels in this book came from Barbara Horgan, who worked as Balanchine's personal assistant for over 20 years. She wrote that it was 'A whole evening of New York classic ballet under one title, a gimmick but a fascinating, genius gimmick.' Was it the book that made me feel uninspired? I'm not sure. But perhaps it was partly the 'gimmick' angle that made me feel the way I did this time, although I read Horgan's comment after seeing the Australian Ballet production. I should add, however, that I have seen Jewels performed elsewhere and enjoyed it (mostly).
But at the performance I saw in Sydney (matinee 13 May) I did admire immensely Sharni Spencer and Callum Linanne who danced the lead couple in the final section, 'Diamonds'. Technically they both shone, but they also had great rapport, which crossed into the audience. Watching them was a moving experience. A rehearsal of the pas de deux from 'Diamonds' by Spencer and Linnane is below, although it being a rehearsal the rapport I felt in the performance is not so obvious.
Grand Kyiv Ballet of Ukraine
It was interesting to see that the Canberra season of the Grand Kyiv Ballet of Ukraine made the front page of the 22 May print edition of The Canberra Times, and in a spectacular way with an incredible night-time image taken by freelance photographer Gary Ramage. It shows principal dancer Mie Nagasawa, dressed as Kitri in Don Quixote, posed on (and I mean on) Lake Burley Griffin with Black Mountain in the background. Dance doesn't make it into newspapers very often these days, and it is certainly very rare that anything dance-related appears on a front page.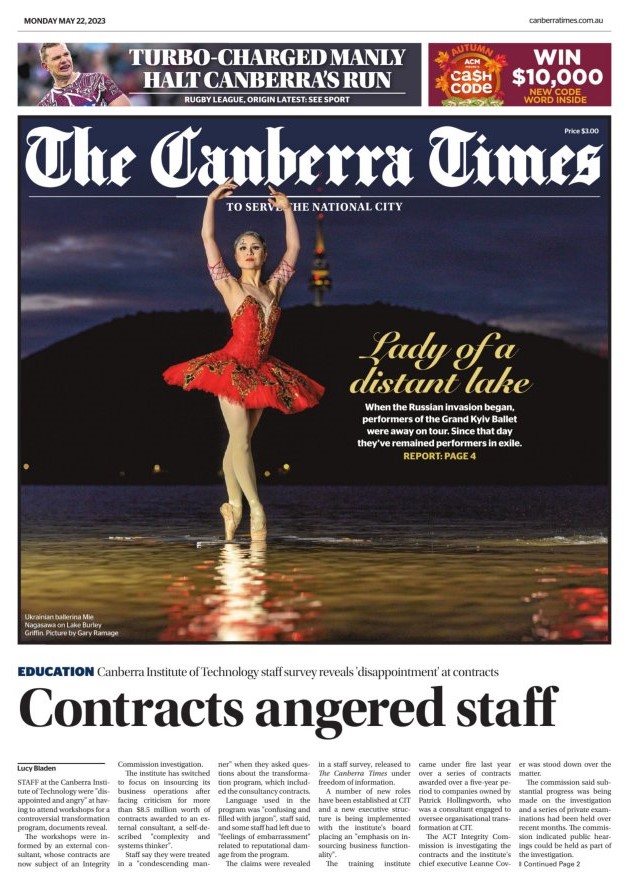 I saw the company's opening Australian performance in Port Macquarie. My review is at this link. The review also appeared, in a slightly different version, in Dance Australia.
Shaun Parker & Company is gearing up for a European tour of Parker's recent production of KING. The company will perform in Cologne, Germany June 16-17; Luxembourg, June 20-21; Wiesbaden, Germany June 27; and Bolzano, Italy July 14. More details here. My review of KING is at this link.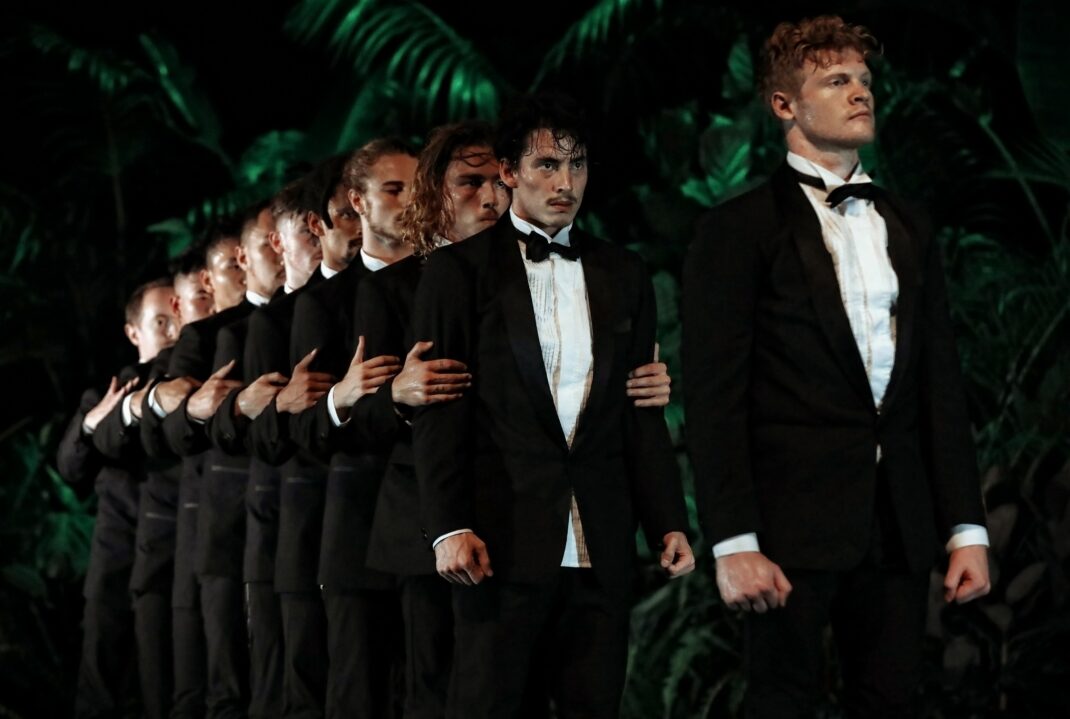 An interview by Steve Dow with Frances Rings, artistic director of Bangarra Dance Theatre, is available in the June 2023 issue of Limelight Magazine (if you are a subscriber!). One section stood out for me. Rings was discussing an incident faced recently by one of her sons, which (rightly) upset him. Her response to her son was, in part, 'It's all right to be angry, but then you have to push that aside and get on with it, because if you carry that energy, you carry that negativity, it's just going to manifest and will become toxic…' .
I have admired Bangarra's approach to their productions for years now. They have always put their stories before us and have done so powerfully, brilliantly and honestly—think Bennelong, or Macq, or Mathinna, and more. The stories have often been confronting but the presentation has never seemed to me to project the toxicity that Rings mentions may accompany anger. I feel sure that under the directorship of Rings I will continue to admire Bangarra's strength of purpose as I did when Bangarra was directed by Stephen Page.
Danielle Rowe: News from the United States
Danielle Rowe, former principal dancer with the Australian Baller, and with an exceptional career across the world since leaving Australia, has been appointed artistic director of Oregon Ballet Theatre. Here is the link to the media release from Oregon Ballet Theatre. And read more at this link.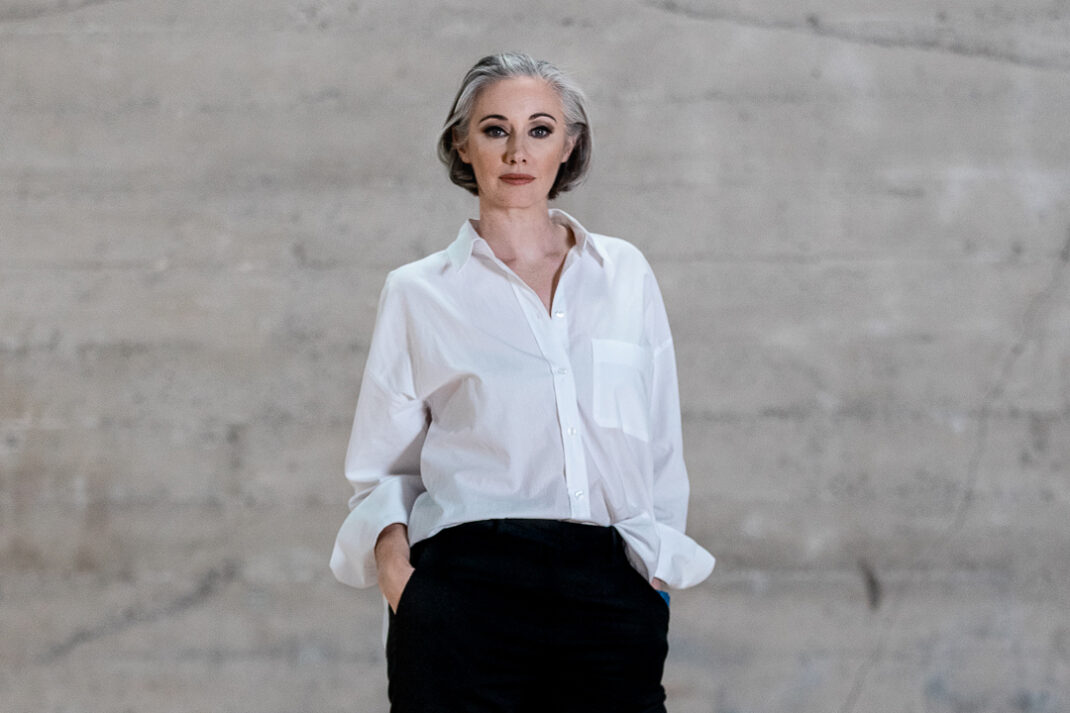 I had been wondering when the Sydney Choreographic Centre would be presenting its next show as I had enjoyed the Centre's previous two productions—GRIMM in 2021 and Galileo in 2022. But when I tried to access the Centre's website I discovered that the site no longer exists, which led me to search for news about its artistic director, Francesco Ventriglia. It seems that Ventriglia has returned to Italy. He was interviewed about his plans on giornaledelladanza.com by Sara Zuccari. For those who read Italian here is the link.
I interviewed Ventriglia in 2016 (when he was artistic director of Royal New Zealand Ballet) for the now-defunct site DanceTabs. There is a link to that interview here.
Michelle Potter, 31 May 2023
Featured image: Scene from 'Diamonds' in Jewels. The Australian Ballet, 2023. Photo: © Rainee Lantry.