I was saddened to learn that Moya Beaver, whose dance links go back to Louise Lightfoot and Mischa Burlakov and the First Australian Ballet in the 1930s, had died on 13 June 2012. Beaver performed in many of the Lightfoot/Burlakov productions and was partnered often by Gordon Hamilton. She later travelled to Europe where she studied in Paris with Lubov Egorova. Beaver then performed with Egorova's Les Ballets de la jeunesse, touring with them to Denmark. On her return to Australia she danced in the J. C. Williamson musical Funny side up before settling into family life and a long career as a teacher in Sydney.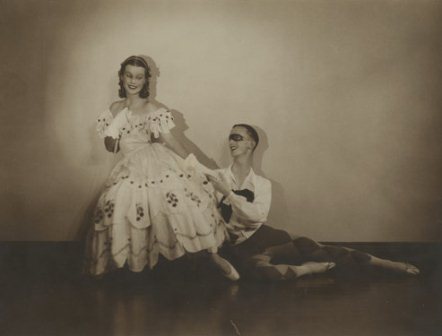 Listen to Moya Beaver's oral history interview, recorded for the National Library in 1994.
International Auto/Biography Association (IABA)
In July I presented a paper, 'The desire to conceal: two case studies', at the 2012 IABA conference, Framing Lives. In this paper I looked at the problems encountered in writing a biography when a subject expresses, either directly or indirectly, a desire to conceal certain aspects of his/her life and career.
I also had the great pleasure in July of recording an oral history interview with Australian expatriate Kathryn Bennetts who recently resigned from a seven year term as artistic director of the Royal Ballet of Flanders in Antwerp. Bennetts was in Sydney briefly before returning to Europe to continue work as a much sought after teacher and as a stager of ballets, especially those of William Forsythe, for companies across the world.
The Oracle and Meryl Tankard
Also during July The Canberra Times published my article on Meryl Tankard's 2009 work The Oracle, which I was inspired to write after hearing that negotiations were underway for The Oracle to tour in the United States
News came through this month too of Ethan Stiefel's final performance on 7 July as a dancer with American Ballet Theatre. Here is a selection of online news:
Interview in TimeOut about his retirement
Article in The New York Times about his retirement
The New York Times review of the final show
I loved Roslyn Sulcas' comments in the review: 'His performance was daring, explosive. Pirouettes, jumps and whole phrases started at what seemed to be full power and then amazingly turned up a notch. Risk was palpable, and yet classical form was never distorted'.
After reading the reports I looked back to a letter I had written to a friend following Stiefel's performance as Solor in La Bayadère with ABT in 2007 (with Diana Vishneva as Nikiya). I wrote: 'Those double cabrioles in his Act I solo! So exciting to see, partly of course because he has such amazing legs in terms of strength and in terms of the long lean look they have. Then I was watching his manège of grands jetés in the same solo and was absolutely taken by the way he stretched out the front leg. You could see its trajectory carving or pushing a line in the space ahead of him.'
What a performance that was and, to my absolute surprise as I am not normally a fan of La Bayadère, I found myself sitting on the edge of my seat for the entire performance.
Steifel and his partner Gillian Murphy are now back in Wellington with the Royal New Zealand Ballet where a new production of Giselle by Stiefel, in collaboration with Johan Kobborg, is something to anticipate later this year.
Michelle Potter, 31 July 2012