Graeme Murphy's Romeo and Juliet
During 2011 I have published many thoughts on a whole variety of dance subjects, but there is no doubt that most interest has been generated by posts and comments associated with the Australian Ballet's production of Graeme Murphy's Romeo and Juliet. Traffic across this website has risen by 50% since the opening of R & J in September. My two posts on this show were quickly picked up. The original post has been the top post in terms of visitor numbers since October and the 'second look' post quickly took up the second spot from November onwards.*
The main thrust of the comments on R & J has been, it seems to me, that the story lost its depth as a result of the wildly changing locations and eras in which this production of the ballet is set. In response to one such comment following the Sydney season I wrote: ' I keep wondering about our expectations of ballet, and this ballet in particular. Does the story lose its profundity if it covers different territory and does so in a way that is not expected?' I think most people believe the story did lose rather than gain in this production, but I still wonder and look forward to further comments when the work goes to Brisbane early in 2012.
Infinity: the Australian Ballet's 2012 triple bill
Graeme Murphy is in the throes of creating another work for the Australian Ballet. It will form part of a triple bill entitled Infinity, which will open in Melbourne in February and comprise works by Murphy, Gideon Obarzanek and Stephen Page. While I have no inkling as to what Murphy will give us this time, Bangarra Dance Theatre's December newsletter gives us a hint of what we might expect from Page's work, which will use dancers from both his own Bangarra Dance Theatre and the Australian Ballet—definitely something to look forward to.
Scholars and Artists in Residence (SAR) Fellowship
In December I began my research into designer Kristian Fredrikson's film and television commissions at the National Film and Sound Archive under a SAR Fellowship and will resume work there after the holiday break. I was especially pleased finally to be able to see a film called Undercover, made in 1983 and produced by David Elfick with Kristian Fredrikson as costume designer and Anna French as his assistant designer. This film is set in the 1920s and charts the growth of the Berlei undergarment enterprise in Australia. Fredrikson's designs, especially for the women and for the dance sequences (choreographed by former Australian Ballet dancer Leigh Chambers) towards the end of the film, are beautifully realised within the spirit of the fashions of the 1920s. I suspect Fredrikson reimagined some of his work for Undercover when he began work on Tivoli, which he designed in 2001 for Sydney Dance Company and the Australian Ballet. In any case, despite the reservations I had (before I had seen the film I have to admit) about the subject matter, Undercover is a fascinating film and I hope to arrange a screening of it at a later date.
As a result of a mention I made of the SAR Fellowship in my dance diary post for November I was surprised and delighted to be contacted by one of Fredrikson's assistants who worked with him on a production of Oedipus Rex, produced in 1965 by Wal Cherry for his Emerald Hill Theatre in Melbourne. It was only recently that I discovered that Fredrikson had designed this show, one of his earliest Australian design commissions, and I hope to include reference to it in a Spotlight Talk I will be giving for the Performing Arts Centre, Melbourne, in April when I will also talk about Fredrikson's other early designs in New Zealand and Australia.
Meryl Tankard and Régis Lansac returned to Sydney in December following the opening of Tankard's latest work, Cinderella, for Leipzig Ballet in November. As well as passing on news about Cinderella, Tankard also told me of the success that The Oracle had when it was shown in Lyon in November. Tankard made The Oracle in 2009 as a solo work for dancer Paul White and one clipping from a Lyon newspaper that Tankard sent me referred to Paul White as 'a revelation to the French public' and 'a god of the stage' and suggested that his solo had instantly attracted a cult following. Here is a link to another review (in French or, if you prefer, in English translation) from the Lyon Capitale that lauds, once again, White's remarkable physicality and virtuosity and Tankard's and Lansac's extraordinary work. The Oracle was the recipient of two Australian Dance Awards in 2010.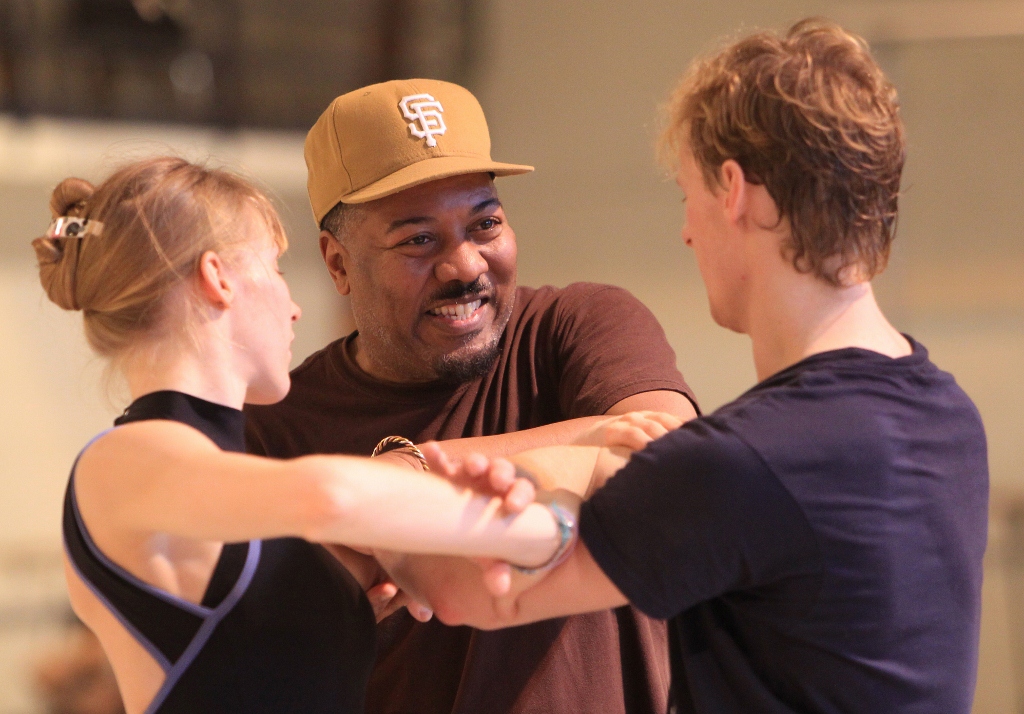 Australian dancer Paul Knobloch was in Canberra over the holiday season visiting family and friends. Knobloch is excited at the new direction his career is about to take. He will take up a contract in February with Alonzo King LINES Ballet based in San Francisco. King recently made a work called Figures of thought for Béjart Ballet Lausanne, where Knobloch has been working for the past few years. King offered Knobloch a contract after working with him in Lausanne.
The BBL website has a photo gallery from this work. It contains several images of Knobloch in rehearsal. [Update April 2019: link no longer available].
Luminous: Celebrating 50 years of the Australian Ballet
In December The Canberra Times published my review of the Australian Ballet's most recent publication, Luminous: Celebrating 50 years of the Australian Ballet. Here is a link to the article.
Michelle Potter, 31 December 2011
*The third most popular post for both November and December was that relating to Stanton Welch and the other Australians working in Houston, Texas.