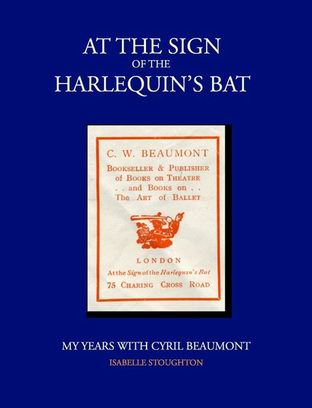 Last June I received a query about a particular photo of Olga Spessivtseva. An exchange of emails resulted and it transpired that the enquirer was the son of Isabelle Stoughton, whose recollections of working for publisher and writer Cyril Beaumont were published by Dance Books late in 2011 under the title At the Sign of the Harlequin's Bat: My Years with Cyril Beaumont. I don't think we really resolved the issue of the photo but the correspondence gave reading the book an added interest.

What is immediately attractive about this book is that it doesn't pretend to be something that it's not. It is simply a book of recollections randomly gathered together. It is written in quite a lively manner and it is easy to keep reading from beginning to end (and it's not a long read), and easy to imagine or visualise the situations described. Having said that I have to add that it is a little uncritical, which is a bit annoying occasionally, but then that's part of it not pretending to be something that it's not. Isabelle Stoughton was fond of her employer and proud of his knowledge and expertise, and this comes through quite clearly.
Stoughton went to work for Cyril Beaumont in the 1950s and stayed until her marriage later that decade. It was a time when behaviour was more strictly codified than it is today. She says of her leaving to get married that in the 1950s married women only stayed on at work after marriage if either they were in financial need or had a profession. She was in neither category. There were conventions to be observed. There were also certain behaviours that were not mentioned except in enigmatic or ambiguous terms. So Beaumont's friend (and Stoughton's too), Montie Morris, was described by Stoughton's mother as 'Not a marrying man'. The book becomes to a certain extent a rather quaint reminder of 1950s rules of social behaviour.
But there are some interesting sections about the dance and dancers of the period as well. So many people with names that are iconic today passed through the doors of Beaumont's bookstore at 75 Charing Cross Road, London. So many became close friends. I especially enjoyed the letter sent by Beaumont to Stoughton from Edinburgh in 1955 describing performances by the Royal Danish Ballet, including Ashton's Romeo and Juliet, and the company's excursion on Sunday 'through wonderful Sylphide country'. And there is plenty of gossip and stories of ruffled feathers (or worse). The more things change …
But in the end what the book does is bring Beaumont to life. Most of us know him only from afar as the author of books that are still referred to today. He was at performances that have become legendary or saw first hand works that have long departed from today's repertoire. He was able to analyse and recall brilliantly. In Stoughton's book, which is definitely not a biography, the man behind the writing is there with all his idiosyncrasies, his habits, his working processes (highly unusual in most respects) and his eccentric pronunciations. And despite her uncritical approach I think Stoughton manages to show us a man that perhaps we all wish we could have met.
It's a lovely holiday read.
Michelle Potter, 3 January 2012
Isabelle Stoughton, At the Sign of the Harlequin's Bat: My Years with Cyril Beaumont (Alton: Dance Books, 2011)
Paperback, 104 pp. ISBN 978-1-85273-150-2