My preview of Don'ts for dancers, a new work by Canberra-born artists Nerida Matthaei and Nicole Canham appeared in The Canberra Times on 18 February under the title 'Dancing to a different beat'.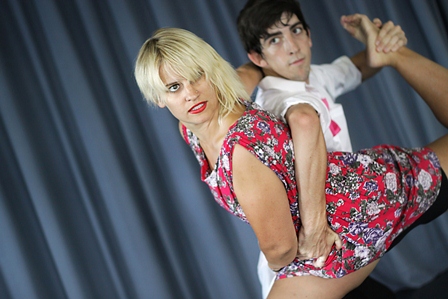 It is not often that Canberra-born artists working in a professional environment get the opportunity to premiere their latest works in the city; Canberra has its particular difficulties that often prevent this happening. So it is a thrill to see Matthaei and Canham having an opportunity to show Don'ts for dancers in their home city before it travels to Brisbane and Cairns later in March.
The little book that inspired the work is a gem. The name of its author, Karsinova, must surely be an allusion to a dancer of considerable repute and at the height of her fame as a performer when the book was originally published—Tamara Karsavina?
Michelle Potter, 19 February 2012
UPDATE 7 August 2020: As the article is no longer available online, I am adding it below.
Choreographer and performer Nerida Matthaei and her step-sister, musician and self-styled polyartist Nicole Canham, are in the final stages of creating a new multi-media dance work. Matthaei and Canham direct separate cross arts companies that engage in experimental projects. Matthaei directs Phluxus2, a dance collective based in Brisbane; Canham directs Polyartistry, which recently collaborated with the Historic Houses Trust on a project relating to Sydney's Hyde Park Barracks Museum. So it doesn't seem surprising that their new joint work is about crossing boundaries and breaking rules, nor that it is inspired by a miniature book with the intriguing title of Don'ts for dancers.
First published in 1925 and republished just recently, this tiny manual was written by a mysterious author with the single name, Karsinova. It is a set of rules and restrictions for how dancers, men and women, should behave. Its instructions are designed largely for the benefit of those engaged in the kind of social dancing popular with a certain class of people in the 1920s. The instructions focus on dances such as the waltz and the tango and the book recalls the period when a dance hall was the fashionable, and proper, place to meet one's friends. In fact the book exhorts its readers to frequent the dance hall and beware of 'shady establishments' that might be 'mere shelters for the sale of intoxicating liquors during prohibited hours'.
Some of the instructions are technical, and amusingly so, 'Don't dance with bent knees. Bent knees suggest an ancient cab-horse on its last pathetic stagger, or a performing chimpanzee gyrating round its keeper.' Others concern fashion on the dance floor, 'Don't overload yourself with jewellery, particularly with dangling pendants or strings of beads that are likely to float around as you dance and catch in other people's dresses.' Still others concern manners, 'Don't lose your temper if you find your partner is not the ideal dancer. Should he, or she, be timid and inexperienced, be content with simple steps.'
Matthaei and Canham found the book irresistible, and not just for its entertainment value. For Matthaei there was a certain fascination in the very specific and often quite extreme ways that the book's author suggested the body should move. For Canham, who says that as a classically trained performing musician she is often bound by a score, the book raised interesting questions about the benefits of breaking the rules. It generated thoughts of whether or not a score is a constraint, 'The practice of a musician not embellishing the score is only a recent innovation,' Canham says.
The work itself, also called Don'ts for dancers, is a piece for four performers. In addition to Matthaei and Canham, who dances as well as directs the musical component, performers Leah Shelton and Alex Bryce take the stage. Shelton is also responsible for the costumes, which she has designed to reflect the 1920s but to have a modern edge. Don'ts for dancers was workshopped during two international residencies in 2011, one in France with Compagnie au cul du loup, and one in Ireland at the Firkin Crane in Ireland. 'We wanted a good period of development for this show,' Canham says. 'Developing a work across art forms is complex and time consuming.'
Matthaei says her challenge was to develop a dance vocabulary for the show that would reinterpret the 1920s style of moving as explained in the book in a manner that was consistent with her contemporary style and choreographic process. She regards the work as an installation with physical theatre elements. 'It should be like going into a dance hall,' she says. 'And we will be incorporating text from the book and, as the book talks about not being afraid to dance, we will be looking at ways to incorporate the audience into the show.'
And indeed the book, with its pretty violet-coloured cover, has a section called 'Don'ts for the diffident' with one exhortation reading, 'Don't imagine you will never make a dancer because you are by nature clumsy. Dancing will cure you.'
Canham, a self-confessed 'shoe-a-holic', found the book at Heathrow airport when forcing herself not to enter the shoe shop next door to the bookseller. For her the book, while a text, was not a score. On the one hand it took her mind off the shoes she might have bought, on the other she could see its potential for a joint show with Matthaei, one in which her musical input need not be restricted by a score. "The show is eclectic musically speaking," she says. 'I am using 1920s music, music from the present day, improvised music. I'm taking a curatorial approach.' Both Matthaei and Canham grew up in Canberra and received their performing arts training from a range of institutions in the city. It doesn't often happen that Canberra-born professional artists are able to premiere their latest productions in their home city so it is a significant move that Don'ts for dancers will indeed premiere in Canberra before going on to seasons elsewhere