When I recorded my first 'On dancing' segment for ArtSound FM I was not aware that Natalie Weir's much lauded work R & J, made for her Brisbane-based Expressions Dance Company, was on a whirlwind tour of the eastern states. The tour includes a performance, one only, at the Queanbeyan Performing Arts Centre and, had I known, I would have mentioned it as something for dance lovers in Canberra and surrounding regions to anticipate during May. So, as an update to that program I spoke to Weir about R & J and the rigours of one night stands, and about company she now leads.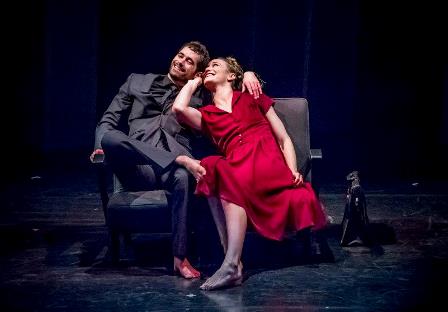 R & J is Weir's take on the well-known story of Romeo and Juliet. But rather than following one story over an evening-length work, Weir tells three separate love stories each of which takes place in a different era. It begins with a story set in the present day; it flashes back to the 1800s for the second; and the final story comes back to the 1950s. With a cast of just six dancers, a production crew of four and an indispensable truck driver there is not much room for manoeuvring. And yes, Weir agrees that it is a rigorous schedule for all. But, says Weir, when she made the work in 2011 she knew she wanted a work that could be shown at major venues and that could also tour regionally. It is designed so that it can be bumped in and out in a day. And this is mostly what happens on the current seven week regional tour, which takes in eighteen different cities from Hobart in the south to Rockhampton in the north.
Weir was appointed artistic director of Expressions in 2009 and is slowly beginning to realise her unique vision for this small contemporary company. She says the first part of her vision was to build a small ensemble of dancers with whom she could work well and who understood her approach. 'I have employed dancers straight from tertiary training, dancers who are in their thirties and beyond and dancers in between those age groups', she says. 'I wanted a range of ages and maturities in the company. That was an essential'.
The second part of her vision, which she says grew from some of the frustrations she encountered while working as an independent artist, was to have the capacity to commission music specifically for her works. R & J has a score by John Babbage, saxophonist with the Brisbane group Toplogy. Although the R & J regional tour uses recorded music, when the work premiered in Brisbane in 2011 Topology played onstage and having live musicians working in this way is part of Weir's vision too. Her next work, When time stops, will premiere in Brisbane in September and has a commissioned score from Iain Grandage, which will be played live on stage by members of the chamber orchestra, Camerata of St John's.
After a long career as an independent choreographer, which has been distinguished by commissions from most Australian ballet and contemporary companies, as well as from international companies including American Ballet Theatre, Houston Ballet and Hong Kong Ballet, Weir has come into her own as director of Expressions.
Michelle Potter, 7 May 2013
R & J is at the Queanbeyan performing Arts Centre on 14 May 2013.
Update 18 May 2013: See my review of the show at this link.