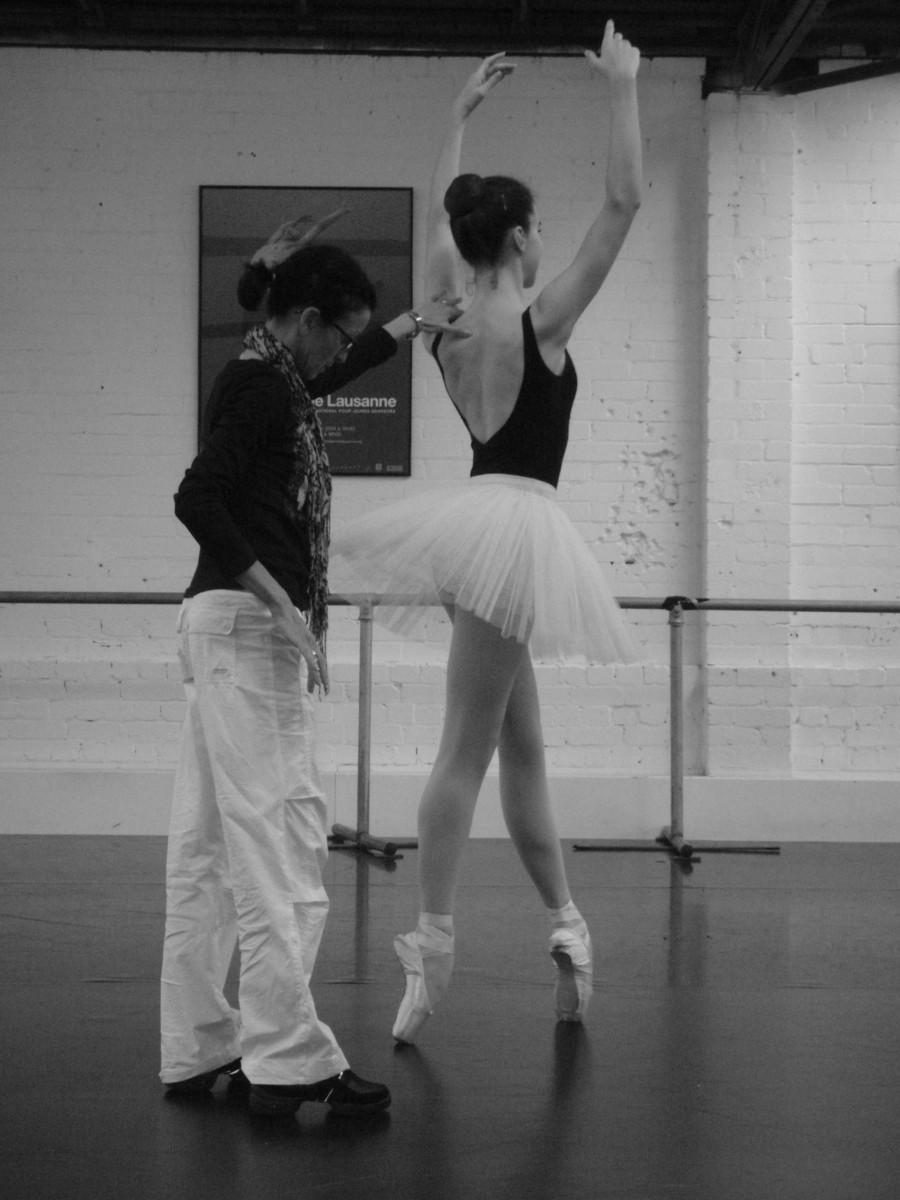 It was a real pleasure catching up, if only by email, with Vicki Attard, former and much admired principal of the Australian Ballet during the 1990s. Vicki was in Canberra over the past weekend to give master classes at the Canberra Dance Development Centre.

Below is the text of a Canberra Times article I wrote, which was published on 9 November. It was accompanied by a great image, shot by Canberra-based photographer Ross Gould, of Vicki in what became a signature role, that of Cio Cio San in Stanton Welch's Madame Butterfly, which can be accessed on the National Library's website.
Vicki Attard was one of Australia's favourite ballerinas during the 1990s. As a principal artist with the Australia Ballet throughout that decade she danced leading roles in all the best known classics as well as creating roles in contemporary works. She travelled widely with the company and counts amongst the highlights of her performing career dancing the leading role of Kitri in Don Quixote on the opening night of an Australian Ballet season in Washington DC and the title role in Manon in Tokyo, also on opening night.
Fans of the film maker Paul Cox may remember her in Cox's film The Diaries of Vaslav Nijinsky. Attard was the girl returning from a ball who dances with the spirit of a rose in the short work entitled Le Spectre de la rose. Spectre was first performed in 1911 with Vaslav Nijinsky dancing the Rose. Attard, who was partnered by David McAllister in the film, cannot speak highly enough of Cox.'Paul Cox was so easy to work with', she says. 'He has an incredible respect for artists and he is a remarkable one himself.'
Attard also spent a year performing with Sydney Dance Company in 1989. Memorably she danced the role of Chloe in Graeme Muphy's Daphnis and Chloe. She seemed especially suited to Murphy's choreography and later, on rejoining the Australian Ballet, danced the leading role of Clara the Ballerina in Nutcracker, again partnered by McAllister, with whom she enjoyed an exceptional artistic partnership throughout her career.
But Attard may well be best known for her performances as Cio Cio San in Stanton Welch's production of Madame Butterfly, a role she created with the Australian Ballet in 1995. The delicacy of her performance left a lasting impression on those who saw her in this role. Attard has since staged Butterfly around the world for Welch, including in Canada for the National Ballet of Canada, in Atlanta for Atlanta Ballet, in Boston for Boston Ballet and in even in Houston for Houston Ballet where Welch is currently artistic director. Most recently she assisted Welch in reviving the work for the Australian Ballet in 2010.
After she retired from performing Attard gained a graduate diploma in dance instruction and has been teaching in a freelance capacity since then. She now heads up a special program at Academy Ballet in Sydney for students aiming for a professional career.
'It is s small group of just eight students', she says. 'It's very personal and I love working in this way. The young dancers respond beautifully to this way of working.'
Attard will be in Canberra on November 13 to conduct master classes for the Canberra Dance Development Centre. It is the final session in the school's master class series, a program master-minded by the school's principal, Jackie Hallahan. Attard knows that it is not so easy for east coast students in centres outside Sydney, Melbourne and Brisbane to have access to the kinds of experiences available in larger centres.
'I love the idea of sharing the knowledge that took me so many years to accumulate—the hard way', she says. 'I very much enjoy teaching in centres where students don't have access to all that students in bigger cities might have. I grew up in a small town called Mackay in North Queensland, so I remember what it was like.'
Attard will bring her exceptional professional experience to Canberra for this workshop series. Not only does she have sound dance knowledge and her own incomparable artistry to share, she has recently launched a program called My Pointe. She realised that it was not always possible for dance teachers to spend as much time as was needed on the specialised teaching of pointe work for girls and so began to develop a series of tutorial exercises for this very purpose. After 10 years of fine tuning My Pointe was released on DVD with an introductory section by Attard and demonstrations of the exercises by two students.
Attard has two young sons, George aged eight and Nick almost six, who keep her busy.
'I used to think that a dance life was hard,' she says, 'but motherhood, plus working almost full time, rivals it.' But despite the claims of motherhood, Attard has carved a new niche for herself in the Australian dance world and she is more than delighted to be sharing her knowledge with the Canberra community.
Michelle Potter, 14 November 2011