It's surprising whom one meets walking down a Dallas street on a sunny Sunday afternoon. Two somewhat frilly mice from Nutcracker for example—perhaps not dressed for combat despite the menacing gestures!
Or two young dancers dressed in tutus.

Texas Ballet Theater, currently directed by Ben Stevenson, was promoting its forthcoming Nutcracker season. The appearance of dancers on this occasion was part of the last day of 'Art in October', a celebration of the Dallas arts district with its top class museums and theatres.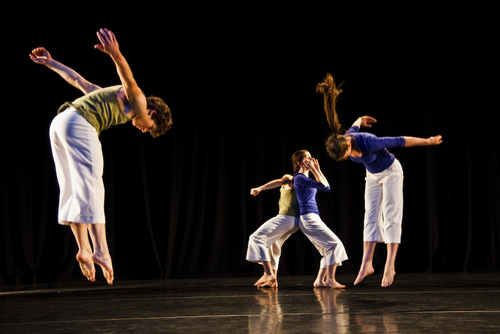 I was impressed by QL2's annual performance for younger dancers, this year entitled it's all good and being an examination through movement of the notions of language and truth. It was not so much the choreography that impressed me: it was fairly basic, perhaps a little of necessity, and somewhat unimaginative in my opinion. But I was impressed by the production values that were in play. The young cast (they ranged in age from 8 to 17) knew a fair bit about stage techniques and behaved largely in a very professional manner. For this their director, Ruth Osborne, deserves praise as does whoever designed the simple, easy to dance in costumes. One or two of the younger of the young performers looked as though they had the potential to go on to a professional career.

Ballets Russes publication
A number of visitors to this site have asked me to post a review of the recent Ballets Russes publication. This review was published last month by The Canberra Times. Here is the link.
Michelle Potter, 31 October 2011