Art must prevail
The standout performance for me in the third week of Queensland Ballet's fundraising project was A Day at the Theatre. Choreographed and performed by Company Artists Alyssa Kelty and D'Arcy Brazier, it was a jazzy danced tour around QPAC from the stage door to the stage itself and around the parkland areas outside the QPAC buildings. I especially loved the way Kelty and Brazier paused next to a poster in the tunnel/walkway just past the stage door, which showed a quote from actor/writer Tim Minchin: 'Define yourself by what you love.' And the equally jazzy music the dancers used was an original piece composed and performed by Brett Sturdy from QB's great music team.
But I also loved Awakening Passion choreographed by Jette Parker Young Artist Lachlan Mair who just recently joined Queensland Ballet from the Australian Ballet School. Mair says his contribution 'explores [his] journey of discovery for [his] love for this art form'. He has managed to encapsulate so much within his short piece, which takes us from tentative steps at the barre to a a final reverence. I look forward to following Mair's ongoing journey. His ability to extend and use every part of his body as he moves promises much.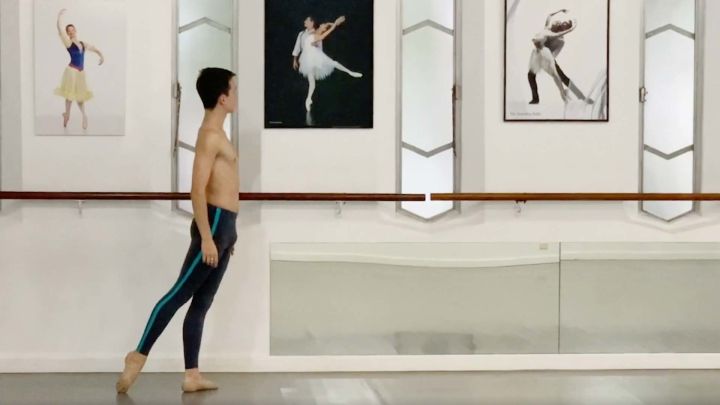 And as I post this, Queensland Ballet has just passed its goal of raising $1,000,000 to keep its artists and staff employed and to 'keep the magic alive'. Exceptional!
Michelle Potter, 28 June 2020
Featured image: Alyssa Kelty and D'Arcy Brazier in a moment from A Day at the Theatre