Dame Maggie Scott: a life in dance
My biography of Dame Margaret Scott is now in the editing and design phase and is scheduled for release in October 2014. I originally interviewed Dame Margaret for the National Library's oral history program in 1993 and, while that interview provided a skeleton plan, there was much more to discover, or at least many details to investigate further. And who would have thought I would find material in the Imperial War Museum in London, or the Australian Institute of Aboriginal and Torres Strait Islander Studies in Canberra? But I did. Dame Margaret's life is quite remarkable, apart from the role she played in the establishment of the Australian Ballet Foundation and as inaugural director of the Australian Ballet School.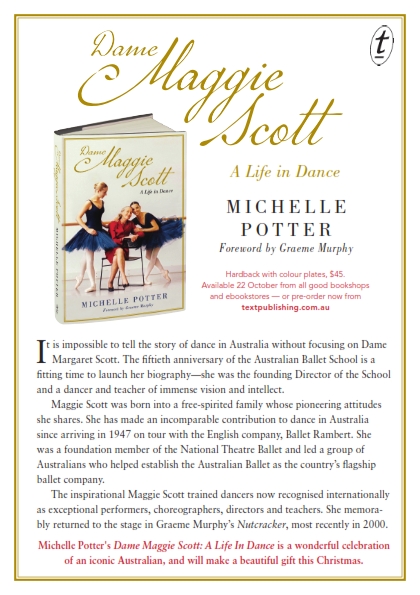 The commission to write the book came unexpectedly and I had a very short time in which to complete the manuscript. But what an exciting journey it has been so far. It has meant, however, that posts to my website have been a little meagre over the past few months. I hope to rectify that situation shortly.
It was a real, pleasure to see two dance leaders honoured during June. Cheryl Stock was awarded an AM in the Queen's Birthday honours list and Louise Howden-Smith was the recipient of the West Australian of the Year award for arts and culture.
Stock is Associate Professor in the Creative Industries Faculty at Queensland University of Technology, Brisbane. Before turning to academia, she had a distinguished career as a dancer, choreographer and artistic director with a wide range of companies in Australia and elsewhere.
Howden-Smith made a major contribution to dance over a ten year period as executive director of West Australian Ballet. I have happy memories of her generosity to the media during those years. She is now director of Ochre Contemporary Dance Company, founding director as it happens. The company aims to promote Aboriginal culture through contemporary dance.
It was also good to see that Philip Piggin, who has been involved with community dance in the ACT for many years now, received a 2014 Churchill Fellowship to travel to the USA and the United Kingdom to develop skills and experience in teaching dance to people with Parkinson's disease.
Press for June 2014 [Online links to press articles prior to 2015 in The Canberra Times are no longer available]
'Shadowland showcases masters of movement.' The Canberra Times, 25 June 2014, ARTS p. 6.
Michelle Potter, 30 June 2014