It seems that the Australian Ballet will be bringing back Maina Gielgud's production of Giselle in 2015. Gielgud's web page indicates that she will be in Australia from late 2014, firstly teaching in Perth, Brisbane and Melbourne and then working on staging Giselle for the Australian Ballet.
This news sent me looking at some of my favourite, easily available online images from Giselle. I didn't have the opportunity to see Natalia Makarova and Mikhail Baryshnikov in the Ballet Victoria production of 1975. But some of my favourite Giselle photos come from that production, an amazing event when one considers that Makarova defected in 1970 and Baryshnikov did so in 1974 and here they were in Australia in 1975 so early in their careers in the West. Walter Stringer's photos are often slightly blurry but I think he has captured something of the quality of the performance.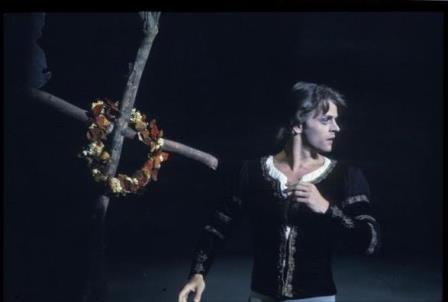 In the meantime, Graeme Murphy has been in South Korea workshopping a new version of Giselle. It seems that we won't see this production in Australia, at least not in the short term. The idea of a Murphy reworking is tantalising and I can't help wondering why a ballet company in South Korea had the prescience to commission it rather than the Australian Ballet.
I love to see a high quality 'traditional' version and still sigh over the Paris Opera Ballet's production we saw in Australia in 2012. But the most moving production I have ever seen was created by Sylvie Guillem in 1998 for the Finnish National Ballet, which I saw in 2001. On the surface it certainly wasn't a traditional Giselle, as the photo below indicates, although anyone familiar in the slightest degree with the ballet will recognise the dance sequence from Act I shown here. Below the surface though, I found that not only did it pull at the heart strings but it was deeply and intellectually satisfying as well.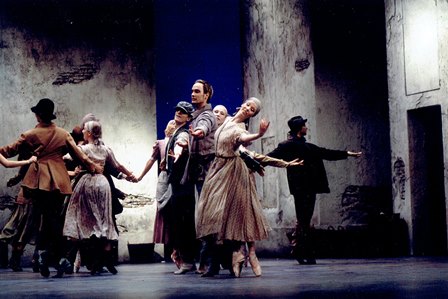 I wrote about the Guillem Giselle in 2001 for Brolga, then an old-fashioned print journal. I declined to give permission for it to be digitised by Ausdance when they began digitising back issues, but here is a section from it.
Guillem as producer and choreographer (after Coralli-Perrot-Petipa according to the program), reconceived the ballet according to her wish for it to be a work that would evoke both the past and the present, and that would be meaningful to contemporary audiences. In program notes she stated:
'Giselle's story is a timeless one. To die of love, not so much for a man as for loss of love. Naturally the texts by Théophile Gautier and Heinrich Heine clearly laid down the basic intentions. Over the years, these intentions have been buried beneath set choreographic habits, mainly with regard to gesture, thereby becoming a sort of incoherent language expected to "speak" the story … I wanted to rediscover Giselle and make the blood flow again in the veins of the various protagonists'.*
And elsewhere she is quoted as saying: 'Even if Giselle hadn't had a heart attack, the ballet was dying by itself. It was becoming more and more stupid, without any sense'.**
Strong words from Guillem. We know the Gielgud production. As for the Murphy version … we will have to wait.
Michelle Potter, 15 June 2014
NOTES:
* Sylvie Guillem, 'Waiting for curtain-up'. Program for Giselle, Théâtre du Chatelet, Paris 2000–2001, p. 12.
**Debra Crane, 'Made for fame'. Dance Now, vol. 9 (No. 4, Winter 2000–2001), p. 16.
I am working on making available in full my article from Brolga and will include it in my dance diary for June.