The British-Australian choreographer and dancer Liz Lea recently presented a show at the National Gallery of Australia in which she managed, with singular success, to rework her popular piece 120 Birds, staged at the Edinburgh Fringe in 2010, from a work for a small company into a one-woman show.
But the irrepressible Lea has another project in the pipeline—a documentary made with Kuwaiti director, Talal Al-Muhanna, and Indian cinematographer, Lakshya Katari. Lea has had an ongoing fascination with dance makers who toured to far flung destinations in the early part of the twentieth century, including Ruth St Denis and Anna Pavlova, and the documentary, entitled On the trail of Ruth St Denis, follows the journey of St Denis across India. The crew visited the locations in which St Denis performed including the cities of Amritsar, Agra, Kanpur, Lucknow, Varanasi, Kolkuta and Mumbai.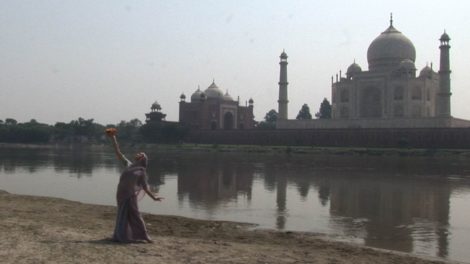 Lea acts as the on-screen presenter for the documentary and also performs some of the 'Oriental' dances that made St Denis famous in her day.
The film is currently being cut in the United Kingdom by editor Krishna Francis and has music by Nick Parkin. Further information (published earlier) is available. See e-press from India.
Michelle Potter, 6 March 2011
Featured image: Liz Lea in front of the Taj Mahal. Photographer not idfentified.