The Russell Kerr lecture for 2019 was delivered in Wellington, New Zealand, on 10 February 2019 by Dr Ian Lochhead. Lochhead is dance critic for The Press, Christchurch, and formerly Associate Professor of Art History at the University of Canterbury. His lecture focused on the tours to New Zealand by the Monte Carlo Russian Ballet in 1937 and the Covent Garden Russian Ballet in 1939.
While the lecture as a whole opened up a number of issues that perhaps have not been fully considered in previous writings about the Australasian Ballets Russes tours, for me the most fascinating moment of all came when Lochhead flashed up the image used as the featured image on this post. It is well known to most Australians interested in the tours of the Ballets Russes and shows (l–r) Serge Ismailoff, Anna Volkova, Oleg Tupine, and Tamara Tchinarova (later Tamara Finch) with bicycles. Paul Petroff stands to the right, hands in pockets. It belongs in the Papers of Tamara Finch (MS 9733) and it has always been considered to have been taken somewhere in Australia. But Lochhead showed convincingly that the image was shot in Christchurch in 1939 during the visit to that major South Island city by the Covent Garden Russian Ballet.
Lochhead introduced us (or certainly me) to Olivia Spencer Bower, an English-born artist who lived a large part of her life in New Zealand. Spencer Bower, it seems, was taken with the dancers of the Covent Garden Russian Ballet and the Spencer Bower collection at the Christchurch Art Gallery includes an album of photographs, which she may have taken herself, of the Covent Garden Russian Ballet during its 1939 visit. One, reproduced below, shows a row of at least seventeen dancers holding bicycles and lined up in front of a theatre identified by Lochhead (a Christchurch resident) as Christchurch's Theatre Royal. It has a large poster advertising the Covent Garden Russian Ballet across its entrance and to the side of the line-up is the tobacconist and hairdresser shop seen in the featured image above. Ismailoff, Volkova, Tupine, and Tchinarova are wearing the same clothes in both images. There is no doubt that the featured image above is not from Australia but from Christchurch.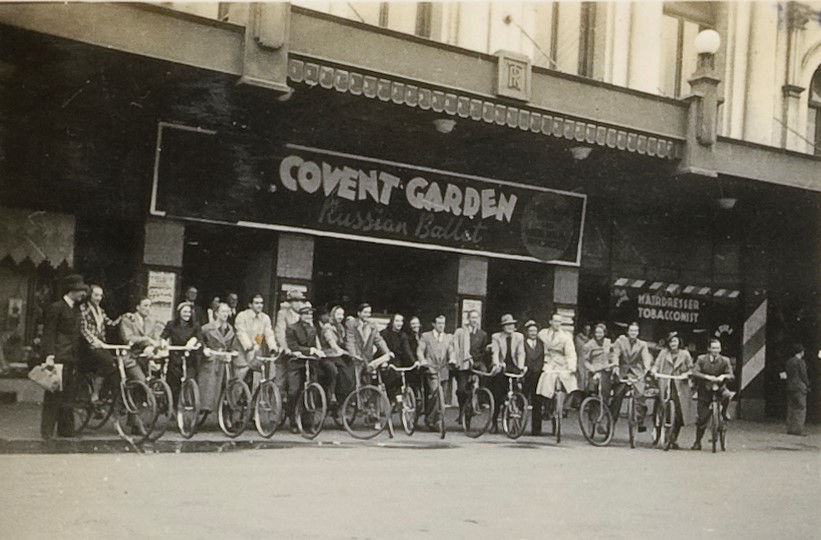 It is always a thrill to discover new information about material in archival holdings. And it is even better when new information allows us to revise previous assumptions. The featured image in this post celebrates Christchurch as a venue for the visiting Ballets Russes companies that had such an influence on the growth of dance in the southern hemisphere.
Ian Lochhead's lecture was preceded by two danced items: a performance of the Prelude from Les Sylphides danced by Taylor-Rose Frisby, a second year student of the New Zealand School of Dance; and The Dying Swan performed by Abigail Boyle from Royal New Zealand Ballet. Frisby showed beautiful control and I look forward to seeing more of her work. Abigail Boyle has featured on this website on several occasions. Live music, and it was exceptional, came from pianist Hamish Robb and cello player Inbal Megiddo, both from the New Zealand School of Music, Te Koki.
It is with a certain regret that I add that Boyle will shortly retire as a performer. Recent news from Royal New Zealand Ballet indicates that Boyle will dance in RNZB's forthcoming New Choreographic Series and will then pursue a teaching career.
A note on the first Russell Kerr lecture held in 2018 is at this link
Michelle Potter, 15 February 2019
Featured image: Serge Ismailoff, Anna Volkova, Oleg Tupine, and Tamara Tchinarova, Covent Garden Russian Ballet, Christchurch, 1939. Photographer not identified. Papers of Tamara Finch, National Library of Australia